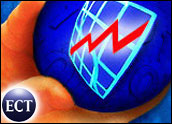 Barnesandnoble.com (Nasdaq: BNBN) met analysts' expectations for earnings on Monday and said recent investments have positioned the online bookseller for a record-breaking holiday season.
The company said sales grew 58 percent over the year-earlier period to $74.1 million (US$) from $47 million in 1999. Still, B&N.com lost $36.9 million, or 25 cents per share for the quarter, in line with earnings estimates from Wall Street analysts. Last year, the New York-based company lost $21.9 million, or 15 cents per share.
Acting chief executive officer Stephen Riggio said the recent completion of distribution centers in Memphis, Tennessee and Reno, Nevada have the bookseller ready for its busiest time of year.
"Our shelves are full, our workforce is ready and we anticipate a record holiday season," Riggio said in a conference call. "We expect to be shipping more orders and at a faster rate than at any other time in our history."
Growing Share?
Though some analysts questioned the math behind the claim, B&N.com said it grew its market share during the quarter, taking customers away from a range of competitors, including Amazon.com (Nasdaq: AMZN) and such real-world booksellers as Borders Books.
"Our sales in the books division grew faster than our competitors, so we take that as a sign that our share of the market is growing," said chief financial officer Marie J. Toulantis. The company said it added 760,000 new customers during the quarter and that return customer purchases increased 71 percent over a year ago.
Distant Second
While B&N.com said it grew its customer base to 6.3 million during the quarter, Amazon recently crossed the 25 million customer threshold.
Still, B&N.com executives sounded a confident note on several fronts. First, they said the company's gross profit margins are improving, a direct result of the new distribution centers, lower marketing expenses and less reliance on deep discounts.
The company also focused on its newly announced partnership with parent company Barnes & Noble, which will enable retail store customers to order books from Internet displays. Bringing the Web into the store instantly expands the limited shelf space to include out-of-print and hard-to-find books, Riggio said.
"We know that multi-channel customers are more affluent and higher-margin customers and this is a great way to reach them," he said.
Riggio also said the company recently completed the "Triple Crown of online marketing" by replacing Amazon.com in a marketing partnership with Yahoo! to complement existing deals with America Online and MSN.
E-books on Rise
Looking further into the future, Riggio said that the company's electronic offerings, including e-books and its online university, have the potential to become major contributors to the bottom line over time.
"E-book sales are very small right now," Riggio said, adding that the company did not bother to break out the sales of electronic books in its earnings report. "But we're in there very early and we're hoping it will be a big sales channel for us say three years from now."
Shares of B&N.com were down slightly in early trading to $4.12. The stock, which reached $21 per share late last year, has traded below $10 since May.