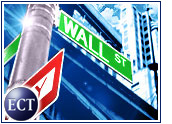 Semiconductor equipment giant Applied Materials (Nasdaq:AMAT) advanced 28 U.S. cents to $50.17 in early trading Wednesday, despitereporting that its second-quarter profit plunged due to slumping demand forits chip products and reduced spending by manufacturers in the sector.
The Santa Clara, California-based firm also warned after the bell onTuesday that its third-quarter results would fall far short of forecasts.
"Our business continued to experience a severe decline during the secondquarter," said chairman and chief executive officer James C. Morgan. "We have responded bytaking actions to align our cost structure with lower business volumes."
The company has taken a number of steps to slash expenses in recent monthsin order to cope with the slowdown.
Earlier this year, Applied Materials offered voluntary severance packages to1,000 workers, eliminated some temporary positions, instituted payreductions for high-ranking company officials, and deferred pay increases.Additionally, the firm is requiring five mandatory shutdown days around theFourth of July holiday.
Applied Materials reported that its second-quarter income, excluding aone-time restructuring charge, fell 52 percent to $269 million, or 32 centsper share, from the $558 million, or 66 cents per share, posted in the firstquarter.
Analysts polled by research firm First Call/Thomson Financial wereexpecting earnings of 33 cents a share. During the same quarter last year,the company earned $459 million, or 53 cents a share.
Similarly, sales were 13 percent off last year's mark, dropping to $1.91billion from $2.19 billion last year. Analysts were expecting sales of $1.88billion. Orders, a good indicator of future sales, dropped 54 percent to$1.35 billion from $2.93 billion. Gross margin was 44.8 percent, down from50.1 percent in the year-ago quarter.
Looking ahead, the company said it expects third-quarter revenue to fallbetween $1.2 billion and $1.3 billion, missing the $1.51 billion expected byanalysts.
Earnings may not meet estimates either, with the company nowexpecting earnings to be "break-even or slightly above" for the thirdquarter. Analysts were expecting earnings of 22 cents per share.
Despite the warning, company executives say they are optimistic about thefuture.
"We remain confident in the long-term growth prospects of ourbusiness," said Morgan.
"Applied Materials will again use this difficult period to better serviceour customers, invest in technology, introduce new products, strengthen ourglobal operations and increase market share so that we will be in an evenstronger position when the next upturn occurs," he added.