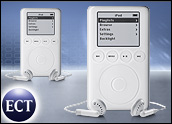 In Part 1 of this story, "Apple's New Bid for Insane Greatness," we looked at the iTunes Music Store's (iTMS) potential in the digital music marketplace. The Mac Observer publisher Bryan Chaffin told the E-Commerce Times that Apple's coveted iPod will play a critical role in determining the degree of iTMS' success.
In fact, Chaffin said Apple's position as the front-runner in the music service provider (MSP) space depends on its ability to maintain the market dominance of its iPod digital music player. The reason for this is that unlike its rivals, iTMS uses the open-standards AAC format coupled with the proprietary FairPlay standard. Apple's iPod is the only digital music device that is compatible with the AAC/FairPlay platform; most competing players rely primarily on the proprietary WMA (Windows Media) format and are not compatible with iTMS. This standards isolation is not necessarily a problem for Apple — if enough people keep using the iPod.
Chaffin said he believes Apple is on the right side of the standards divide. "WMA is not an open standard, while AAC is," he noted. "Apple's FairPlay DRM system is proprietary, but AAC itself is open. More importantly, however, Apple's AAC/FairPlay platform is dominant, making Apple the standards leader. If there's an argument to be made about adhering to standards, it's the WMA banner wavers that are on the wrong side of the battle lines."
Nevertheless, Apple's iPod faces increasing levels of competition. Dell recently announced a new hard drive-based music player, known as Digital Jukebox. Meanwhile, other companies like Archos, RCA and Creative Labs are selling 20 GB jukeboxes on Amazon.com for US$50 less than a 20 GB iPod.
Will these and other device makers prove to be stiff competition for Apple, or will the iPod remain king of the digital music hill?
Innovation or Assembly Line?
Chaffin said he is less than impressed by Dell's entrance into the portable jukebox market.
"Dell is the Oster of the computing industry," he said. "The company's new 'consumer electronics initiatives'are a prime example of that. [It] is rebranding a third-party music service and a third-party MP3 player. It'snothing new, nothing original and nothing that Dell can really claim as its own.
"Dell's R&D is focused only on finding ways of making computers cheaper, not in developing new technologies or even finding new applications for existing technologies," Chaffin added. "The company makes toasters. That's something that Wall Street loves, but consumers are paying the price in the form of stagnant features and technology, at least on the Wintel side of things."
In contrast, he said, Apple's iPod has almost singlehandedly changed the perception many people — especially young people — had of the company.
"Practically overnight, Apple went from being 'whatever' to 'cool,'" he noted. "That too is changing perceptions about the company in a broader context, especially [in conjunction] with the intensely negative coverage of Microsoft in the mainstream media."
The Price Issue
Still, portable jukeboxes are not the only category of digital music player on the market, IDC senior analyst Susan Kevorkian told the E-Commerce Times. Although this category — led by the iPod — is growing, Flash-based and CD/MP3 players still are a factor.
According to Kevorkian, portable jukeboxes like the iPod are less accessible to the mainstream consumer market because of their high price point. Although the capacity of these devices increases regularly, prices of lower-capacity units do not necessarily drop in corresponding fashion.
For example, Apple's inaugural iPod, which was released in the fall of 2001, had a 5-MB hard drive and sold for $399. Two years later, that same amount of money will buy four times as much hard disk space. However, Apple's cheapest model, the 10-GB iPod, sells for only $100 less and does not include the dock and other accessories that come with the 20-GB model.
In contrast, Flash-based players regularly decrease in price. A Rio Cali 256 MB Sport MP3 player with an FM tuner and expansion card slot sells for just under $200 at Amazon.com and can play up to four hours of MP3 files or eight hours of WMA files. That capacity is adequate for many users and is certainly superior to the Walkmans of yore, Kevorkian said.
How Do You Want It?
GartnerG2 research director Mike McGuire agreed that having a spectrum of digital music devices from which to choose — including both portable jukeboxes and Flash-based players — is important to the overall market.
But while "people are known to buy $900 notebooks, people will also spend more for functionality," he told the E-Commerce Times. "There is little guesswork on how to use the iPod."
McGuire said Apple's internal brand specialists will face two major challenges as they move forward with new generations of iPods: maintaining the proper balance of functionality and ease-of-use, and evaluating the lure of making a cheaper version of the popular music player.
"Apple is particularly blessed and cursed as an innovator," he said. "Do they devalue what they have and make a cheap $99 version? What do you keep? [To what degree do] people buy it for the hard disk size? For the interface?
"It's tough to fight desire to make it cheaper, but there's a serious risk involved," McGuire added. "It's important that Apple does not violate the underlying brand promise [it has] established."
Chaffin agreed, saying it is important for Apple to resist giving in to pricing pressures. "There will always be room for cheap, low-capacity MP3 players," he said, "but it's better for a company like Apple to let the consumer electronics brands fight it out for the low end in this market. Apple cannot offer the kinds of features the company is now known for in the MP3 space for the under-$80 market."
Importance of the iPod
Apple's strategy at the moment seems sound. Adam Engst, publisher of Mac community newsletter TidBITS, told the E-Commerce Times that with more than 1 million iPods sold since the device was introduced, Apple likely is enjoying a significant profit margin. Moreover, the iPod marketing strategy shows the company is moving in the direction of consumer electronics while still leveraging its many millions of Mac users as an initial target market.
"And just as with the iTunes Music Store, the iPod is simply better done than most of the competitors — better interface, better integration, better industrial design and so on," Engst added. "If Apple can repeat that win in other areas that bridge the gap between computers and consumer electronics, they could be highly successful, even without gaining much market share on the computer side."
Moreover, Apple is leveraging the iPod's crossover success by luring Windows users into Apple Stores and exposing them to other Apple products, said Chaffin.
"Apple is deriving revenue from Windows users. Think about that for a second. The Windows market is now helping to subsidize the development of the Mac platform. That's the direct effect the Windows iPod is having," he said.
The key to continued progress is keeping the iPod engine chugging forward at a steady pace. If Apple can accomplish that goal, it may find itself in an insanely great position.