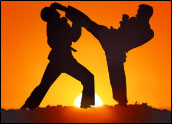 Since January, the high-technology industry has witnessed a dizzying spate of dueling vendor product announcements.
So what else is new? It's standard operating procedure for vendors to regularly issue hyperbolic proclamations about their latest/greatest offering, even (or especially) when the announcements are as devoid of content as cotton candy is of nutritional value. Maybe it's just an outgrowth of the digital information age. We live and breathe instant information that circumnavigates the globe faster than you can say Magellan; the copy monster must be fed constantly. Or maybe it's the protracted economic downturn that is making vendors hungrier than ever for consumer and corporate dollars.
Whatever the reason, there's no doubt that high-technology vendors — led by Google and Apple — are engaged in a near constant game of one-upmanship.
Apple indirectly started this trend in early January, when word began leaking out that it would finally announce the long-rumored iPad tablet in late January. The race was on among other tablet vendors to announce their products at the mid-January Consumer Electronics Show (CES) in Las Vegas to beat Apple to the punch. A half-dozen vendors, including Asus, Dell, HP, Lenovo, Micro Star International and Toshiba all raced to showcase their forthcoming wares in advance of Apple. It made good marketing sense: All of these vendors knew that once Apple released the iPad, their chances of getting PR would be sorely diminished.
I have no problem with smaller vendors, or even large vendors like Dell and HP, who rightfully reckon that they have to make their announcements in advance of a powerhouse like Apple to ensure that their products don't get overlooked.
Battle of the Mobile Web Titans
However, when industry giants and media darlings like Apple and Google start slugging it out online, in print and at various conferences, it's overwhelming.
Apple and Google are just the latest in a long line of high-technology rivals. In the 1970s, it was IBM vs. HP. In the 1980s, the rise of networking created several notable rivalries: IBM vs. Digital Equipment Corp.; IBM vs. Microsoft; Oracle vs. IBM; Novell vs. 3Com; Novell vs. Microsoft; Cabletron vs. Synoptics, and Cisco vs. all the Internetworking vendors. By the 1990s, it was Microsoft vs. Netscape — and Microsoft vs. pretty much everyone else.
The Apple vs. Google rivalry differs from earlier technology contests in that the relationship between the two firms began as a friendly one — and to date, there has been no malice. Until August, 2009, Google CEO Eric Schmidt was on Apple's board of directors. While the competition between these two industry giants is noticeably devoid of the rancor that characterized past high-tech rivalries, it's safe to say that the two are respectfully wary of each other. Apple and Google are both determined not to let the other one get the upper hand, something they fear will happen if there is even the slightest pause in the endless stream of headlines.
Google and Apple started out in different markets — Google in the online search engine and advertising arena, and Apple as a manufacturer of consumer hardware devices and software applications. Their respective successes — Apple's with its Mac hardware and Google's with its search engine of the same name — have led them to a head-to-head rivalry in the battle for supremacy in the mobile Web arena.
On paper, they appear to be two equally matched gladiators. Both companies have huge amounts of cash. Apple has US$23 billion in the bank and now boasts the highest valuation of any high-technology company, with a current market cap of $236.3 billion, surpassing Microsoft for the top spot. Google has $26.5 billion in cash and a valuation of $158.6 billion. Both firms have two of the strongest management and engineering teams in Silicon Valley. Apple has the iconic Steve Jobs, who since his return has revitalized the company. Google is helmed by cofounders and creative geniuses Larry Page and Sergey Brin, and since 2006, Eric Schmidt, the CEO who knows how to build computers and make the trains run on time.
Whither Microsoft?
Fueling this rivalry are Apple's and Google's stakes in mobile devices and operating systems. In Apple's case, this means the wildly successful iPhone, iPod touch and, most recently, the iPad and the Mac mini. Google's lineup consists of its Chrome OS and Android OS, which will power tablet devices like Dell's newly announced Streak and Lenovo's forthcoming U1 hybrid tablet/notebook due out later this year.
The rivalry between the two is quite literally getting down to the chip level. Intel, which has for so long been identified with Microsoft's Windows-based PC platform, is now expanding its support for Android — a move company executives have described as its "port of choice" gambit. Apple is no slouch in this area, either: Its Macs — from the Mac minis to the MacBook Pros — ship with Intel inside. Last week, Nvidia CEO Jen-Hsun Huang weighed in on the Apple/Google rivalry on Google's side, predicting that the tablet designs will converge around Google's operating system.
Yet a stroll through any airport, mall, consumer home or office would give a person cause to dispute Huang's claim: iPads and iPhones are everywhere. Apple recently announced that it has sold over two million iPads since the device first shipped in April. During a business trip from Boston to New Orleans last week, I found that Apple iPads were as much in evidence as hot dogs at a ballpark.
Ironically, Microsoft, a longer-term traditional rival of both Apple and Google, is not mentioned nearly so often in the smartphone and tablet arenas. That's because Microsoft's Windows OS is still searching for a tablet to call its own. Longtime Microsoft partner HP abruptly switched course: After Microsoft CEO Steve Ballmer got on stage and demonstrated Windows 7 running on HP's slate, HP bought Palm — and earlier this week, it acquired the assets of Phoenix Technologies, which makes an operating system for tablets.
That leaves Microsoft to promote its business-centric Windows Phone 7, which will run Xbox Live games, Zune music and the company's Bing search engine. All is not lost for Microsoft: Longtime "frenemy" Steve Jobs said recently that the new iPhone 4G will run Microsoft's Bing, fueling speculation that Apple will drop support for Google's search engine. Both Google and Apple are still competing with Microsoft in other markets — like operating systems, games and application software, to name a few — but that's another story.
There are other competitors in the smartphone and tablet markets, but you'd hardly know it from the headlines. Research In Motion's (RIM) BlackBerry is still a market leader. However, Apple and Google continue to dominate the coverage. I guess high technology, just like sports, revels in a classic rivalry. This one promises to be a hard-fought struggle.
---
Laura DiDio
is principal at
ITIC
, a research and consulting firm that covers the high-tech industry.