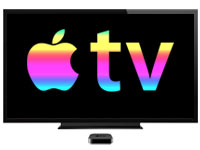 The fourth generation of the Apple TV set-top box won't support 4K video when it arrives later this year, according to a Monday report on Buzzfeed News, which cited unnamed sources in a position to know.
This is a bit of a surprise, given that the third-generation Apple TV incorporated the higher-resolution 1080p video standard and included HDMI-video outputs, ensuring that the set-top box was fully compatible with the highest-resolution TVs available at the time.
Apple TV currently is capable of playing digital content from the iTunes Store and from video streaming services including Hulu Plus, Netflix and YouTube, as well as TV Everywhere portals from several cable and broadcast networks.
Apple recently dropped the price of Apple TV to US$69.
The Next Generation
While Apple has yet to announce a release date for the fourth-generation Apple TV, it is expected this year. Apple has tended to release new versions of the streaming video device every two-and-a-half to three years since the first version debuted in 2007. The third-generation arrived a little more than three years ago.
The next iteration is expected to feature an A8 System on Chip, which is already in the iPhone 6 and does support 4K. So why wouldn't Apple include 4K support in Apple TV?
"If true, [Apple's] decision tells us two things," said Joel Espelien, senior analyst at The Diffusion Group.
"First, the useful life of an [Internet set-top box] is not very long — two to three years, versus seven to 10 for a TV," he told the E-Commerce Times. "The low price point, small size, and ease of installation all likely contribute to this. This means that Apple is not worried about future-proofing the next device, and figures it can always add 4K in a future version."
The second thing Apple's decision reveals is that "Apple does not believe 4K is a mass market phenomenon in the next two to three years," Espelien noted.
"If it was, this decision would be far too risky," he suggested. "They must look at the 4K adoption numbers and figure that people will be fine with HD (1080p) streaming for another couple of years — even those few who own a 4K TV."
Only 6.4 million 4K TV sets shipped in 2014, and China currently is the dominant market, according to DisplaySearch.
Until the market reaches maturity in the United States, Apple may prefer to wait and see.
The Apple Way
This isn't the first time that Apple has gone its own route when it comes to video capabilities. The iPad features a 4×3 (1.33:1) aspect ratio, the same as standard-definition TVs, instead of a widescreen aspect ratio that would be in keeping with HDTV displays.
Although the iPad was introduced just as consumers were upgrading to widescreen TVs, Apple's decision not to provide a widescreen display didn't hurt sales of the tablet device, or even the sale of videos from its iTunes Store.
That said, "at least part of that was a question of available displays and Apple effectively kickstarting a market," noted Dan Cryan, director of digital media at IHS iSuppli.
A better example of Apple going its own way may be the lack of Blu-ray support in Macs, he told the E-Commerce Times.
4K Streaming
Apple TV may not support it any time soon, but 4K streaming will move forward in 2015, albeit in very small numbers.
"At the moment there is simply not a lot of 4K content available," said Cryan — "a few shows on Netflix and Amazon, but not much else."
Although the 4K market is still nascent, Apple could be missing an opportunity to appeal to early adopters, and its rivals could take advantage of that to fill the void.
"This does open the door for the Smart TV OEMs themselves to try and gain a foothold around 4K streaming in the meantime," observed Espelien. "It also creates some problems for folks like Netflix that both offer 4K and have a lot of users on Apple TV."