Tidal on Tuesday announced the premium tier of its subscription-based music streaming service, which costs twice the amount of a standard US$10 account with the company. While the $20-per-month price tag for Tidal premium may seem steep, that subscription serves users lossless audio.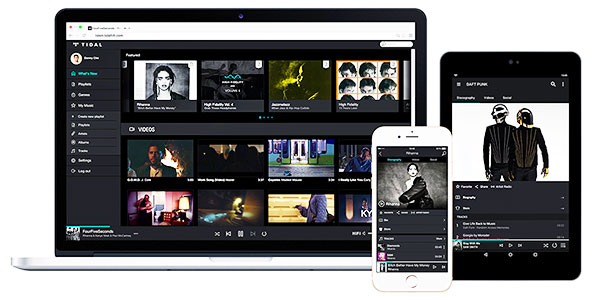 The MP3 format reached Web stardom and widespread adoption because it used small files sizes to capture most of the sound mixed by artists in studios — most. However, to achieve files sizes that average about 1 MB per minute of audio — roughly 10 times smaller than a lossless format — MP3s drop a good deal of quality from the original.
Tidal's premium tier delivers FLAC audio at up to 1411 kbps, which requires about three and a half times as much bandwidth as Spotify's high-quality streaming. The high-fidelity, full fat audio isn't for everyone, though.
Along with wrecking data plans, users will have to take care if they want to realize the premium sound Tidal is capable of outputting, according to Rob Enderle, principal analyst at the Enderle Group.
A Bluetooth connection to output devices will compress the audio, defeating the purpose of using a lossless format. Incapable speakers also will degrade the premium experience, he said.
"It's really for those people who have high-end sound systems in their cars and their homes," Enderle told the E-Commerce Times. "For those people who really like their music — I mean they really consider themselves music aficionados — this is enough of a difference to cause people to come over."
Artists Behind Tidal
Tidal has the financial backing of Jay-Z, who bought the service earlier this year, and the support of other mainstream artists. Among those joining Jay-Z on stage at a relaunch event Monday were Alicia Keys, Beyonc, Madonna, Arcade Fire's Win Butler and Regine Chassagne, Kanye West, Nicki Minaj, Daft Punk's Thomas Bangalter and Guy-Manuel de Homem-Christo, Rihanna and Jack White.
The star power behind Tidal may help it gain the exposure it needs, but it's likely the service will need more than big name promoters behind it, suggested Russ H. Crupnick, managing partner of MusicWatch.
"If artists could make things happen, then Justin Timberlake would have made MySpace the No. 1 social networking site again," he told the E-Commerce Times. "I think that sometimes they kind of overstate their importance to things."
Tidal faces at least two big challenges, Crupnick said. For starters, the streaming-music market is crowded with "really superb services," and many of them are free.
Along with fending off competitors, Tidal will have to convince users who aren't yet sold on any streaming service.
Although he liked Tidal during his trial run with it, Crupnick didn't see anything that looked like a major draw, beyond the lossless audio.
"If Tidal is going to be successful, it won't be from stealing a few hundred thousand customers from Spotify, which is going to be hard to do," he said. "It's going to be about figuring out how to get those tens of millions who aren't paying to start giving out their credit cards."
More, Please
Spotify has had its spats with record companies and artists over royalties, so there's an opportunity for Tidal to really connect with people who love not only lossless sound, but also the people who write and produce music, said Vinny Ribas, CEO of Indie Connect and cofounder of LeaderBridge.
"If it paid more to the songwriters and [other contributors], then I think you'd get a lot of support from the music community," he told the E-Commerce Times.
There are things Tidal can do on the back end to facilitate stronger connections between artists and followers, according to Ribas.
Something like Spotify's artist profiles feature would be a good start, but it also could provide users with direct lines of communications to singers and songwriters to monetize a relationship good for all involved, he said. That is something consumers likely would embrace.
"I come from the artist and songwriter's standpoint," acknowledged Ribas, "but i think there is room for another service."