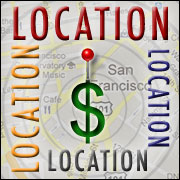 Apple has slammed the door on WiFiSLAM after acquiring the Android indoor location positioning developer. However, even though it has closed the startup's shop, Apple will likely use its technology to get mapping again.
When Apple released its outdoor mapping service with last year's debut of iOS 6, it was widely ridiculed as being far inferior to Google's offering — so much so that Apple CEO Tim Cook publicly apologized.
In addition to its admired outdoor mapping service, Google already has made available thousands of indoor maps of such geographically convoluted areas as shopping malls, airports and casinos. Meanwhile, Apple isn't even on the indoor mapping map.
Acquiring WiFiSLAM could be an important step in the right direction for Apple's map development efforts.
Maps a Must-Have
"Accessing maps is a core component for consumer mobile computing," said Josh Crandall, principal analyst at NetPop Research.
"People need to know where they are going. Ever since the iPhone originally shipped, Apple utilized Google's Maps API to offer a stable, comprehensive solution," he pointed out.
"Over the years, as Google developed Android and continued to grow, Apple increasingly considered Google a competitive threat and decided to replace the Google Maps API with their own App," Crandall told the E-Commerce Times. "After six months, we now know how badly that turned out for the consumer and Apple."
Apple did not respond to our request to comment for this story.
Setting Course With WiFi
WiFiSLAM's technology is all about pinpoint accuracy inside structures, where a few feet can mean the difference between being on the first floor or the second.
"The technology, which is supposedly accurate to within 2.5 meters of a person's location, could have ramifications across numerous Apple efforts, including mobile advertising applications and localized social media interactions," said Charles King, principal analyst at Pund-IT.
"Those and other similar proximity-sensitive applications are almost certainly on Apple's future road map, so WiFiSLAM could provide the company a means of developing its own branded services and solutions separate from Google's," he told the E-Commerce Times.
"That's probably the most important strategic point about the deal — creating a maps-based service separate from Google," King continued.
"That we haven't seen hide nor hair of a revised Apple Maps service indicates the seriousness of that screw-up. By focusing on WiFi-based mapping rather than GPS technologies, where Google has achieved de facto leadership, Apple can keep its hand in and brand on the maps market without raising the specter of past embarrassing mistakes," he suggested.
Map to the Future
This level of detail could lead to integration with other apps, providing more interaction with the environment.
"WiFi and mapping is about winning today but more so about winning tomorrow," said wireless industry analyst Jeff Kagan. "It's about the raw components that will power interest in many different apps today and tomorrow. It's the building blocks of the future. It will let wireless partner with other industries, which is a huge opportunity."
Mapping could evolve to become not only a navigation service, but also a new type of marketing tool.
"Imagine walking into a store and being recognized wirelessly and have special private coupons sent just to you," Kagan told the E-Commerce Times. "It's starting."
Follow the Leader
Apple generally is remembered for its successes more than its failures, and last fall's mapping debacle remains a sore spot for the company. The WiFiSLAM acquisition could allow it to make a fresh start with a new kind of mapping.
When Apple replaced its Google Maps app with Apple Maps, it shot itself in the foot, noted Kagan, and the fallout was worse than a lot of irritated customers.
"Australia issued official warnings about using Apple Maps," noted Crandall. "As soon as Google completed its Maps app for iOS 6, it was the most popular download for the new platform."
Apple may be banking on WiFiSLAM's tools to create a superior indoor-mapping product and regain some respect as a maps provider.
"Apple isn't giving up the fight. With their purchase of WiFiSLAM, they are doubling down on Maps," said Crandall.
"It's great to see that Apple hasn't given up, but they have a lot of ground to cover to catch up, let alone lead," he added. "Is Google taking up too much head-space at Apple? We'll see. But the impression that Apple is projecting to the market is not that of a leader, but a follower in the fight for Maps leadership."