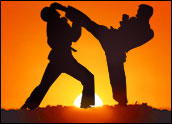 Samsung Electronics was dealt a legal blow on Tuesday, as a judge ordered it to halt sales of the Galaxy 10.1 tablet computer while it considers whether the device's design is so similar to Apple's iPad that it constitutes patent infringement. Samsung has already filed an appeal of the California federal court's injunction, and this likely isn't the last of this dispute.
In fact, U.S. District Judge Lucy Koh in December declined to prohibit sales of the Galaxy Tab 10.1, but changed her mind only after the U.S. Court of Appeals for the Federal Circuit told Koh to reconsider Apple's request for an injunction.
The second look is what it took for Koh to write in her decision that "although Samsung has a right to compete, it does not have a right to compete unfairly, by flooding the market with infringing products."
But there is no doubt more to come.
"The legal battle is not over," said technology analyst Jeff Kagan. "It will drag on for a while longer. This is not unusual. We have seen this kind of tit-for-tat fight from large companies with breakthrough technologies over the last few decades."
Galaxy Tab Will Live On
Samsung will not likely be driven out of the tablet market by this decision. Nor should consumers expect to find a hot deal on a Galaxy Tab 10.1. Stores will continue to sell their current stock of the tablet, but it is unlikely that Samsung will drop its price.
"There will be no more of a fire sale than what we're seeing in the market already," said Rhoda Alexander, senior manager for monitors and tablets at IHS iSuppli.
Nor will this be a replay of failed products that attempted to enter the market.
"I'd expect to see existing Galaxy stock to be sold off pretty aggressively," said Charles King, principal analyst for Pund-It. "However, I don't believe there will be the kind of frenzy we saw when HP killed its TouchPad — since Samsung remains focused on the Galaxy. But allowing retailers to clear out stock would be less painful, problematic and costly than recalling the devices."
The injunction will hurt Samsung, but the company remains a major player in the tablet space, Alexander stressed to the E-Commerce Times.
"It makes it a little more difficult for them," she added. "They have to convince people they are committed to the market."
The War of the Tablets
Samsung's options maybe be limited, but is the situation really dire?
"This is a blow for Samsung, but just temporarily. This is a stubbed toe," said Kagan. "The U.S. market will continue to grow and change, and these kinds of spats will continue as well. That's just the way the game is played."
Samsung could be playing it well, with a few avenues left to pursue.
The company can appeal the injunction and hope it is overturned, but that is perhaps the most unlikely of possibilities. The more probable outcomes are that Samsung employs a workaround that could involve changing the design so as to not infringe on Apple's patent, or find a way to work it out with Apple by paying licensing fees.
Scenario 1 – Workaround
"There could be a workaround, such as what they did in Europe," suggested Alexander, referring to the Galaxy Tab 10.1 II, which was redesigned to circumvent a patent-related ban in Germany.
This seems to be among the mostly likely scenarios to play out.
"Samsung is likely to roll out that product — or even one with additional updates — in the U.S.," King told the E-Commerce Times.
However, the result could be that Apple will very likely contest it, and Samsung could very likely lose as it has in Europe, he noted. This scenario won't likely quell the bad blood between the companies.
"That seems unlikely. Samsung is one of the few vendors with the resources and ambition to take on Apple head-to-head," King emphasized. "That makes the company a significant threat and problem that Apple will have to deal with for the foreseeable future."
Scenario 2 – Work It Out
While the workaround could give Samsung a very viable way to remain in the market and essentially do an end run around Apple, the other option is that the companies just sort things out amicably.
"I could see money changing hands as Samsung pays Apple for the patent," said Alexander.
However, given that Samsung is now the largest vendor in the Android mobile phone space, which is chipping away at Apple's dominance with the iPhone, both companies could be ready to dig in instead.
"When you have a pair of companies like Samsung and Apple — both of them highly competitive and well-financed — the usual rules in this sort of dispute tend not to apply," said King. "That is, I believe the companies will pursue paths closely aligned with their long-term strategic goals rather than alleviating short-term financial pain."
Whole New Galaxy
The final piece of this equation is that Samsung likely had to know this was a possibility, and could easily let the existing stock sell out and then introduce a new model. In a market where refreshes aren't all that uncommon, this could allow the company to roll with the punches.
"I wouldn't be surprised by that," said Alexander. "The litigation has been going on for some time. [Samsung] is a world-class company. I seriously doubt that this ruling came down and the company said, 'what do we do now?'"
It is likely that the Samsung had a plan in place, she added.
"It takes nine months to a year in the development process to get a product out the door," Alexander pointed out. "I wouldn't be surprised if much of that process hasn't already been covered."
Apple and Samsung did not respond to our requests to comment for this story.