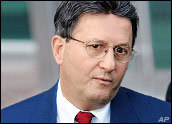 About eight months after former Qwest CEO Joseph Nacchio was convicted of selling stock based on inside information he was also shielding from the public, a federal appeals panel overturned the conviction Monday, clearing the way for Nacchio to be tried again before a new judge.
A three-judge panel of the U.S. Court of Appeals for the 10th Circuit ruled in a 2-1 decision that a federal district court judge erred by excluding an expert witness slated to testify on Nacchio's behalf during the trial, which ended last April with him being convicted on 19 counts of insider trading.
Last July, Judge Edward W. Nottingham sentenced Nacchio to serve six years in prison, pay a fine of US$19 million and forfeit $52 million earned from stock sales during 2001.
Prosecutors argued that Nacchio had knowingly concealed Qwest's real financial situation from investors while selling off stock he owned before the true nature of the telecom carriers troubles became clear.
"This is a setback, not a defeat," said Troy Eid, the U.S. Attorney for Colorado, where Qwest is based and where the original trial took place. "We've lived with the Nacchio case for six years now, and are fully prepared to wait a little longer so that justice is served."
Eid noted that the appellate court ruling said that the prosecution provided enough evidence to uphold the conviction and is ordering a new trial on the basis of a single witness. "A divided court ruled that a lone expert witness for the defendant should have testified. This amounts to a legal technicality that can be addressed by retrial."
Trying Again
Aside from the convictions, Nacchio had been acquitted on more than 20 charges, including obstruction of justice and fraud charges, as well as half of the insider trading charges he faced.
Nacchio — who remained free from jail on bond pending appeal — maintained his innocence throughout, with his defense team arguing that he sold the shares when he did because his options were set to expire.
At one point, his defense had also maintained that despite the fallout from the dot-com bubble collapsing, which robbed Qwest of scores of customers and dried up demand for its fiber optics network, Nacchio had knowledge of potential defense contracts the carrier could win that would enable it to meet its optimistic earnings and growth projections.
The excluded witness testimony was from Daniel Fischel. Described in court documents as an expert on corporate finance, he was scheduled to testify that the stock sales Nacchio made did not follow a pattern that would suggest they were being made based on insider information.
Nottingham ruled during the trial that part of Fischel's testimony should be barred because Nacchio's defense team had not explained sufficiently the methods Fischel used to arrive at his analysis. The appeals court ruling argues that the judge could have allowed the prosecution to question that methodology in open court.
"We conclude that, on the record before him, the district judge was wrong to prevent professor Fischel from providing expert analysis, and that this error was not harmless," Appeals Court Judge Michael McConnell wrote. Judge Paul Kelly agreed with his opinion.
Judge Removed
The judges also ordered the new trial to take place before a different judge. "We have concluded that it would be unreasonably difficult to expect this judge to retry the case with a fresh mind," McConnell wrote.
The decision to overturn the convictions is not as surprising as the order to have it retried before a new judge, said Michael Gurland, co-chair of the white collar criminal, regulatory and internal investigative services practice at Neal, Gerber & Eisenberg in Chicago.
"What is unusual is that the appeals court allowed another judge to try the case, which is not the norm," he told the E-Commerce Times. "Cases are usually retried before the same judge to avoid wasting court resources and time in requiring another judge to get up to speed on the facts. The records reflect the district court's bias and belief that Nacchio's conviction was deserved, and that is probably the reason for assigning a new judge."
In his dissent from the appeal ruling, Judge Jerome Holmes wrote that Nottingham was "well within its discretion" to exclude the disputed testimony because the defense "failed to satisfy the district court that Professor Fischel's testimony would be either reliable or relevant."
Worth the Investment?
A key question now will be whether the U.S. Attorney's office decides to pursue a new trial for Nacchio.
Prosecutors will likely face political pressure to avoid adding to the six years of time already invested in the case. The first trial lasted a month, and while there would be fewer issues and charges on the table in a second trial — only the 19 counts Nacchio was convicted on the first time would be in play — it would still likely take considerable time and other resources.
At the same time, Nacchio's defense team has to face the reality that two of its three appeal arguments — that the conviction was made based on a lack of evidence and that the jury instructions were flawed — were rejected by the appeals court. Those factors could make a plea agreement more likely.
The bottom line, however, appears to be that the appeals court was looking for a reason to overturn the convictions, said Daniel Alonso, a partner with Kaye Scholer and a former federal prosecutor.
Often, Alonso told the E-Commerce Times, cases involving disputed evidence are handled with a so-called Daubert hearing, in which a judge determines whether evidence is sufficiently reliable to be put before a jury.
"It looks like the court was looking for a reason to reverse the conviction, because it could have simply remanded the case for a Daubert hearing," he said. "Instead, it reversed the entire conviction and granted a new trial. In other words, if there were a Daubert hearing and the judge found the expert's testimony unreliable, there really would be no need to reverse the conviction, but the court did so anyway, without waiting for the answer."