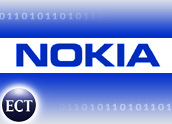 Making a bid for a greater share of the digital music space, mobile phone giant Nokia said Tuesday it had reached an agreement to buy music distributor Loudeye in a deal worth US$60 million.
Finland-based Nokia said it would pay $4.50 per share for Loudeye, more than twice what the stock was worth at the close of trading Monday.
Industry Veteran
Loudeye has a long digital history and has morphed over time into a provider of technological solutions for businesses that distribute music and other digital media. Today, Loudeye operates some 60 music services around the world, handling rights management and content for some 1.6 million songs from major labels, operating for MSN and counterpart Internet services overseas.
Nokia said owning the Seattle-based firm would enable it to offer "a comprehensive mobile music experience, including devices, applications and the ability to purchase digital music."
Nokia is banking on multi-function smartphones emerging as the device of choice for portable digital music, with the expectation that such devices will eventually overtake standalone MP3 players such as the Apple iPod. Many consumers would opt for a single device for their phone and music, if it could provide the same sound fidelity, song storage and other functionality of dedicated music players.
The company said it sold 15 million devices capable of playing digital music in the second quarter alone, and claims it's the world's largest producer of portable music devices.
"Music is a key experience for Nokia," said Anssi Vanjoki, the company's executive vice president of multimedia. "We want to be able to offer the best fully integrated mobile music experience to our customers."
Not So Loud
Nokia said Loudeye "brings a number of key assets" to the deal, including its team of engineers and other employees, the content it has negotiated licensing agreements for and its platform, which Nokia intends to make the foundation for delivering music to its phones.
The deal is expected to close late this year and the resulting integration should result in a new music service sometime next year, Nokia said.
The service will be aimed at use on the Nseries hand-held devices, which Nokia bills as having all the functionality of a personal computer, including a programmable operating system that will allow application and service upgrades. Nokia plans to offer music for sale over the airwaves through direct download or by using a PC to download songs and then load them onto the phone.
Crowded House
Other phone makers and mobile carriers alike have made plans to invest significant resources to bring more music to phones, believing that doing so will increase the overall use of the devices by subscribers, build loyalty and drive monthly subscription revenues.
Whether smartphones actually pose a significant short-term threat to the iPod from Apple is up for debate. Apple is known to be working on a phone of its own likely to be marketed under the iPod brand.
Nokia's buy appears to be mainly aimed at acquiring the technology that Loudeye picked up when it bought OD2, said JupiterResearch analyst Mark Mulligan. That firm has deep roots in Europe's digital music marketplace, he noted.
"Nokia is interested in the platform not the partners," such as record labels, Mulligan told the E-Commerce Times. "This is all about boosting Nokia's digital music footprint, primarily, though not exclusively, across mobile."
Still, it's not clear how that landscape is going to sift out, and Nokia may be seen by some mobile carriers as stepping onto their turf. The buy may also anger some third party intermediaries who now work with Nokia, because they feel they are being edged out of the picture.
"There are only so many slices of the pie to go around," Mulligan noted.