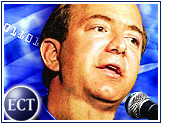 Continuing what has seemed like an endless cycle of reversals and revivals, e-tail giant Amazon.com (Nasdaq: AMZN), faced more disheartening news Wednesday when an analyst's underperform rating sent its shares plummeting nearly seven percent to $30.75 (US$).
Sanford J. Bernstein analyst Faye Landes issued the rating, and said it was based on focus group research. According to Landes, the group revealed that Amazon's expansion from its original book, music and video businesses into other retail markets is not impressing its most loyal customers.
Offering such goods as lawn furniture, hardware, beauty products and video games, Amazon says it has the "Earth's biggest selection of products." However, the focus group revealed that frequent Amazon users visit the site primarily to purchase the company's original product line of books, DVDs, videotapes and CDs.
The e-tailer's regular customers are largely unaware of the other product choices, according to the study.
Vision of Future
Landes noted that the study was bad news for the e-tailer because the results indicate that even Amazon aficionados have a narrow view of what the site is — and of its potential.
The underperform rating on Amazon's stock is the Wall Street equivalent of a sell recommendation, and marks a first for the company. However, in late July, Holly Becker of Lehman Brothers downgraded the stock from a buy to a neutral rating, commenting in a report that she was "throwing in the towel on Amazon."
Downgrading Frenzy
More analysts jumped from the Amazon ship after the company released its July 26th report that overall second quarter revenue grew less than one percent, from $574 million to $578 million. Although its second quarter per-share loss was slightly less than Wall Street expected, Amazon received several downgrades after the report.
On July 27th, Merril Lynch analyst Henry Blodget, usually an Amazon cheerleader, lowered his rating of the company from near term accumulate to near term buy. That same day, Pacific Crest, Prudential, Robertson Stephens and SG Cowen Securities all downgraded Amazon, and on July 28th, Banc of America Securities issued its second downgrade of the stock in less than a week.
Falling Out of Favor
The beleaguered e-tailer's shares have fallen along with the rest of the e-commerce industry. After a 52-week high of $112.38 in December 1999, the shares fell to a 52-week low of $32.47 on June 23rd of this year. That plunge followed a warning from Lehman Brothers analyst Ravi Suria of the company's "weak and deteriorating" credit.
Several Janus funds, including Mercury and Worldwide, remain bullish on Amazon, as does Legg Masson Value.
As of late Wednesday, Amazon stock continued to drop, with shares trading at $31.06.