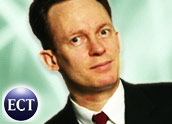 A strange thing happened after Tara Bradford was "Bangalored" and her job was moved to India. She followed it and stayed.
In 2003, Tara was working in the U.S. as a trainer of customer service representatives for Earthlink, an Internet service provider. It was her fourth year with Earthlink and she was asked to go to India twice to train her replacements.
Earthlink sent her to Hyderabad to help set up Earthlink's new support center in that South Indian city. These trips familiarized her with living conditions there. They also gave her the confidence to accept a job offer as the chief trainer and head of client relations from an InternationalStaff.net contract facility in Hyderabad after her position with Earthlink was eliminated in October 2003.
Tara's position in India's fastest growing city provides insights in three areas:
What it is like to be an American woman living alone in a far away place;
The role of women in India versus the U.S.;
Issues faced by Indian employees and their employers in a rapidly modernizing society.
Lack of Mutual Understanding
Traditional Asian societies are not well understood by Americans, who often lack an understanding of the history of their own families. According to Tara, the converse is also true.
"Even though India exports lots of people to the U.S., there is not a solid understanding of the U.S. and U.S. society in India," Tara said. This lack of mutual understanding lengthens the learning curve when people from one part of the world seek to work in another part of the world, even when that work is conducted remotely.
Americans tend to view Asian cultures and countries in monolithic terms. We do not fully appreciate the strength of regional identities within the U.S., for example, the strong identification that many people have with being Southerners.
There are strong regional, religious and communal (caste) identities in South Asia, identities that are hard for Westerners to even discuss, especially when we lack the vocabulary.
The South Wing
Through the end of British colonial rule in India on August 15, 1947, the Hyderabad area was a principality not under direct control of the British. It had been ruled for centuries by Muslim princes called Nizams.
At the time of India's independence and partition, there was some local support for the Hyderabad area becoming the South Wing of Pakistan, with East Bengal forming the East Wing. Some former colonialists persist in calling Hyderabad the South Wing today.
In a scene repeated numerous times since decolonization, Indian troops occupied Hyderabad in September 1948 and thereby incorporated it into India. Today, roughly 35 percent of Hyderabad's residents are Muslims and the region retains Islamic influence in its art, architecture, and social conservatism.
Bangalore receives more media attention than other South Asian cities as an information technology hub. Hyderabad, 340 miles to the north, has been more successful than Bangalore over the last few years in attracting and retaining IT firms, as evidenced by Microsoft's recent moves to expand its operations there from 640 employees today to more than 3,200 employees by 2006.
Far from Home
Americans living abroad often report problems with loneliness, social isolation and depression. After a month or two overseas in a strange place, many people find themselves wishing that they could spend just one hour in their favorite social spot back home.
Social isolation has not been a problem for Tara because she initially went to Hyderabad as part of a managed deployment of a group of Americans.
It is comparatively easy for Americans to build up social connections in India. Tara quickly put together a social group of about five close friends. Her friends come and go, as they would in fast-paced U.S. settings, but they protect her from the social woes that normally impact Americans living alone far from home.
Social health can be a critical component of overall well being, particularly during times of rapid change and in social settings where gender roles differ from what one has grown to expect.
Women, Caste, and Religion
The role of women varies widely across the Subcontinent, ranging from matrilineal societies in some communities in the Southwest and Northeast to conservative patrilineal Muslim and Hindu societies in the North and Northwest where women have not traditionally had strong roles in the formal economy.
In some Christian and Hindu matrilinear communities, men assume the surname of their brides and property does not pass from a man to his own children but to the children of a man's sister. In matrilinear societies, the most important man in a child's life may not be their own father but, rather, their mother's brother.
Women usually seek to marry up (anuloma) in both matrilinear societies and in Hindu and Christian patrilinear communities in India. Dowries have traditionally been popular in anuloma marriages and remain the norm in most Hindu and Christian marriages in India.
One might hear a woman whose family has paid dowry complain: "I paid all this money for a husband, but I got a bad one." The rise of unmarried women in IT firms in India has also increased dowry expectations for many of those women, expectations that might continue after a marriage.
Anuloma can create an excess of unmarried upper caste women. Caste in Hindu and Christian communities in South Asia is largely determined by birth (nasb). South Asian Muslims also use occupational background (hasb) in determining status.
In Muslim communities, it is the men who seek to marry up (pratiloma) so brideprices may be given. Brideprices vary by community and occupation. Internationally, Palestinian women claim relatively low brideprices of about $8,000, whereas Saudis and some high-earning highland Yemenis can be in the $45,000 range.
India now discourages dowries and brideprices, but retains separate civil codes for Christians, Muslims, Hindus and foreigners.
Women in the Workplace
According to Tara, Hyderabad is more socially conservative than the New Delhi area, owing to Hyderabad's history as a Muslim principality. In Hyderabad, as in other conservative patrilinear societies in South Asia, it would be rare for a woman to go up to and speak with a man outside of the home or marketplace to whom she had not been previously introduced. If she did that, it might be seen in overtly sexual terms.
Hyderabad is undergoing the type of social change that the U.S. experienced in the 1950s, when it was accepted that women needed to work but not everyone in the U.S. liked the fact that women were appearing in previously male-dominated workplaces. In India, the transition from traditional expectations to modern realities is most visible in Western-oriented IT firms.
"Many Americans have the prejudice that women in India are looked down on in the workplace," Tara said, "but in fact they are put on pedestals." This is especially true for managers. Because she is a foreigner and a manager, Tara is outside of the realm of traditional gender conventions. She can go up to men and speak with them unintroduced and she can transcend other traditional gender norms without being sanctioned.
Information technology firms are at the forefront of creating new social norms and workplace cultures. For many of the women employees at InternationalStaff.net's IT outsourcing facilities in India and Pakistan, they are the first women in their families who have ever held a job outside of the home or the family business, or have been able to live outside of their parents' home before marriage, or have had realistic options to postpone or forgo marriage. IT firms are creating a new middle class and new gender roles in South Asia.
As an American in an American-oriented call center, Tara takes the lead in speaking with clients and then ensuring that clients' have their needs met in the way programs are implemented. The other managers at her facility work as a team, which in itself is unusual within Indian business environments.
Indian businesses are traditionally hierarchical and highly authoritarian. All decisions usually have to go through the top person, and initiative at other levels is not encouraged. This remains the case at firms outside of the IT industry, including parastatal firms.
Freshers and Post Colonial Education
Entry into an international business environment produces culture shock for those who are not prepared for it. Culture shock is often dramatic for entry-level hires at Western-oriented call centers. These new hires are called freshers and are usually fresh out of three-year colleges. They differ from "newbies" in workplaces in other countries because freshers rarely have any prior work experience whatsoever.
Secondary education in South Asia is often segregated by gender, especially at the better schools. Many higher educational institutions are also segregated, and there is a plethora of women-only colleges.
Colleges in India often run along the lines of community colleges in the U.S., with most students living at home and remaining under the purview of their families, especially women college students. Students from smaller towns might go to college in nearby larger cities within the same state, but will often live in the homes of relatives in those larger cities.
Teachers are held in much higher regard in South Asia than they are in the U.S., due in large part to the persistent influence of colonialism in South Asia. Under colonialism, Tara said, "students are expected to sit still in class and not talk."
"In India, teachers are almost seen as gods," Tara said. Decolonization may have been achieved politically in India and Pakistan in 1947, but mental decolonization is far from complete.
Students in India are more liable to take everything in from their teachers and to do so uncritically. In a workplace environment, Tara said, "this means that they are more afraid of asking questions or of standing up and participating." Trainers and their clients need to take this into account in launching or maintaining IT programs.
On the positive side, nowhere else in the world are freshers more attentive or more eager to learn than in India and Pakistan. Russ Sandlin, who has worked on a consultancy basis as a manager at several InternationalStaff.net contract facilities in South Asia and the Persian Gulf, said that the biggest thing that Westerners fail to understand about South Asian call center workers and managers is how intently focused they are on meeting client expectations. This gives Indians and Pakistanis an advantage over competitors elsewhere.
Freshers and Culture Shock
Freshers entering a call center usually have little or no experience dealing with members of the opposite sex outside of family settings. Single-sex secondary schools and colleges are the norm for many people in India. They do not know how to relate to other people in a work environment. They lack work interaction skills, having only been exposed to family and school environments. They are excited but uneasy about their new employment opportunity.
Tara reports that both freshers and senior staff are very respectful to her. If they do not want her to know the topic of conversation, they will speak in a language other than English. In her workplace, there are often conversations going on around her in four different languages. In both India and Pakistan, the language of business is English.
Recruiting and Retaining Women
Families might discourage young women from working at call centers at night, except at well-known firms. Retention of both male and female workers is becoming an issue at call centers throughout India.
Women leave call center jobs to pursue higher education or for marriage, Tara said. If a female call center employee marries, Tara worries that her new family might not allow her to continue working, especially at night. If a man marries, Tara knows that he will be back at work again in two or three weeks.
As we contribute to changes in South Asian societies, those societies are contributing to changes within our own society as well.
Tara Bradford, in her role as an American woman in a South Asian call center, is helping bridge two economies and two cultures. She is also promoting American customer service standards for both U.S. programs and the domestic Indian inbound programs that are increasingly being taken up by IT firms offshore.
---
Anthony Mitchell
, an E-Commerce Times columnist, has beeninvolved with the Indian IT industry since 1987, specializing through
InternationalStaff.net
in offshore process migration, call center program management, turnkey software development and help desk management.
---