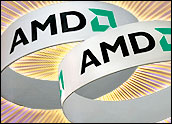 Advanced Micro Devices said Monday it had reached an agreement to buy ATI Technologies for US$5.4 billion in stock and cash, a deal that creates a considerably more formidable competitor for chip-making leader Intel.
ATI is a top maker of graphics processors and related chipsets, with its products installed in PCs, digital televisions, video-game consoles and cell phones. Currently, ATI sells its chips to both AMD and Intel.
Battle for No. 1
AMD will pay $4.2 billion in cash and 57 million shares of its own stock for ATI, with part of the cash portion coming through a $2.5 billion loan AMD secured from Morgan Stanley.
"Bringing these two great companies together will allow us to transcend what we have accomplished as individual businesses and reinvent our industry as the technology leader and partner of choice," said AMD CEO Hector Ruiz. "We believe AMD and ATI will drive growth and innovation for the entire industry, enabling our partners to create differentiated solutions and empowering our customers to choose what is best for them."
AMD said it would start to deliver new chipsets as soon as early 2007 based on both companies' technology and that it would see annual savings of $75 million over time. By 2008, AMD said, the deal will begin to be "meaningfully accretive" to earnings.
Shareholders of both companies and regulators still need to sign off on the deal, which the companies say could close by the beginning of 2007.
Together, the companies would have had annual sales of about $7.3 billion and a global workforce of about 15,000. The merged company will be based in Sunnyvale, Calif., and ATI CEO Dave Orton will become executive vice president of the ATI business division.
Investors were not immediately convinced about the value of the deal, with AMD shares losing more than 6 percent in morning trading Monday to $17.16 per share. Shares of ATI, meanwhile, soared higher by 17 percent to $19.33.
Looking Ahead
While the deal could have immediate impacts on the chip industry — by forcing Intel to find a new supplier of certain components, for instance — AMD focused on the longer-range benefits, saying the combination will enable it to "transform processing technologies" that will enable customers — PC, TV and cell phone makers, to name a few — to create new products.
Essentially, AMD said it will seek to build graphics capabilities into core chips, which in turn could create more processing power aimed directly at graphics capabilities.
Over time, the merger could considerably change the competitive dynamics in the PC business, with AMD able to make strides in both high-end PC chips, such as those aimed at hard-core gamers, and in the consumer market, where devices such as mobile phones and portable video players are heavy users of graphics chips.
Some in the industry said the deal has significant potential to change the longtime dynamics, which has featured AMD scrapping for minimal gains against Intel, though it has made more inroads in recent quarters.
ATI is a "diamond hidden deep in the rough — and with a little bit of polishing this acquisition will go down in history as the best move that AMD ever made," said Rahul Sood, president of VoodooPC, which makes high-end gaming computers.
"As usual, initial reactions to change are always negative — but long-term thinkers who truly understand the technology will tell you this deal is the one way that AMD can turn the tides in their favor," he added.
Huge Undertaking
One reason AMD's shares may have dipped despite the long-range projections for benefits from the merger is the worry that AMD will become distracted by the massive task of integrating a company nearly its own size.
That in turn could give Intel an opportunity to use its vast resources to recapture some of the market share lost in recent quarters. By some counts, AMD eroded Intel's market share to less than 80 percent for the first time in four years with its aggressive moves, which have included convincing more PC makers to offer AMD chips alongside those from Intel, including its first-ever deal with Dell.
The deal immediately sparked speculation, meanwhile, that Nvidia, the leading maker of graphics chips and ATI's main rival, could become a takeover target itself.
"This fundamentally changes the dynamic in the PC processor space," said Rob Enderle, principal analyst with The Enderle Group. "It is now clearly a platform battle going forward. This may very well mean that processor performance alone will be meaningless going forward, and it probably has been meaningless for some time."
Enderle said the deal "hits Intel where they are weakest, in graphics. ATI's graphics are vastly superior to Intel's and the resulting bundles should provide AMD with a competitive advantage."
"Nvidia now becomes the wild card," he added. "They were hitting ATI hard, which is part of what made this deal possible. They remain a powerful company if wedded but unwed they are exposed — too expensive for Intel to buy and too independent to be easily merged. Nvidia has some very hard choices to make and, given this is a graphics play, may have more to say about how this all works out then Intel does. If AMD can hold them, or Intel can woo them to their side by providing incentives or something more, the competitive outcome could change dramatically."