The United States Postal Service recently filed a request with the Postal Regulatory Commission for approval of a two-year test that would expand its collaboration with AmazonFresh, a service that offers same-day delivery of perishable groceries and other items. The postal service said the expanded test could bring in revenue of more than US$10 million a year.
The USPS has been collaborating with Amazon for years. It has delivered books, movies and consumer electronics. It recently began delivering dry food goods through the Amazon Prime Pantry service. The USPS in August began working the AmazonFresh pilot program in San Francisco; that program is scheduled to wrap in mid-October.
The filing does not identify the metropolitan areas that might be included in an expanded pilot program, but AmazonFresh already operates in San Francisco, Los Angeles, San Diego and Seattle. Amazon reportedly has been hiring produce managers for a warehouse in the metro New York market.
Fresh Direct
AmazonFresh has been utilizing USPS vehicles in San Francisco to deliver groceries between the hours of 3 a.m. and 7 a.m. Since the beginning of the pilot program there, the USPS indicated it would seek to expand its food delivery service to other retailers. This is the latest in a series of seemingly aggressive moves by the agency to compete in the package-delivery market.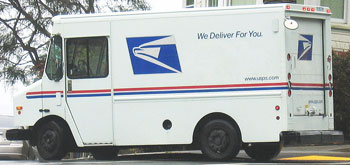 Ensuring that fresh products are still fresh when they arrive, even when warmer temperatures could be an issue, has been a top priority.
"The perishables are protected," Sue Brennan, senior public relations representative for the USPS, told the E-Commerce Times. "We've been working with AmazonFresh since August, and they bring the food and other items in insulated totes with freezer bags if necessary."
Direct Do-Over
This grocery delivery service has slowly grown. Amazon currently charges $299 a year for its AmazonFresh membership for those outside of Seattle, and that includes an Amazon Prime membership. Deliveries of $35 or more are provided without an additional fee, but smaller orders carry a $7.99 delivery charge.
Amazon is not the first company to offer this type delivery service, but many past efforts have struggled.
"In certain markets and for certain populations, grocery delivery is popular," said Greg Sterling, vice president of strategy and insights at the Local Search Association.
"This is a delivery service that predates the Internet literally by generations. Internet-based grocery delivery, however, hasn't taken off. Webvan is the example of a massive failure in this segment," he told the E-Commerce Times.
"A decade later, Amazon has a shot to build a grocery-delivery business," Sterling continued. "Working with USPS could be mutually beneficial by expanding Amazon's delivery reach and bringing more revenue to the post office."
Going Local
Since its 1990s launch as an online book retailer, Amazon has expanded into numerous markets, including over-the-top video streaming and cloud hosting services.
With AmazonFresh, the company "is trying to get back to its roots, which is to deliver goods and services directly to consumers," said Abid Chaudhry, senior analyst at BIA Kelsey Group. "They figured this out with books in the 1990s and they continue to try to get into local markets, which is very much about local goods and services."
One way to do this is to go directly to the consumer's kitchen.
"Amazon Prime Pantry is the business for dry goods, which can be shipped through normal channels," Chaundhry told the E-Commerce Times. "AmazonFresh is about expanding to cold and fresh goods. This is not really as much a tech issue as it is a logistic issue."
It could also be a win-win for Amazon and the USPS, and succeed where Kozmo and Urbanfetch failed. It has the potential to be a larger player than regional operators such as New York City's YourGrocer.com and FreshDirect.
"There is synergy in working with the USPS, which already goes to people's homes," Chaundhry pointed out.
"Amazon has proven itself to be a serious data scientist for the industry when it comes to figuring out mapping so that they can get the goods to the consumer in a cost-effective manner," he noted.
"The other part of this is that AmazonFresh is not cheaper or different than what I'd find at the grocery store," Chaundhry observed. "It is really about the convenience — and for this reason, Amazon is already making a profit."