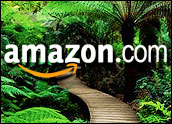 Amazon.com shares dipped to a three-year low Wednesday, hit with backlash from the firm's second quarter results announcement Tuesday.
The online retailing giant's earnings for the quarter ended June 30, 2006, fell nearly 58 percent, followed by a 17 percent decline in shares on the Nasdaq. Shares fell to their lowest level since 2003, closing down 21.8 percent Wednesday to US$26.26.
Despite net sales increases of 22 percent to $2.14 billion in the second quarter, compared with $1.75 billion in second quarter of 2005, Amazon's operating cash flow declined 2 percent to $610 million for the trailing 12 months. Free cash flow declined 23 percent, driven by increased spending on technology, content and patent litigation settlements.
Not So Prime
Jeff Bezos, founder and CEO of Amazon.com, noted that the company has made increased investments in new initiatives such as Amazon Prime, a membership program that allows customers to pay $79 a year for unlimited, express two-day shipping for free, with no minimum purchase requirement.
"Our investments in technology position us to innovate in seller platforms, Web services, and digital," he said. "We're looking forward to the coming decrease in our year-over-year growth rates in technology spending in the second half of 2006."
Adding Amazon Prime, as well as new toy and baby specialty departments and a non-perishable grocery store, was not enough to offset the success of search advertising efforts from other merchants that sell directly to users, however.
Amazon's net income for the most recent quarter was $22 million, or 5 cents per diluted share, compared with net income of $52 million, or 12 cents per diluted share in second quarter of 2005.
A silver lining in Amazon's dark cloud is its traffic. The leading online bookseller drew about 38 million visitors to its site in June, according to Neilsen//NetRatings. That compares to 18.9 visitors to Target's site and 18.1 million visitors to Wal-Mart.com.
A Natural Progression
Marc Pado, an equity analyst at Cantor Fitzgerald, sees Amazon's current stock price as suffering a combination of adjustment to market conditions and corporate maturity. Pado told TechNewsWorld that Internet retail stock is beginning to perform more like traditional retail stock.
"If you were to look at Wal-Mart stock you would see a similar trend in terms of how it has acted [as opposed to] a pure Internet stock like Google," Pado noted. "Even though Amazon is still a growth business, it's growing at a slower pace and is subject to more of the struggles that you would normally see in a retailer."
Predicting the Financial Future
Amazon predicts net sales for the third quarter to range between $2.17 billion and $2.33 billion, or to grow between 17 percent and 25 percent compared with third quarter 2005. Net sales are expected to be between $10.15 billion and $10.65 billion, or to grow between 20 percent and 25 percent compared with 2005 for the full year.
Amazon stock offers a restrictive upside potential, Pado said. Investors should not be looking for a significant rises in the stock price in the short term.