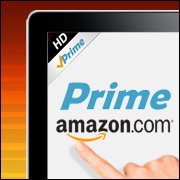 Amazon on Monday began offering Prime Video as a standalone service with a monthly subscription option.
Prime Video previously was offered only as part of a bundle with Amazon Prime, which is available for US$99 a year.
Amazon also offers a monthly Prime membership plan for $10.99, which includes all the benefits that come with the yearly Prime plan, including two-day free shipping.
Prime Video is available for $8.99 a month, which is $1 below Netflix's standard plan but $1 more than the basic Netflix offering that does not include high-definition content. The video package would be nearly $108 a year, but it is likely aimed at consumers who may not want the service throughout the year and subscribe only to binge watch programming at particular times.
The Prime Video membership does not include free two-day shipping, but it does include all of Prime's video content, which can be viewed on tablets and PCs as well as on smart TVs and from other set-top boxes and streaming devices.
Logical Move
Amazon Prime launched in 2005 as a service that offered free two-day shipping on all orders, but since then it has expanded to include Prime Video, Prime Music and Prime Photos.
"This is a good and logical move by Amazon," said Joel Espelien, senior analyst atThe Diffusion Group.
"The annual subscription was becoming a barrier to Prime adoption once you expand greatly beyond just free shipping," he told the E-Commerce Times.
"The monthly subscription makes it much more comparable not just to Netflix and Hulu but also music services such as Spotify and other things consumers buy in the cloud," Espelien added.
Showdown With Netflix
Netflix has remained the dominant player in the streaming video market. Amazon has followed Netflix's lead in producing original programming, and now it's offering similar pricing plans — and is doing so at an opportune time, with Netflix set to raise prices for some users.
"By doing it monthly, it makes clear that Amazon has the better price now that Netflix is hiking rates for those grandfathered into the lower monthly fee," said Greg Ireland, research director for multiscreen video at IDC.
"Not that it's hard math per se, but an annual fee makes the monthly amount less clear to those that may be making decisions based in part on cost," he told the E-Commerce Times.
In addition, the monthly option gives consumers a smaller upfront commitment, Ireland added.
"While this may in fact promote cancellation after binging on a particular set of shows, it may attract those that will subscribe, if only for a short time, in a month-to-month scenario but won't make the yearlong commitment," he noted. "That notion of consumers canceling after watching a particular show is nothing new; one can think back to the days in which one might discontinue HBO after a Sopranos season."
Stream of Content
A lull in new offerings could cause some subscribers to cancel the service, according to Ireland.
"This is the burden of all programmers and [over-the-top] service providers: how to keep a steady stream of content continuing throughout the year so that consumers stay tuned in and remain subscribers," he said.
However, new offerings may entice people to sign up for a month, as it's less of a commitment than signing up for a year. It will be up to Amazon to ensure that it develops content — or forges deals with other content providers to provide content — that is compelling enough to draw those eyeballs back, and possibly keep them longer term.
"With Amazon's commitment to original content and with their new practice of bundling in other OTT services, it is reasonable to expect that some month-to-month subscribers may remain long-term subscribers," Ireland noted.
"And for those that don't, that's become the nature of OTT, with no commitments and easy cancellations," he added. "But as least Amazon will see some revenue and perhaps return subscriptions from a larger base of consumers."
That could be important with a generation of younger cord-cutters and cord nevers, who expect an easy in and easy out, according to Ireland. "Companies that don't align with that consumer attitude restrict themselves."