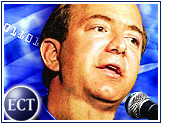 Shares of Amazon.com (Nasdaq: AMZN) jumped $5.13 (US$) to $34.69 by mid-day Wednesday after the e-commerce bellwether reported a Q3 operating loss of $68 million, or 25 cents per share, outpacing projections by 8 cents.
The company also reported a net sales increase of 79 percent over the same quarter in 1999.
With an emphasis on selling diversified product offerings to current users, Amazon acquired 2.8 million new customers worldwide in the third quarter, bringing the total to over 25 million.
Positive Progress
Goldman Sachs analyst Anthony Noto reiterated Amazon as a trading buy in a research note.
"Based on third quarter results, our thesis on Amazon.com remains intact," Noto said. "The company's Q3 performance positions it to achieve the key metrics for Q4 2000 that we laid out prior to its analyst meeting: operating losses in the low single digits, accelerating inventory turns, significantly reduced fulfillment costs."
Twenty-one percent of Amazon's active customers bought a product outside of the book, video and music categories in the third quarter, as opposed to only 4 percent a year ago.
Diversity Pays Dividends
Amazon greatly expanded its product offerings and business partnerships over the third quarter, launching a co-branded toy store with Toysrus.com, and opening stores specializing in photography, computers and video games, and new car purchases.
Amazon's electronics store became its second largest business sector, passing music. Amazon International sales, spurred by the launch of Amazon.fr, a French-language site, were $88 million, up 121 percent from the third quarter of 1999.
"We've built our business on the simple principle that customers go where they get value," said Amazon founder and chief executive officer Jeff Bezos. "This expansion of products and services continues to get traction with our current customers. In September, six of the 10 top-selling items on Amazon.com were from our electronics store."
Bezos attributed Amazon's performance to improved execution in such operating components as inventory management and direct sourcing.
Rosy Outlook?
Amazon expects sales for the full year of 2001 to be about $4 billion, with operating losses to be less than 5 percent of sales. Cash and marketable securities are expected to total in excess of $1 billion at year-end and $700 million at the end of Q1 2001.
"Our goal remains the same, triple digit returns on invested capital," said Warren Jenson, Amazon's chief financial officer.
High Holiday Expectations
Bezos said Amazon is ready for the upcoming holiday season, noting that the company is "better prepared than ever."
Bezos also believes that the e-commerce industry as a whole has the potential to grow 50 percent annually over the next 10 years, and that this growth rate will be driven by fundamental improvements in customer satisfaction, specifically in the areas of technology, innovation and infrastructure improvements.
"As a leader in e-commerce, Amazon should be able to grow at that growth rate or even higher," Bezos noted.
SEC Inquiry
Amazon also said Tuesday that the Securities and Exchange Commission (SEC) had made "informal inquiries" regarding accounting practices involved with the Amazon Commerce Network, which encompasses Amazon's investments in a number of separate companies such as Drugstore.com.
"Amazon.com reviewed the accounting for the transactions with its auditors and the SEC staff," the company said, "and believes that the accounting treatment, and disclosures, were appropriate. Amazon.com will continue to cooperate with the SEC staff if they have further questions."
In an August filing with the SEC, Amazon said that it was restructuring certain deals with partners in the Amazon Commerce Network because of the uncertain nature of e-commerce and the poor financial condition of some of the partners.
Amazon asked the partners to accept lower future cash payments, revisions to the related term of the agreements, or both.