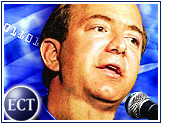 Despite growing consumer fears about online privacy, Amazon.com (Nasdaq: AMZN) will notify its 23 million customers that it has revised its policy to reflect the fact that customer information may be sold as an asset.
In a statement, CEO Jeff Bezos said the revision of the policy came about in part because Amazon is now the parent of many smaller companies that might be sold or consolidated as part of the company's growth strategy and drive toward profitability.
"In revising our privacy policy, we tried to take into consideration not only our current activities but also those things we could imagine possibly happening in the future," Bezos said. He added that the company wants customers "to have as clear a picture as possible of what [Amazon is] doing and not doing when it comes to the information they give us."
Controversial Stance
The policy states that while Amazon does not share customer data with outside third parties now, it does share information among its extensive web of companies and online partners. The e-mail also notes that customer information is generally considered a key asset when and if an Internet company is bought, sold or merged.
"As we continue to develop our business, we might sell or buy stores or assets," the company's new policy, now posted on the Web site, states. "In such transactions, customer information generally is one of the transferred business assets."
Responding to Toysmart
The policy also addresses what many observers once believed unthinkable, but some analysts say is a possibility: The eventual financial collapse or takeover of Amazon. "In the unlikely event that Amazon.com, Inc., or substantially all of its assets are acquired, customer information will of course be one of the transferred assets."
That statement appears to be a direct reference to the U.S. Federal Trade Commission's ongoing battle with defunct online toyseller Toysmart.com, whose policy included a pledge to customers that it would never share their information with third parties.
However, when Toysmart declared bankruptcy, its extensive customer database was one of the main assets put up for sale.
The revised Amazon policy also eliminates a feature that allowed customers to limit use of their information with a single e-mail, but directs them instead to an area where they can disable the browser cookies used by the site.
FTC Investigates
In published reports, an Amazon spokesperson labeled the policy as "clearer and better." Amazon also denied that the revision comes in response to an FTC investigation and several lawsuits facing Alexa, a marketing research firm that is accused of tracking Internet users and forwarding that information to Amazon.
While some analysts credit Amazon with adopting a policy that clearly states where customers stand, the move seems to fly in the face of public opinion. In August, the Pew Internet & American Life Project released a survey showing that the vast majority of Internet users favor an opt-in policy that puts the burden of including customers in marketing programs on the companies.
More to Come
The Amazon move may also be a bid to further shore up the notion that the e-commerce industry can self-regulate on privacy. However, Forrester Research analyst Jay Stanley predicts that despite the best efforts of industry leaders, privacy legislation in the United States is all but inevitable.
"By the end of next year, there will be some kind of legislation either on the books or very close to being passed," Stanley said. "With all that's happened, it's just about reached that critical mass."