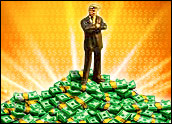 Venture capital (VC) and private and public investments in alternative energy continue to grow at their highest rates since the OPEC crisis of the 1970s.
Around the world, the persistence of much higher fossil fuel prices, heightened power demands — particularly in the fast-developing economies of China and India — national employment trends, security concerns, and growing evidence of sharp climate changes are contributing to what amounts to a clean technology boom.
"The level of investment is accelerating, and I do not see any reason why it will moderate. You can debate around oil pricing and how much that is driving [investment], but there are other factors here at play — energy security and independence, environmental concerns, focus on sustainability, etc.," Jeff Lipton, managing director of investment banking at Jefferies & Co., told TechNewsWorld.
Jefferies hosted its first European Alternative Energy and CleanTech Conference in London late last month.
Vast Market, Many Subsectors
"Investor interest remains very strong, though people continue to work to understand the drivers and dynamics [and] interplay between various subsectors and where the investment opportunities will be," explained Lipton.
"Interest is broad-based — that is, not just solar or biodiesel. People are looking at fuel cells, wind, batteries, energy infrastructure. People see an enormous market with multiple interesting and viable subsectors," he said.
"The U.S. investment community continued to support the clean tech sector, investing more money in public and private clean tech companies during the first half of 2006 than all of 2005. Investors committed capital in larger amounts to more sectors, including advanced batteries, biofuel, fuel cells, geothermal, hydrogen, power electronics, solar and wind," states Jefferies in its first-half 2006 review of alternative energy and clean tech markets.
VC investment in the sector is also growing. "Venture-capital investment in clean tech is expanding, with annual dollar volume expected to hit approximately US$2 billion in 2006, compared with just $730 million in 2001," the firm points out. "In addition, more companies are receiving VC funding every quarter, with the average deal size at approximately $6.6 million in 2005, compared with $6.0 million in 2002."
European Vanguard
When it comes to alternative, renewable energy, European companies and countries have been leading the charge. "We see several trends concerning financial investments into solar energy," said Edwin Koot, the founder and principal ofSolar Plaza.
A growing number of solar energy (PV, for photovoltaics) companies are listed on the stock market, Koot claimed. Most of them are German-run, although American and Chinese companies are up and coming.
"Looking at VC involvements, the focus within the U.S. is clearly on completely new solar cell and module technologies, [whereas] in Germany the companies are more involved in the traditional crystalline silicon technology. Most of these German companies are vertically integrated, meaning they have interests in several parts of the supply chain," Koot said.
The Spanish market is attracting increasing amounts of capital. "Concerning the private investments, the Spanish market is definitely the most attractive at the moment," said Koot. "Many Spanish and foreign people [and] companies have invested large amounts of money in solar farm projects, in which people own a PV system producing electricity that is sold back to the utility for a very attractive and guaranteed price. Financial yields of more than 8 percent for 25 years can be achieved."
In the wind power sector, Europe's largest onshore wind energy farm is being constructed — and debated — in Scotland at the Whitelee Windfarm, located south of Glasgow, where some 140 turbines will crank out enough electricity to power approximately 200,000 Scottish homes, including much of Glasgow.
Scotland is also home to the world's largest offshore wind farm project to date. Two hundred state-of-the-art wind turbines are to be installed in deep water off Scotland's east coast, not far from Whitelee.
Renewable sources, such as wind energy, now generate 16 percent of the country's electricity — four times that for the UK as a whole — and the government has set a goal to produce 40 percent of its electricity from renewable sources by 2020. In Sweden, 47 percent of the country's electricity is currently supplied by hydroelectric plants, up from 36 percent just three years ago. Another 45 percent is generated by nuclear power.
Turning to biofuels, the European biodiesel market is expected to more than double in value by 2010, to around 8 billion euros (US$10.2 billion), according to investment bank Goldman Sachs.
Concerns about global climate change and the security of oil supplies will result in biodiesel production increasing 35 percent by 2010; companies will invest up to 3 billion euros (US$3.81 billion) in production facilities. Bioethanol, which Brazil has used successfully to shift away from using imported fossil fuels, is expected to grow 13 percent by 2010.
Capital Boosts Potential Energy
These efforts require capital and a growing number of VCs, private and public groups, and individuals are willing to provide it. "While solar energy firms dominated public and private financings in 2005, capital raising by biofuel companies has increased in size and number in response to both President Bush's State of the Union address and rising gasoline prices, which surpassed the $3.00 per gallon threshold in the U.S.," Lipton notes in Jefferies' first-half 2006 report.
"VC firms, hedge funds and private equity firms — including DFJ Element, Impax Group, Kleiner Perkins and RockPort Capital Partners — closed new funds that were specifically focused on the broad clean tech sector. Through May 2006, over $600 million in venture capital and $2 billion in private equity was invested in the clean tech sector," according to the report.
In fact, VC companies have realized extraordinary returns upon exiting from a number of clean tech investments, leading some to think that company valuations might be overinflated.
European firms accounted for seven out of the top 10 companies that jumped from private to public financial markets during the past 18 months. Also included was Norway's Renewable Energy Corp., which had an exit valuation of around $7.5 billion on an initial investment of $44.2 million. India's Suzlon's IPO (initial public offering) placed a US$3.3 billion value on the company; earlier, pre-IPO investors had put up $21.5 million, according to information presented by New Energy Finance at the recent European Energy Venture Fair.
"The solar PV industry is growing enormously, mostly upscaling production capacities," commented Solar Plaza's Koot. "This will bring down cost and market prices, and will ultimately bring [about] a sustainable market. Within 10 years, a sustainable market without financial government support could well be within reach, making it possible for solar energy to really take off as a major energy source."
The Third Wave of Silicon
Travis Bradford is a former private equity and hedge fund executive who used his own capital and efforts to build Prometheus Institute forSustainable Development, a nonprofit organization set up as an e-commerce trading and information clearinghouse for solar energy and technology.
As solar energy is already economically viable "on a cash-on-cash basis, there is a positive feedback loop developing in the solar and alternative energy industries similar to that which has fueled tremendous growth and advances in radical and disruptive information technology and telecommunications," said Bradford, author of the upcoming book, Solar Revolution, to be published later this year by MIT Press.
Technological advancements, as well as market and external forces, are driving investments into the solar and alternative energy sectors, Bradford explains. Companies can produce more and further increase efficiency, bringing down costs and bringing power and fuel from distributed, renewable sources to larger numbers of people while stimulating demand. This, in turn, attracts additional capital to these areas, starting the cycle again from a higher base.
"It's the third wave of something we've seen twice already," says Bradford, borrowing a term from futurist Alvin Toffler. "The 'Third Wave of Silicon': computers, telecommunications and, now, energy. It's all happened due to the specific technological and economic characteristics of silicon-based semiconductors. Those were radical, disruptive technologies that changed everything about the way we see and do things in the world. [That said], we didn't abandon existing technologies completely — we have a hybrid system."