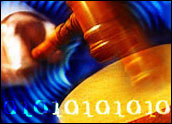 AltaVista won its bid to have an international cybersquatter evicted from 43 domain names Monday after a United Nations panel ruled in favor of the embattled Web portal.
The World Intellectual Property Organization (WIPO), based in Geneva, Switzerland, found in favor of AltaVista two months after issuing a similar ruling on behalf of Yahoo!, which forced a squatter off 40 sites.
Rare Good News
The ruling was a well-needed bit of good news for AltaVista, which has recently experienced a run of troubles ranging from layoffs to the resignation of its CEO to the continued postponement of a long-planned initial public offering (IPO).
Clearing the decks internationally is also important, as the company announced earlier this month that it would spend about $25 million (US$) launching locally slanted search sites in as many as 30 foreign countries.
Widespread Squatting
AltaVista first took its case to the WIPO in July, charging that Grandtotalfinances Ltd., which is headquartered in Panama and Riga, Latvia, had registered scores of sites designed to confuse Web users. The names in question included aliavista.com and antavista.com.
The same company has registered 244 domains in all, many simple misspellings of popular company names, AltaVista charged. The WIPO ruled that the sound-alike sites were registered in bad faith and ordered the squatter to vacate them immediately.
War on Squatters
The United Nations granted the WIPO authority over international domain disputes in late 1999, enabling corporations to avoid costly and lengthy lawsuits.
In July of this year, the WIPO received a request from several nations, including the United States, to step up its efforts to stamp out bad-faith registration. Francis Gurry, the assistant director general of WIPO, said the new review marks an attempt to "establish greater compatibility between identifiers in the real and virtual worlds."
New guidelines are expected to be set by early next year.
Turbulent Times
AltaVista, which is majority owned by incubator CMGI, Inc., regularly ranks as one of the 10 most visited Web sites. In September, CMGI reorganized its holdings and singled out AltaVista as one of the firms it hoped to take public and make profitable in the short-term. Two weeks later, the Palo Alto-based company announced 225 layoffs as part of a drive toward profitability.
On October 19th, AltaVista announced that longtime CEO Rod Schrock would step down. Meanwhile, the company's planned IPO, first announced last December, has been unable to move forward in the face of difficult market conditions.
The news of Monday's cybersquatting resolution came as AltaVista formally launched its search services in Spain, one of several international markets the company has said it would target.
AltaVista says half of its 65 million monthly users live outside the United States.