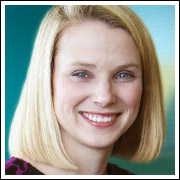 Yahoo topped Google as the most-visited website in the United States in July, Web analytics firm comScore reported on Wednesday.
Specifically, Yahoo received 196.6 million unique visitors during the month, compared with 192.3 million for Google. This is the first time Yahoo has found itself in the top spot for U.S. Web traffic since May 2011.
Moreover, this traffic report does not include data from Tumblr, which was acquired by Yahoo earlier this year for US$1 billion. That social networking site pulled in 38.4 million unique visitors in July.
Rounding out the top five most-visited Web properties in July were Microsoft, Facebook and AOL.
Neither comScore nor Yahoo responded to our request for further details.
Explaining the Win
The comScore figures reflect the number of visitors to each company's various websites. In Google's case, they do include traffic to YouTube. Still, they are not an indication of how many people use the respective search engines.
At present Google still maintains dominance in search, with 67 percent of the market in June, according to comScore, while Microsoft's Bing was ranked second at 17 percent follow by Yahoo with 12 percent.
The real story, however, requires looking beyond the numbers.
"comScore was unable to explain the 'win,'" Greg Sterling, principal analyst for Sterling Market Research, told the E-Commerce Times. "We'll have to see how sustained 'the recovery' is."
The Mayer Effect
The news also comes as Yahoo CEO Marissa Mayer, who joined in July 2012, has been working to turn the beleaguered company around. This latest measure could be a sign that her efforts are beginning to pay off.
"It may well be that Mayer's efforts have restored some luster to the Yahoo brand and generated more usage and engagement," added Sterling. "Certainly the refresh and redesign of many venerable Yahoo sites has helped as least somewhat."
Of course, given Yahoo's recent path, it isn't at all clear if the company can expect to remain on top.
"People love to read the 'tea leaves' and the latest micro-movement to reach a conclusion," said Greg Jarboe, president and cofounder of SEO-PR. "It really isn't that unprecedented. Marissa Mayer can take credit for being on top on the comScore ratings. She deserves the credit, because she certainly would have gotten the blame."
Bold Decisions
Among the decisions Mayer has made since taking over Yahoo, buying Tumblr is surely one of the boldest.
"One of the key decisions by Mayer was to acquire Tumblr for US$1.1 billion back in May," Jarboe told the E-Commerce Times.
That was the biggest deal she has made since taking the helm, and it has been seen as a way to give the company more youth appeal and moreover to make up for years of missing out on the revolutions in social networking and mobile devices.
Tumblr reportedly has more 108 million blogs, with many highly active users.
Competing Data
Of course, the comScore traffic analytics may not include Tumblr figures, but they also don't include mobile traffic, an area where Google is still much stronger.
"Compete's data puts Google on top," noted Jarboe. "While the comScore ratings are still a victory for Yahoo, they can't put up the banner that says, 'Mission Accomplished,' or take that victory lap just yet."
Either way, however, "the bigger story is that Yahoo is stronger now," Jarboe concluded. "This just suggests that the company's fortunes have turned about."