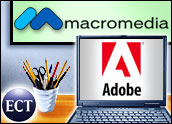 Adobe Systems moved closer to acquiring Macromedia after the Department of Justice said the US$3.4 billion deal passed anti-trust muster.
The approval came nearly six months after the deal was first announced on April 18. Over the summer, the Justice Department sought more information on the deal, raising the possibility that it would halt the deal or at least force some change to allow it move forward.
But the DOJ issued a clean approval for the deal. San Jose, Calif.-based Adobe says the acquisition, which shareholders from both companies have already approved, remains on track for closing this fall, though anti-trust approval in "some European jurisdictions" still remains.
Adobe has said the deal was needed to satisfy customers who are seeking better integration of different software programs, especially those that enable desktop and Web publishing. The prizes for Adobe are Macromedia's Flash, widely used to enable graphics on dynamic Internet pages, and its Dreamweaver Web site design program.
The merger is also seen as significant because of its potential to pressure Microsoft to respond by adding more features to its next generation of office productivity and publishing products.
Waiting for Vista
Adobe hopes to be able to convince more of its own customers to buy Macromedia software, and vice versa, arguing that the compatibility and integration the companies will build in will make them effective for a range of publishing needs, with a single set of tools able to create documents for the Web and for print.
Macromedia's Dreamweaver and Flash face competition primarily from Microsoft's Frontpage and the head-to-head battle is one that bears watching, according to analysts.
Enderle Group Principal Analyst Rob Enderle said the new innovations relating to publishing that Microsoft plans for Vista may have been one motivation for the Macromedia purchase by Adobe.
Vista's array of visual tools, which go by names such as Acrylic, Sparkle, and Quartz "dramatically improves the Web-based visual toolset available and probably goes further to explain why Adobe felt the need to acquire than anything else," Enderle said. "This promises richer Web sites and future multi-media hosted applications that can better exemplify products and services and create a more immersive experience."
Share and Share Alike
Meanwhile, Microsoft is facing increasing pressure to give up its long-held proprietary approach to document creation and sharing. The decision by the state of Massachusetts to order all agencies to change to non-Microsoft software that enables universal sharing of documents is seen hastening a move in that direction.
In fact, word has leaked out of Redmond, Wash. that Microsoft's next version of Windows will include a program, tentatively known as Metro, that is designed to be a truly portable document format (PDF), enabling documents to be shared among programs and even opened without the program itself being present.
Both Adobe and Macromedia shares were higher on the news. Adobe stock rose nearly 4 percent in midday trading to $29.35 ,while Macromedia was up just under 5 percent to $40.47. Microsoft stock was unchanged at $24.59.
While some analysts say some hurdles remain as the two companies merge technologies and cultures — often a stumbling block for such combinations — many say Adobe's history of strong corporate governance and performance give confidence the integration will happen quickly and effectively.
"We remain positive on the potential of the combined product lines and their reach across different digital platforms," Brean Murray analyst Barbara Coffey said in a research note.