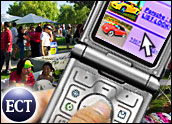 Mobile commerce opportunities have been largely overlooked by retailers in North America with sound reason. The current shopping experience on mobile phones is just plain awful.
Nevertheless, mobile communication devices are a widely used resource — ready and able to bridge stores with the site and call center.
This offers huge potential to drive offline growth with online assets with minimal investment.
Exchange Novelty for Strategy
Several retailers have piloted mobile applications. Most are aimed at capturing orders via mobile phone. Polo Ralph Lauren, Barnes & Noble and Amazon are recent examples. Yet apart from downloadable content, the shopping paradigm doesn't translate well to mobile devices. There are three obvious reasons:
Merchandising is impractical. Mobile screens are simply too small for adequate product display.
Security is inconvenient. Cell phones are used mainly outside the home where entering credit card data is unsafe.
Homogeneity is impossible. The sheer diversity of carriers, device manufacturers, network speeds and operating systems produce a different experience from one visitor to the next.
Despite these shortcomings, there is a practical and compelling mobile commerce strategy retailers can use now. Mobile phones are at hand for most shopping visits. There are 226 million mobile subscribers in the U.S., over a quarter of which use SMS text messaging each month. In fact, text messages now exceed phone calls in their frequency across all age groups.
Not only has SMS exploded in popularity, but most Web-enabled phones can send a text message and receive a reply with hyperlinks to proceed further. U.S. retailers trimming budgets and seeking growth should repurpose some online assets for mobile devices. Such applications can help with important tasks during the shopper's visit — much like an interactive kiosk (only smaller).
Engage Kiosks on the Hip
At one time, interactive kiosks were a carbon copy of a retailer's Web site and considered a novelty, circa 2000. Retailers discovered that consumers are ambivalent to shopping online during a store visit. After coming to their senses, merchants retooled the kiosk for single-purpose applications (e.g., price check, gift registry, item comparison). Adoption then rose.
Merchants should approach mobile commerce with this same principle in mind. Forget moving checkout to the phone. Instead, retailers should aid in-store activity where and when the shopper needs it. A mobile phone can become an engaging "kiosk on the hip" — freeing up time, saving money, and leading shoppers to the items they seek.
With well-placed signage in-store, retailers can promote an enhanced shopping experience just as visitors arrive. Interested consumers can register their Web-enabled phone from anywhere that's convenient. It requires only a text message. After confirming the registration, the system can provide a menu of options that tie back to existing Web tools that are hard to access in a store without a trained associate. Even better, utilizing mobile phones as "kiosks on the hip" requires no extra floor space for bulky, damage-prone equipment.
Extend Apps to the Aisle
Product information, ratings and reviews are examples of data that is readily available online with just an item number. Delivering that same product detail to the store aisle via mobile phones can increase the size and frequency of in-store purchases. And it doesn't cost retailers a fortune.
If a store shelf is empty or the rack is missing a size, don't make a consumer look for an associate. That item may be available elsewhere in the vicinity. Why forfeit the sale to your competition? Provide any item's stock status and location on request. Store hours, phone and driving directions can also be delivered in the communication stream when a URL is returned.
Bargain hunters are always on the lookout for a deal — now more than ever. With their permission, retailers should augment consumers' online profiles with in-store activity to deliver more relevant promotions.
Create Cross-Channel Buzz
There are many ways to make shopping more social by equipping consumers with viral tools that could tell-a-friend when the perfect item is in plain sight. Teens love to shop; and they text more often than adults. Innovative retailers can extend features like wish lists for in-store use; allowing customers to add favorites to their birthday or holiday wish list while the item is in hand. Providing window shoppers a simple way to share gift ideas with loved ones makes everyone's life easier.
Mobile shopping utilities like these can improve the in-store experience in almost limitless ways. The novelty of mobile checkout may not last. The real payoff belongs to retailers who focus on deepening affinity for the brand and helping consumers at every stage of purchase. Merchants will strive to make the most of every dollar in 2009. Driving cross-channel growth with mobile commerce is one smart and frugal investment.
---
Bill Mirabito is founder and principal analyst for
B2C Partners
, where he helps retailers evaluate e-commerce technology and services.
---