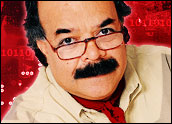 E-commerce is growing in leaps and bounds. Searching on global engines for business names based on "Web" or "Net," like WebCom, WebTech, NetSys or NetWeb, will now result in millions of matches. This signals a crisis for business name identities, corporate images and global cyber-branding.
The same goes for the other top 100 most diluted words, suffixes, prefixes and roots as they have equally glutted the business marketplace. Words like info, data, tech, cell or soft have been overly used and abused in the naming of products, services and companies.
There are a handful of exceptions, like Microsoft or WebEx.
Alphabet Soup
This dilution points to the demise of the power of once-unique names, as they now have become a big marketing liability by being just being just background noise with no distinction in today's fiercely competitive marketplace. It's a soup all right.
In an earlier study by ABC Namebank in 1997, the same diluted names pointed to less than 10,000 possible hits, while today's numbers are at hundreds of millions. Once identical names reach an unfathomable number, that name identity is doomed.
This raises serious questions for the executives of those hundreds of millions of businesses around the globe hoping to achieve superiorsales. The fundamental laws of corporate image and naming in cyber branding clearly demand a simple, very unique and a powerful name identity, or else entire advertising and branding budgets are bound to be wasted.
The point here is that even if customers manage to find one of these companies through a search, the brand recognition is still blurred as millions of similar names compete for attention.
This driving force of the new name economy will simply get worse as we engage a virtual society where every second, millions of generic and diluted names are being crushed into the e-commerce arena. Zillions of fluid, wireless names, images and messages are racing against each other like a 24-7 battle scene from "Lord of The Rings."
Is the Name Working?
The biggest problem has been when businesses in developing countries simply copy names from the West. With 246 countries, and a large majority of them playing amateur branding games, it is very easy for the numbers to add up a billion. It may be true that most of the users are not large or legit, but the names do cram the global search engines.
No matter how and where these type of names originated and irrespective of whether they were created as a sudden bolt of lightning or developed over many months by outsourced teams of fancy branding professionals, the question remains: Is it working? And to what standard?
Users of these diluted monikers are not suing each other, because they have no chance of defending the generic nature of the name. Still, somehow it is a taboo for the senior executives to openly discuss the name issues. This makes for prolonged agony as most marketing and branding slowly bleeds corporate resources, reducing the visibility on e-commerce while the cash registers keep getting quieter.
When you have a NetThis and WebThat, how do customers keep it all straight? The beauty of well-known brand names like PlayStation, Rolex, Panasonic or Google is that they are so easily identifiable from the crowd.
There is a lot to be said for highly unique, proprietary naming. This is not just a branding game any longer. Business naming never was a creative exercise; it is supposed to be a very tactical black and white maneuver to capture the right alpha-structure and to make sure that it is not only simple and highly related to the business, but most critically, it is available for a globally protected trademark along with a matching dot-com.
Three Golden Rules of Naming
For the true masters of naming architects, this is a normal, doable task, but to creative branding brainstormers, it is just a game of making large random lists, hence, the current naming and duplication crisis.
The golden rules for choosing a business name start with the premise that a company should never lean under someone else's umbrella, or it will wind up getting wet. Don't be a copycat. It is very bad to copy or borrow from an established identity. Trying to resemble an established legendary name is fruitless in the long run.
Creativity is important but over-creativity can be damaging. It can cause fire. Do not twist, bend, stretch, exaggerate, corrupt or modify alphabetic structures without certified and proven skills. It might result in difficult, confusing and unpronounceable names.
Work locally, but name globally. A name is only good when it is free and clear to travel around the globe without encountering translation problems or trademark conflicts.
Without a proper and in-depth understanding of corporate nomenclature, rules of global cyber-branding and domain name identities, it is no longer possible to play the real e-commerce game. The sooner the analysis is done, the sooner the results will come.
---
Naseem Javed
, author of
Naming for Power
and also
Domain Wars
, is recognized as a world authority on global nameidentities and domain issues. Javed founded ABC Namebank, aconsultancy he established a quarter century ago, and conducts executiveworkshops on image and name identity issues. Contact him at
[email protected]
---