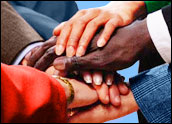 Following on the heels of the explosive growth of social media phenomena like Facebook, Wikipedia and Twitter, companies are exploring whether they can leverage the "wisdom of the crowds" to solve the problem of connecting the bits of information that can lead to innovative products and improved service.
Instead of a process-based technology (like a sales automation system) or a data-centric technology (like an ERP system), enterprise collaboration puts people at the center. It provides a group of tools to allow employees to codify their knowledge, link to knowledge in other parts of the company, work with suppliers more efficiently and productively — even bring customers and consumers inside the corporate walls to hear their wants and needs for new products or to give early feedback on a product in development.
If this sounds like a dramatic break with how work has been organized in the past, that's because it is. Along with this change comes all the problems that can derail any major organizational change effort. The tools and practices are rapidly evolving as members of the workforce, increasingly comfortable with sharing family photos with their social circles, see no reason why they can't build a business network to stay more connected to critical work projects.
Staying on Target
Unlocking the potential value of better collaboration requires that the installation of an enterprise platform is accompanied by appropriate process changes, features that support this new way of working, employee incentives, and a clear signal from management that there is no turning back.
According to the new Gleansight benchmark report on Enterprise Collaboration (currently available for free download), this is no simple task, and companies use a variety of strategies to ensure that their employees successfully transform their work styles.
One clear implication of the answers to Gleanster's recent survey, in which 187 companies participated: Success is more about the culture and environment established around the change than the technology.
1. Put incentives in place to ensure employee participation.
Companies overwhelmingly cited incentives as the most important strategy for ensuring success. Change is hard, but proper rewards encourage the new actions and habits that begin the process. Given the scope of change that a collaboration platform likely represents, incentives shouldn't be a one-time program but should evolve over several months to lead users into deeper engagement with the platform until collaboration becomes the new normal.
2. Establish goals (organizational, project-based, team, individual, etc.).
For Top Performers, "goals" were a close second to "incentives" as a key strategy to make sure the value of an enterprise collaboration platform is realized. Goals serve a critical function in signaling that management is serious about this initiative and giving employees a standard to compare their performance against. Knowing the goals they must achieve, employees will put in the extra effort required to learn and adapt to a new way of working.
3. Change work processes to encourage collaboration.
Another way management signals its commitment is to explicitly change existing work processes to incorporate collaboration. Management might begin by visibly collaborating across departmental boundaries to create a project outline for a new initiative. Or, instead of each department submitting its piece of the task to its manager, the project might require that the departments work together to create a joint recommendation that is simultaneously submitted to each manager. Companies and tasks will differ, but all can reflect a new structure of collaboration.
4. Foster a culture that encourages information sharing.
Nearly 80 percent of Top Performers cite "information sharing" as a key element: Without information sharing, collaboration is a superficial exercise if participants withhold important data to try to either control the direction of the project or to claim credit for its success. The more deeply ingrained information hoarding is, the greater the need for managers to set the new standard and be seen to share more detailed information with each other and with their staffs.
5. Integrate with a content management database and other internal systems.
In their book Switch, authors Chip and Dan Heath state one of their core principles for creating change is to "shape the path" by removing potential barriers that could frustrate users as they test out a new behavior. Lack of integration creates these barriers, such as when employees must stop their work flow in the collaboration system to go into some other system to get needed data. Beyond making individual tasks easier to execute, integrating different systems provides a clear signal that information sharing is an essential new behavior.
6. Analyze input and activity to gain business intelligence.
By its nature, a collaborative process will aggregate more data and tap more sources than a less-open process. This diversity is a strength when combined with new analytic approaches that find unexpected connections between data sets or unknown effects one area has on another. This potential for new ideas requires a conscious effort to look at the data in new ways. In addition, monitoring how the platform is used and how it is affecting business results can provide valuable insights for judging the success of the implementation.
7. Integrate data from both external and internal communities.
Enterprise collaboration brings together information and perspectives from different internal functions and departments. But most respondents feel that even this isn't enough, and that external communities like user groups have value to contribute. For many organizations, involving groups that are outside the official organizational boundaries yet are tied closely to the organization will require rethinking the definition of "enterprise."
8. Promote early success stories.
In any organization, there is bound to be a spectrum of adoption, from those who eagerly embrace a new way of working to those who drag their feet as long as possible. Publicizing projects that use this new tool to achieve faster, better results helps overcome this inertia — not only by showing actual examples of how work is done differently, but also by stating that those who adapt are recognized and rewarded.
9. Implement content notifications and alerts.
The contributions different groups make to a collaborative project won't follow the old-world model of having a weekly status meeting or scheduling a group meeting at a specific day and time. Instead, participants are likely to check in on the project and make their contributions on an ad hoc basis, and they may need to be reminded as they juggle other priorities. Alerts and notifications nudge those who haven't remembered to log in recently and inform the group of the project's progress.