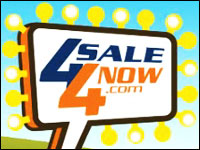 For those who like to feel like they've gotten a bargain whenever they make a purchase, 4Sale4Now.com could be a dream come true. The site lets retailers discount their products and services regularly, and it lets buyers to monitor these discounts and buy when they're deep enough to suit their fancy.
It's akin to an auction model, but unlike sites like eBay, the prices on 4Sale4Now always go down.
"With typical auction sites, the price goes up, with 4Sale4Now, the price goes down," Nicky Di Nicola, an executive with 4Sale4Now, told the E-Commerce Times.
How it Works
4Sale4Now offers a venue for selling and buying an eclectic mix of products and services, from appliances to tree installation to football tickets. Sellers create an account with the site, and they designate the initial price of an item, along with the percent of the discounts to be allowed and the timetable for gradually phasing in these discounts. Control over the price cuts, in other words, lies entirely in the seller's hands.
Buyers, for their part, can monitor an item or service that interests them and buy it when it reaches a price they're happy with, whether it's full price the first week or 30 percent off a few weeks later. They can see on each listing the price history for an item, as well as the scheduled cuts in the future. While it might make sense to just wait until an item is as discounted as possible, items might sell out before they reach the final discounts, so buyers have some incentive to buy before the deepest cuts come.
In a recent listing, for instance, a Cole Haan Mini Hobo Black Handbag could have been bought originally at US$150. Within a few weeks, buyers could purchase it for 20 percent off, or $120. Or they could wait, if they wanted to risk the item selling out, for the largest scheduled cut, 50 percent off, or $75.
In short, 4Sale4Now captures the spirit of bargain hunting, bringing online the waiting and watching long practiced by experienced shoppers in traditional, offline stores.
How It Started
The idea for 4Sale4Now came to founder Joe Elias one night a few years ago, when he woke up with a concept for the company in his head.
"He started writing pages of notes about the concept," said Di Nicola. "We still have those notes, and it's amazing to look back to them, and then look at the site and the development. It's truly an amazing progression."
The site launched in November 2008, and since then the East Dundee, Ill.-based company has gotten steady traffic. It is seeing about 1,000 hits a day, and between 500 and 700 listings, and those numbers are increasing.
A Site 4 Tough Times
The success of 4Sale4Now has been thanks, in part, to the economic downturn, which makes consumers more bargain-conscious than ever.
"Buyers are no longer willing to pay more money for an item; with the economy being sluggish, people are not spending money, which is a problem that is plaguing buyers and sellers alike," said Di Nicola.
Some of the main competition for 4Sale4Now comes from auction sites, but in fact these run on an opposite model, and many consumers would rather see prices go down than up.
Retailers who have used the site so far appreciate the its unique business model, which has allowed them to appeal to new customers they might not otherwise have reached.
"They're a good company, easy to work with, and very responsive to their customers' needs," Stephen Goldman, president of Atlanta-based As Seen On TV told the E-Commerce Times. "We've actually got more sales than we thought we would. It's easy."
As Seen On TV, which markets products that are advertised through TV infomercials, has placed 150 products on the site so far, and Goldman said that he has plans to add many more. The secret to the site's success, he said, is based on the appeal of falling prices.
"With their system, the price will go down," Goldman said. "It might go down in one day, it might go down in a week."
Overall, the future looks bright for this start-up, which promises to keep matching motivated sellers with savvy buyers.
"Consumers want good deals, and they will hold tight until they find them," said Di Nicola. "Sellers know that this is the ideal sales window to sell their items and entice buyers."