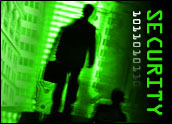 Consumers and small businesses just can't afford to let their network and computer guards down these days. With the growing number of mobile and wireless technologies available to them, and with cybercrooks becoming better organized, focused, and more willing to share resources, the digital world can be a hostile place.
Security software and service vendors are busier than ever responding to the ever-increasing threats, whether they target consumer privacy and information in the home, on corporate networks, or within the IT systems of government agencies.
"Technology today is advancing at an incredible pace. This is a case where the technology is ahead of the market demand," said Ben Haidri, vice president of marketing and product development atAbsolute Software, which specializes in providing mobile data security solutions. "Vendors and service providers already offer robust, comprehensive solutions for tracking, recovering and securing data. They are also working on the next generation of products to stay ahead of criminal minds.
"However, the hardest part of the battle is educating the public and the institutions about the potential hazards of ignoring this problem. Similar to physical security, technological solutions for securing data are only effective if they are properly deployed. A house alarm is only helpful if home owners have the foresight to have [it] installed and then remember to turn [it] on every time they leave the house," Haidri cautioned.
In an effort to advance such efforts, following is a brief overview of 10 leading IT security vendors, their products and their services.
To quote a line from an old TV police drama: "Let's be careful out there!"
Founded in 1992, ESET is a global provider of security software for enterprises and consumers. The company has an extensive partner network that includes corporations like Canon, Dell and Microsoft. Based in Bratislava, Slovakia, the company maintains U.S. headquarters in San Diego. It also has offices in Prague and Buenos Aires, and representatives in more than 80 countries worldwide.
ESET's NOD32 is a unified anti-threat system which protects against viruses, spyware, adware, trojans, worms and phishing attacks. It provides real-time protection and has been recognized in the industry for its small footprint, speed and comprehensive protection. The company's proactive ThreatSense technology has proven itself capable of stopping 93 percent of all zero-day threats before they're released. The broad product platform protects Windows, Linux, Novell and MS DOS machines.
Products
* NOD32 for Linux Mail Server* NOD32 for Linux File Server* NOD32 for Windows (can be offered to subscribers at a discounted rate)* NOD32 Enterprise Edition
Founded in 1988, F-Secure protects consumers and businesses against computer viruses and other threats over the Internet and across mobile networks. The company offers antivirus, firewall, anti-spam and anti-spyware solutions for workstations, gateways, servers and mobile phones, as well as network control solutions for Internet Service Providers.
F-Secure has staked its claim as the global market leader in mobile phone protection, and its services are provided through such mobile telecom operators as T-Mobile and Swisscom, and mobile handset manufacturers including Nokia.
Products
Security Suites
* F-Secure Anti-Virus Corporate Suite* F-Secure Anti-Virus Small Business Suite* F-Secure Policy Manager — Centralized Management
Desktops and Laptops
* F-Secure Anti-Virus Client Security* F-Secure Anti-Virus for Workstations* F-Secure Linux Client Security* F-Secure Internet Security 2006
File Services
* F-Secure Anti-Virus for Citrix Servers* F-Secure Anti-Virus for Windows Servers* F-Secure Linux Server Security
E-Mail and Internet Gateways
* F-Secure Anti-Virus for Microsoft Exchange* F-Secure Spam Control for Microsoft Exchange* F-Secure Internet Gatekeeper for Linux* F-Secure Internet Gatekeeper for Windows* F-Secure Spam Control for Internet Gatekeeper* F-Secure Messaging Security Gateway
Smartphones
* F-Secure Mobile Anti-Virus for Businesses* F-Secure Mobile Anti-Virus* F-Secure Mobile Security
Palo Alto, Calif.-based Fortify Software has been successful in differentiating itself from other security systems and services vendors by taking a holistic approach to providing security throughout the software application development and deployment lifecycle.
The company's solutions include leading-edge software products that automate and enhance key audit and development processes, and that integrate with the most-popular software development platforms and testing environments. The company's product deployment is supplemented with training service, best practices guidance, and technology transfer consulting. Fortify partners with leading services providers in the security industry to further ensure customer success.
Enterprise customers include major financial services corporations such as Bank of America, Fidelity, Goldman Sachs and Wells Fargo, as well as commercial technology product vendors including eBay, Macromedia and Sygate.
Product
* Fortify Source Code Analysis Suite
Fortify Source Code Analysis Suite is an integrated set of industry-proven tools that enable organizations to effectively find, track, and fix security vulnerabilities in their software applications. It is designed to work seamlessly with existing development and audit tools and processes, thereby providing accurate and consistent results that can substantially reduce the time it takes to identify and remediate software security flaws.
Key Features
– Source Code Analysis Engine- Data Flow Analyzer- Semantic Analyzer- Control Flow Analyzer- Configuration Analyzer- X-Tier Tracking- Rulepacks – Support for Multiple Programming Languages and Operating Systems- Rules Builder- Audit Workbench- Software Security Manager- Secure Coding IDE Plug-ins- Source Code Analysis Engine
The Juniper Networks SSL VPN is a market-leading, single platform security solution for businesses large and small. It has been recognized as "best-in-class" for its end-point security, granular access control and threat prevention. Broader, coordinated threat control is provided by Juniper Networks IDP, a solution that offers scalable appliances capable of meeting the remote and extranet access requirements of companies of all sizes.
Juniper's SSL VPN is designed to support organizations with the need to provide access for remote/mobile employees, partners and customers. It supports large global deployments from a single platform with minimal need for client-side software deployment and maintenance.
Products
* Juniper Networks Secure Access 700: Small to mid-sized companies* Juniper Networks Secure Access 2000: Small to mid-sized enterprises* Juniper Networks Secure Access 4000: Mid-sized to large enterprises* Juniper Networks Secure Access 6000: Large and multinational enterprises* Juniper Networks Secure Access 6000 SP: Service Provider Managed Services