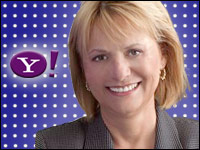 Yahoo announced Wednesday that first-quarter earnings fell by nearly 80 percent and that it will cut 675 jobs as CEO Carol Bartz struggles to revive the ailing Internet company.
The news was not generally jeered by investors, however. Between opening time Tuesday, when they stood at US$13.94, and mid-day Wednesday, when they stood at $14.88, Yahoo shares put on 94 cents, or 6.7 percent.
One reason could be that the earnings figures met both analyst expectations and Yahoo's earnings forecasts.
Another is that analysts are factoring in the effects of the recession — which also hit market leader Google's online ad revenues — and are allowing Bartz time to fully take the reins.
However, Bartz's success may depend on her deal-making ability. Earlier this month, Yahoo was reported to be back in talks with Microsoft over some sort of business arrangement.
Does Yahoo really need Microsoft? Does Microsoft Need Yahoo?
The Figures
Yahoo's first-quarter net income in GAAP (Generally Accepted Accounting Principles) figures totaled about $118 million, or 8 cents per share, compared to about $537 million, or 37 cents per share, in the first quarter of last year.
Revenues fell 13 percent year over year (YoY), from $1.8 billion to nearly $1.6 billion.
Marketing services revenues from sites Yahoo owns and operates fell 10 percent YoY, from $966 million to $872 million. Yahoo blamed the decrease on a fall-off in display advertising revenue of 13 percent and a 3 percent decline in search advertising revenue.
Revenues from affiliate sites fell 16 percent YoY, from $606 million to $511 million, but Yahoo said this was in part because of its efforts to improve traffic quality.
Where's the Money?
Cash flow — the key to any business — was also off. Income from operating activities fell 67 percent YoY, from $786 million to $262 million.
However, the first quarter of 2008 saw a one-time payment of $350 million from AT&T. Discounting that, the difference YoY is only $174 million, or 40 percent — not exactly healthy, but a lot better than 67 percent.
Of course, that opens another can of worms. That payment was the result of a restructuring of Yahoo's deal with AT&T for broadband and DSL cobranding. Without it, Yahoo's first-quarter 2008 results would have been significantly poorer.
The Layoffs
The majority of the layoffs Yahoo promised will come in the next two weeks, according to the company.
However, that can only take it so far.
"Wall Street likes it that Yahoo's reducing head count, but you don't make money just cutting costs," Laura DiDio, principal at analyst firm ITIC, told the E-Commerce Times.
"High-tech is one of those industries that's especially unforgiving. You stumble and you risk being out of the race," she remarked.
After several layoffs, Yahoo's workforce totaled 13,600 by the end of 2008. That was 1,600 less than its December 2007 head count, and during the company's January earnings call, Chief Financial Officer Blake Jorgensen said it was looking for additional efficiencies — a statement many interpreted as heralding more layoffs.
Bartz is doing the right thing, according to Jay Bhatti, cofounder of people search site Spock.com and former Wall Street high-tech consultant.
"She's cutting dead weight and focusing on what Yahoo does well — home pages and search," he told the E-Commerce Times.
"Analysts will give her a pass on this quarter because she's still learning the business, and this quarter is more of a reflection on Jerry Yang," Bhatti said. "But they'll expect more over the next two quarters, so she'll need to deliver some very strategic partnerships or deals."
Microsoft Plays Coy Again
Last week ushered in another chapter in the long saga of Microsoft's courtship of Yahoo. Reports surfaced that Bartz was in talks with Microsoft CEO Steve Ballmer.
Ballmer has been quoted as saying his company isn't interested in buying Yahoo, noted DiDio.
However, that doesn't necessarily rule out the possibility of some sort of business arrangement. The two companies are reportedly discussing a deal, but it's not yet clear whether Microsoft wants to buy the search portion of Yahoo or engage in some other venture. Bartz had said during a January earnings call that search was not for sale.
"Microsoft doesn't have any Internet expertise," Bhatti said. "All their Internet ventures are failing."