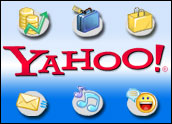 Despite its problems, Yahoo is playing it cool when it comes to Microsoft's bid of US$31 a share, or $44.6 billion, even though the offer was 62 percent higher than its Jan. 31 closing price of $19.18 a share.
Yahoo is "thoughtfully evaluating a wide range of potential strategic alternatives," CEO Jerry Yang wrote in an e-mail to staff. Yang and chairman of the board Roy Bostock discussed it and "no decisions have been made about Microsoft's proposal." Yahoo has hired "top advisors" to help in the process, he said.
Google dominates the online advertising market, leaving Yahoo far behind in this area.
Yahoo's finances are going downhill: Earlier this week it announced a 23 percent fall in quarterly profits, and has provided a cautious financial outlook for the rest of the year. To trim costs, it is planning to hand out 1,000 pink slips soon. Also, Yahoo has had several management shakeups over the past year; and several executives at various levels quit the company in 2007.
Alternatives? What Alternatives?
Although Yang had mentioned that Yahoo is looking for other buyers, it's hard to see who might want to step up to the plate.
News Corp. and NBC had earlier this week ruled out their involvement, and reports say that Comcast and AT&T are not interested either.
Instead of thinking about alternatives, however, Yahoo could just be working on the best possible solution, as Yang said.
"Yahoo seems to be assessing its options," David Schatsky, president of analyst firm JupiterResearch, told the E-Commerce Times. "It's a hugely complicated situation with dozens of businesses and thousands of employees involved."
The Tangled Web
Complicated is right. Yahoo is partnering with AT&T to offer DSL and Web service; AT&T, Yahoo and Microsoft are partnering on an IPTV service from AT&T called "U-verse TV."
Earlier this week, AT&T and Yahoo extended their broadband services marketing agreement by four years.
What will happen to AT&T if the purchase of Yahoo goes through? The company wouldn't say: "We've been happy with our relationship with Yahoo; beyond that, we don't have any comment," an AT&T spokesperson said.
Then there is the issue of online advertising, believed to be the main driver behind Microsoft's offer: Yahoo has its own platform; and, in August 2007, Microsoft bought aQuantive, the parent company of several digital marketing firms including Atlas and Razorfish, and created the Advertiser and Publisher Solutions (APS) Group. Earlier this week, its adCenter Labs demonstrated seven new technologies, including Air Wave, a new technology to create a "fourth screen" experience beyond TV, PCs and mobile phones.
Can the two be merged? Or will one of them get killed off?
Both firms also offer webmail, instant messaging, search engines and other Web services, which need to be sorted out.
Whither Yahoo Services?
Yahoo has made several ambitious purchases of companies with new technology, and, if the deal goes through, will Microsoft retain them or kill them off?
In September 2007, Yahoo acquired e-mail vendor Zimbra for about $350 million, a move that Gartner analyst Matthew Cain said would benefit Yahoo against Google, IBM's Domino and Microsoft's Exchange in "an intense battle for the e-mail market through 2012."
Yahoo has launched Zimbra 5.0, a next-generation e-mail and collaboration that Yang described as "a great milestone in our open platform." Yahoo has also recently entered a digital music partnership with Rhapsody and has acquired Foxytunes, makers of a music toolbar.
Also, Yahoo will make several announcements at the upcoming Third Mobile World Congress, to be held in Barcelona, Spain, Feb. 11-14.
"The challenges are formidable and it's not obvious that the deal will happen," Jupiter's Schatsky said.
Impact on Online Advertising
The key issue, Schatsky said, is what the impact of Microsoft's purchase of Yahoo will be on the online advertising market, if it goes through. "Will the market be more or less competitive? How will it affect prices advertisers are facing? Will Microsoft and Google be able together to reverse the slide in search market shares they've experienced recently?" he added.
If the deal does go through, Microsoft will "need to execute really well and need to persuade a broad group of constituents, from agencies to advertisers to a broad group of partners, that the deal will work for them and also provide a counterbalance to Google's growing power in the market," Schatsky said.
Thoughts on the Deal
The deal will be beneficial to Yahoo if it goes through, said Mark Coker, an angel investor and president of Dovetail Public Relations.
"Yahoo's lost its way for the past couple of years," he told the E-Commerce Times. "They've done multiple revisions and upgrades to their MyYahoo news server and turned their backs on what made them great, which was creating streamlined lightweight power-packed online applications. They can benefit from Microsoft's development capabilities, which are pretty strong."