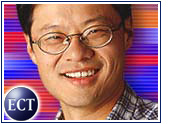 Santa Clara, California-based Yahoo! Inc. announced strong second-quarter earnings and better than expected revenue growth Tuesday, sending its stock soaring and calming investor fears.
The Internet bellwether said revenues for the quarter rose 110 percent to $270.12 million (US$) from $128.57 million in the same quarter last year. Net income totaled $65.46 million, or 11 cents per fully diluted share, compared with a loss of $263,000, or breakeven, in the 1999 quarter.
Pro forma earnings excluding items amounted to $73.99 million, or 12 cents per fully diluted share, above analysts' expectations of 10 cents per share.
Additionally, Yahoo! said that page views skyrocketed to an average of 680 million per day in June, up from 625 million in March.
Results Strong Across the Board
"This quarter's better-than-expected financial results underscore the strength of our global franchise business," said President and Chief Executive Officer Tim Koogle.
Growth was strong across all business segments, the company said. Yahoo! boasted more than 156 million unique users during June, including 20 million in Japan. In the United States, it reached 64.5 percent of the population at home and at work.
Also, more than $1 billion worth of online transactions took place through the company's global network during the quarter. Yahoo! Shopping added 800 new stores during the quarter, bringing the total to 11,300.
The results were released after the close of trading Tuesday.
Quarter Is Significant
The quarterly results, which are usually the focal point for investors, took on even more significance because of concerns that the ongoing dot-com shakeout could adversely affect advertising revenue for Yahoo!.
However, chief financial officer Susan Decker tried to quell such apprehension Tuesday during a conference call following the earnings announcement. She estimated that Yahoo! receives less than 10 percent of its revenue from dot-com companies with "questionable" status.
By the close of trading Tuesday, Yahoo! had fallen $4.50 to $105.50. However, in early trading Wednesday, shares surged to as high as $121.
Yahoo! Not Immune
Yahoo! president Jeff Mallet admitted that his company is not immune to changes in the Internet landscape, but said he expects it to be one of the survivors that gains market share as the shakeout continues.
Merrill Lynch analyst Henry Blodget commented that Yahoo!'s results will set many people's fears at ease. "People will start to focus on valuation as the industry is maturing," Blodget added.
Yahoo! Continues To Diversify
Some analysts also noted that Yahoo!'s dependence upon pure advertising for its revenue will diminish over time, because the company is expected to continue diversifying.
Just last month, the company announced it would pay some $434 million in an all-stock transaction to acquire free group e-mail service eGroups. The eGroups acquisition will boost the new Corporate Yahoo! enterprise service that was recently unveiled.
Yahoo! agreed to issue approximately 3,428,136 shares of common stock to eGroups in exchange for all outstanding eGroups shares. Yahoo! says it will account for the deal, which is expected to be completed in the third quarter, with a one-time charge during that period.