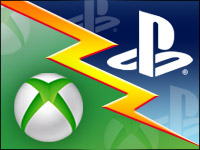 Sony's PlayStation 4 may have had a weeklong head start in building sales momentum, but on Black Friday, Microsoft's competing Xbox One appears to have edged out its rival — at least in the United States.
The new Xbox One — along with the previous-generation Xbox 360 — together accounted for 61 percent of console sales on Black Friday, InfoScout reported on Monday, compared with 30 percent for Sony's PlayStation 3 and PlayStation 4.
Analyzed individually, the Xbox One garnered 31 percent, as opposed to the PlayStation 4's relatively meager 15 percent.
Microsoft's overall success "can be largely attributed to limited availability of the PS4 in addition to Walmart discounting the Xbox 360 down to $99 for Black Friday," said Jon Brelig, InfoScout's cofounder and CTO.
Best-Seller in the UK
The view is slightly different from across the pond, however.
Although both Sony and Microsoft were able to reach the million-unit mark in first-day sales for their respective next-generation video game consoles last month, the PS4 on Monday was named the UK's fastest-selling console to date by GfK Chart-Track.
Sony's device sold 250,000 units in the UK in its first 48-hour period, compared with just 150,000 Xbox One sales in the same time period.
That new achievement overturns the 8-year record held by the original PSP, GfK Chart-Track pointed out.
'Very Close to 50-50'
There are a number of factors to be considered with each of these launches, not the least of which is that Sony's PS4 is priced US$100 cheaper than Microsoft's Xbox One. In the lead-up to the launches, Sony certainly had that advantage.
"Our intent-to-buy survey found that the PS4 actually edged out the Xbox One," Lewis Ward, research director for gaming with IDC, told the E-Commerce Times. "Moreover, Walmart and Target, as big box retailers, are only one piece of the market — these big box retailers only represent a small part of the overall picture."
In fact, "our forecast shows that the PS4 will edge out the Xbox One on a global basis, but the Xbox One could edge out the PS4 in North America," Ward added. "Worldwide the dynamics could get very close to 50-50 by the end of this year, however."
An International Focus
While the Xbox One could have the edge in the North American market, Sony could be placing a heavier emphasis on international markets — most notably, Europe — as part of its global strategy.
"Sony wanted to focus on Europe and Australia," Arvind Bhatia, senior research analyst for Sterne Agee, told the E-Commerce Times. "The U.S. was very critical for Sony, and here they already had sold a million units. However, Sony's strategy with this launch has been to focus on many specific markets, and in many of these it managed to edge out the Xbox One."
While the price advantage was a factor, Bhatia added, "the buzz was certainly stronger at launch for the PS4 than the Xbox One.
"Whatever they can supply they could sell," he said. "We certainly were hearing that from retailers, and the premiums on eBay are showing that the demand for the PS4 is there."
When the PlayStation 3 launched in 2006, by contrast, "it took the whole month of November and all December for them to sell a million units worldwide," Bhatia pointed out. "This time they did one million in one day in one territory."
Too Early to Know
It is still early to know, however, which of the new consoles will emerge as the victor.
"That will take channel checks to see whether there are more PS4s or Xbox Ones in stock," noted video game analyst George Chronis, editor of DFC Dossier. "At this early juncture, we may even have a sizable number of core gamers purchasing one of each device."
Looking ahead, "the biggest point to watch is how consumers respond to the PS4's $100 price advantage, as both devices have similar specifications," Chronis told the E-Commerce Times.
Overall, DFC Intelligence forecasts that the global market for video game software on dedicated console systems will grow 30 percent to between $22 billion and $23 billion a year from 2016 to 2018, he said.
'A Winner Might Start to Emerge'
Prior to this one, the last launches from Sony and Microsoft were a year apart. This time, the companies are going head-to-head for the first time.
"The last cycle we saw that the Xbox had a year lead, but at the end they were neck-and-neck," said Bhatia. "So there is ample opportunity for each to try to outdo the other. Both will be successful console launches. By next Christmas a winner might start to emerge."