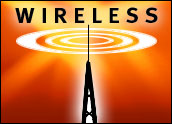 Why did Verizon Wireless just get regulator OK to acquire wireless spectrum from cable television companies, whereas AT&T got turned down in its attempt to acquire T-Mobile for the same reason? And why is it still important for regulators to solve the growing wireless data spectrum crunch?
The truth is, we are running out of available wireless data spectrum. The sudden explosion of smartphones and so many apps is changing the wireless industry.
On one hand this is an amazing growth opportunity even as we outrun the wireless data spectrum we have. On the other hand, this shortage will have a negative impact on every carrier and every customer who uses apps on smartphones.
Right now things seem fine, right? Don't be fooled. We are in the calm of the center of this wireless data spectrum hurricane.
Eye of the Storm
The reason the pressure is off of AT&T is because last year the iPhone started being sold on every major carrier, like Verizon Wireless, Sprint and even C Spire Wireless. And over the next few years, more carriers will offer the iPhone. That has created a period of calm.
That gives AT&T, and in fact every company, a little breathing room to solve this brewing crisis, which will come back sooner rather than later.
The FCC and United States Department of Justice said no to the AT&T T Mobile merger because it was more than just a spectrum deal. It would also take one major competitor off the playing field.
At this point in the wireless industry, after years of acquisitions and mergers, there are few wireless carriers left.
In fact, AT&T and Verizon together already account for 70 percent of the marketplace. The other 30 percent is split up among a number of other carriers, like Sprint, T-Mobile, C Spire, US Cellular, Tracfone and several others.
So the proposed AT&T deal would have done two things. It would give AT&T spectrum, which likely would have been approved, and it would take T-Mobile off the competitive playing field, which was why it was not approved.
Verizon's Play
The Verizon acquisition of the cable television wireless spectrum was also sticky. It was not an acquisition, but still Verizon and Comcast had taken this way too far. Example: You could walk into a Verizon Wireless store and buy Comcast television.
Two arch competitors now playing nice? That is not good for the competitive playing field. And it would have gotten worse over time.
This was one of several important issues that regulators just could not ignore. The negotiations between Verizon, Comcast, SpectrumCo and the U.S. regulators tried to iron out these issues.
The regulators now say they have done this, so the acquisition of spectrum can occur.
Remember, this deal is only about the acquisition of spectrum. It is not an acquisition of companies. The companies are still in place as always.
So that's why Verizon its deal while AT&T did not.
Room for Maneuver?
This spectrum gives Verizon some wiggle room, but just some.
The wireless data spectrum shortage problem is still real, still growing and will still have a negative impact on the entire industry.
That's why it's very important for the industry players and U.S. government regulators to develop a short-term and a longer-term solution to this growing problem.
This cannot be ignored or every customer and every carrier will struggle like AT&T did in the first few years of this iPhone and smartphone revolution.
Additionally, the solution cannot just be for carriers to acquire spectrum for themselves. In that case there will be winners and losers, and fewer competitors will have a serious impact on the competitive playing field, prices and quality.
What to Do?
So what solutions have we kicked around lately?
Remember the Lightsquared strategy last year to be part of the solution? Why can't we have more solutions like that? This company wanted to build out a national wireless data network and sell access to all the carriers. Made perfect sense until the whole thing fell apart. Actually, I don't think AT&T and Verizon even liked the idea, but Sprint, C Spire and many others did.
What about another idea like Lightsquared? Even some kind of industry-wide partnership. It still makes sense.
There are other ideas, like one from a small company I spoke with last week called "Quantance." It's trying to unclog the wireless data networks by raising speeds on handsets. It's already testing on two major carriers, one in the U.S. and another in Europe. Sounds good, but still only part of the solution.
Another idea I have been talking about is a sure solution, short- or long-term. All carriers should pool their wireless data spectrum together, and all carriers can buy access to it. That gives all wireless carriers equal access to spectrum and the ability to compete.
Clock's Ticking
There are so many ideas. We must start acting on what's good for the entire industry before it's too late.
If we want to keep all the wireless carriers in business and competing in this new wireless data world, they must have access to spectrum. Every competitor, large and small, national and regional, has to have access to wireless data spectrum.
Either that or over the next few years all that will be available is just AT&T and Verizon. Now, if you are an executive from either of those companies, that sounds great. But if you want a large and healthy industry with many competitors to keep pricing low, innovation high and customer service good, that is a disaster.
So while AT&T and Verizon struggle to get as much wireless data spectrum to meet their rapidly growing needs, we should also pull the camera back, look at the entire industry, and develop solutions that will benefit every carrier and every customer.
That is the kind of solution we need today and into tomorrow. taking the Nook to Britain. This is the first time the Nook stepped outside the USA.
B&N.com will sell the Nook Simple Touch and Simple Touch with glow light. These are the company's e-readers. This does not include their tablet.
British retailers have not been named yet. Barnes & Noble will also be launching the new website in Britain.
The Nook has been a leader in U.S. markets, driving the transformation of the book industry. It has around a 27 percent market share of the e-book business in the United States.
Its big competitor is Amazon.com Kindle. It already sells in many countries around the world, and Amazon just announced it's now selling in India. Since Amazon.com is successful overseas, I think we can expect Barnes & Noble to be successful there as well.
This means there is a whole new world of opportunity out there for the company.
There are a number of smaller competitors as well.
I expect the next Nook tablet to be available later this fall.