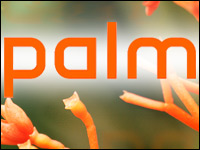 Palm's share prices rallied Friday, boosted by rumors that the troubled handset maker was being pursued by prospective buyers.
At press time, its shares stood at US$5.16, up almost 11 percent over the previous day's close of $4.65.
Palm's shares have been on the uptick all week due to buyout rumors, with one company after another being named as possible purchasers.
Will the handset maker survive the onslaught as an independent, or will it be snapped up? And who's coming a-courting?
HTC's Hand?
A host of suitors is reported to be eying Palm, which is tottering financially. In its third quarter financial report, released March 18, Chairmand and CEO Jon Rubinstein said the company's recent underperformance was "very disappointing" but added the company has strong potential.
Underperformance is right — Palm shipped 960,000 units during that quarter, 23 percent more than in the previous quarter, but only 408,000 units were actually sold to consumers, which was 29 percent down from second-quarter results. Net losses for the quarter totaled almost $103 million.
However, Palm has more than $590 million in its bank balance from cash, cash equivalents and short-term investments, which may make it ripe for the plucking.
The latest company rumored to be interested in buying Palm is Taiwanese manufacturer HTC, perhaps best known for producing Google's Nexus One smartphone.
This rumor was apparently sparked by a report in a Taiwanese publication claiming HTC had begun looking into the possibility of purchasing Palm.
Analysts are divided in their opinion of the validity of this rumor. "HTC has a good intellectual property portfolio that lets it take on Apple," Maribel Lopez, founder and principal at Lopez Research, told the E-Commerce Times. The Palm Pre was positioned as a possible iPhone killer when it was launched in June.
Others disagree. "HTC doesn't need Palm as it already has a nice user interface based on Android," Julien Blin, principal analyst and CEO of JBB, pointed out.
"HTC had a great first quarter in what is pretty much a recessionary year, and it's doing it all on its own," Ramon Llamas, an IDC analyst, told the E-Commerce Times. That could make it reluctant to buy a company that's limping along.
The smartphone maker itself would not discuss the issue. "HTC does not comment on rumors and speculation," Keith Nowak, senior public relations manager for HTC America, told the E-Commerce Times.
Other Suitors
Several other companies could be eying Palm. "Buyers could include Dell and HP," BroadPoint AmTech analyst Brian Marshall told the E-Commerce Times.
Acer, Lenovo, Nokia and RIM have also been mentioned as possible buyers.
Dell could be a good suitor, as it recently launched its first smartphone in China and is looking to enter the market here in the United States, JBB Research's Blin told the E-Commerce Times. "Acquiring Palm could help Dell get a little bit of traction in the U.S. smartphone market," he explained.
It's not likely that any of the computer manufacturers — Dell, HP, Acer and Lenovo — would bid for Palm, IDC's Llamas countered. "If you'd asked me this before these guys began planning to come out with their own smartphones, I'd probably have said yes, they might be interested in Palm," he said.
Now, however, "Dell's coming out with an Android phone, and HP offers the iPaq Glisten," Llamas pointed out. "Acer and Lenovo are probably out of the picture too."
What about Nokia? "People say buying Palm would establish Nokia's position in America, which isn't a good one," Llamas said. "But Nokia already has a smartphone at T-Mobile, and it had the 9300 and E71 with AT&T, and I wouldn't be surprised seeing it with more devices on AT&T."
What about Apple or Google? Not likely. "Apple's big on one thing — being Apple," Llamas said. "And Google's more concentrated on being Google."
RIM has also been mentioned as a possible buyer. "RIM has an operating system that's getting a little long in the tooth, but it has cool devices; Palm has a great operating system but its devices aren't so great, so people think they'd be great together," Llamas said. "I don't see that happening; RIM is well aware of its problems and is working on them already," he added.
Thumbs Down for Palm?
"Palm is burning cash, and the competition is increasing, especially in the U.S. where it's being overwhelmed by the iPhone and Android," JBB Research's Blin said. "The U.S. smartphone market has become so competitive that even when you've done a good job building a nice mobile operating system like Palm's OS, it's not enough. Maybe Palm should look for a potential buyer."
What about corporate raiders doing a Carl Icahn — swooping in on Palm, stripping it of its cash and selling it off in pieces? $590 million is a nice chunk of change.
Don't count on that scenario, IDC's Llamas said. "You could do that with Motorola, which plays in several different areas — it has smartphones, set-top boxes and enterprise devices, for example, but not with Palm," he remarked. "With Palm, you only have the handsets and the OS, and the two are inextricably linked, so how are you going to sell them off?"
However, Palm's leaders are not restricted to putting the company on the block, Blin said. "They could also license WebOS to other handset vendors," he explained.
In fact, Palm just might have what it takes to weather this latest storm, said Llamas. "This is just the first year of the new Palm," he pointed out. "With anything that's a year old, there's got to be some teething pains, even if they're serious pains."
Palm has a good device and is working with Verizon to push sales, Llamas said. Also, it has grown its app store quite rapidly. "They opened up their app store a year ago with only 30 apps, and now they have, what, 2,200?" he said.
Meanwhile, Apple has 140,000 apps. Even the iPad, which was just launched, has thousands.
However, if Palm continues to add apps, that would be a pretty good indicator of its health. "The lifeblood of app stores is how much a developer community is thriving and how many people are downloading your apps," Llamas pointed out.