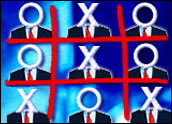 Vendors competing for federal information technology contracts are required to meet a broad array of standards reflected in much of industry jargon, such as cybersecurity, interoperability and scalability. Technical factors are critical, of course.
At a Senate hearing last week, however, it became clear that as the federal government strives to improve the productivity of IT, another factor is equally important: people — especially the people who are most directly involved with federal IT direction and procurement.
Sen. Thomas Carper, D-Del., chairman of a Homeland Security and Governmental Affairs subcommittee dealing with information technology, covered a wide range of issues dealing with federal IT at the hearing. But Carper, as well as several witnesses, emphasized factors dealing with the competency and behavior of IT personnel.
For example, Stephen O'Keeffe, founder of MeriTalk, reported at the hearing on the results of a survey conducted by his organization. The poll measured attitudes of respondents about the 25-point federal IT reform plan rolled out by the White House Office of Management and Budget last December. Respondents included 159 federal IT employees and 100 private sector staffers. The results were not encouraging in terms of the federal employee attitude on the potential success of the reform plan.
The net result, he said, was that "the community feels that all points of the plan are desirable, but there are serious questions about executability." He added that government employees "are less optimistic about the doability of the plan than their industry counterparts."
A major objective of the reform program, noted O'Keeffe, should be addressing the need for federal employees to embrace change.
Managers Face Dizzying Challenges
"Federal IT professionals are already confronted with a dizzying array of complex and unfunded mandate follies. There are too many requirements, insufficient funding, and little to no incentive — positive or negative — to drive compliance," O'Keeffe told the E-Commerce Times.
"Congress needs to get closer to the real operational issues, clear away some of the legacy legislative dead wood, and focus on putting in place rational incentives aligned with target outcomes versus behaviors," he said.
Alfred Grasso, president and CEO of Mitre, offered a similar view at the hearing. Incentives for federal IT specialists "need to become more mission-focused and designed so that top performance leads to career growth," he said. Such incentives "should motivate individuals to leave assignments better than they found them."
Retooling federal IT management won't come easily or quickly, but agencies increasingly are including management capability criteria in their "requests for information" to vendors. With this aspect of contracting gaining more attention, vendors that can enhance their technical offerings with tools that federal project managers can use to better plan, manage and track IT procurements may have an edge.
Other potential impediments to IT management reform addressed at the hearing include the currently awkward federal budgeting process as it relates to procurement.
"The rapid pace of technological change does not match well with the government's budget formulation and execution processes," said Vivek Kundra, chief federal information officer.
"The process forces agencies to specify in detail what they are going to build 24 months before they can even start a project, and the acquisition process routinely takes another 12 to 18 months. This multiyear process locks agencies into specific technology solutions that are almost by definition out of date by the time the project starts," he said.
Kundra also described progress the administration is making in promoting greater accountability of IT projects, especially those that run into financial or operational trouble.
Accountability has improved, noted David Powner, director of information technology management at the General Accountability Office, but he also said that OMB needed to do a better job of accurately analyzing IT program successes and failures.
Legislation Backs Reforms
In conjunction with the hearing, Sen. Carper introduced a bill that addresses the issues discussed at the session. One section directs OMB to provide guidance regarding cash bonuses and other incentives to recognize excellent performance by federal employees in the acquisition of information systems and information technology.
The bill would also require better IT development plans, codify OMB's program for monitoring projects, and set triggers for cutting off funds for troubled IT programs.
The legislation, titled the "Information Technology Investment Management Act of 2011," is cosponsored by Sen. Susan Collins, R-Maine, and Sen. Joe Lieberman, I-Conn.
"One way I'm working to support the administration's efforts to make federal IT projects more cost-effective is with the bipartisan legislation I introduced with my colleagues," Sen. Carper told the E- Commerce Times.
"Three of the 25 goals in the president's plan to improve federal IT spending are to work with Congress to create budget models that align with modular development, scale flexible IT budget models more broadly, and consolidate commodity IT spending under the an agency's chief information officer," he said. "At our hearing, I expressed my support for these efforts. I will continue to work with my congressional colleagues and the administration to see what needs to be done to make these goals a reality."