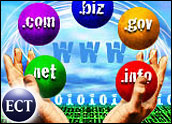 While online business owners have become more aware of tactics for driving traffic to their Web sites, it is easy to overlook the more basic methods amidst the rise of new Search Engine Optimization (SEO) techniques involving the content and HTML coding of Web sites. Search engine traffic can be inconsistent — search engine algorithms can change, and search engines don't get paid by the organic traffic they create. Online businesses should invest in opening multiple channels of traffic toward their Web site, and one of the most time-tested yet little-known sources of traffic is called "direct navigation traffic."
Direct navigation traffic is Web site traffic driven by users searching by typing a domain name directly into a browser rather than a search engine (i.e. typing www.vodka.com, when looking for vodka). An estimated one in six searches are conducted through direct navigation, and generic domain names such as pizza.com or banners.com that can drive this sort of traffic are highly valued sites that marketing-savvy companies, content providers and advertisers are looking to leverage. Direct navigation traffic is one of main drivers of explosive growth in the secondary domain name market, where companies and content providers are spending five, six and or seven figures for the right domain name. Below are three significant ways that you can tap direct navigation traffic and compliment your new SEO strategies with an established, yet often underutilized traffic channel.
Acquire Generic Domains Names and Redirect Their Traffic
Purchasing a generic domain name can bring in loads of qualified traffic composed of those already interested in the type of product or service you provide. A good example of the effectiveness of this tactic is the recent purchase by an Illinois t-shirt vendor of the Tees.com domain name, which naturally attracts 17,000 unique visitors a month. The company paid a substantial price to secure the domain name through an online auction, but will make its money back in a little over two years on natural traffic alone, and it can now depend on a consistent flow of direct navigators looking for new t-shirts. Several established companies have taken this approach to direct navigation, including Lane Bryant (www.rightfit.com), Calvin Klein (www.underwear.com), H&R Block (www.taxcut.com), and Johnson & Johnson (www.baby.com).
Keep in mind, while high traffic generic domain names such as Invest.com can be costly to acquire (it sold for US$1 million this year), direct navigation can be used locally to fit smaller budgets. Take for example small business Bice's Florist in Fort Worth, Texas, which was able to acquire a number of domain names, such as fortworthflowers.com and nationalfloraldelivery.com, and redirect their traffic to Bice's main Web site. The new online approach helped Bice's to increase its Web site traffic by 47 percent and sales by $1.5 million, or about 38 percent.
Optimize Google AdWords by Enabling the Domain Parking Channel
Direct navigation can also help in your online advertising efforts, particularly within Google's popular AdWords service. Late last year, Google made a seemingly small change to its AdWords program, giving its AdWords advertisers the option of excluding their ads from Web sites geared at collecting direct navigation traffic known as "parked Web sites." This decision stemmed from a few underperforming sites that had not been vetted, yet the new option can deter users from direct navigation traffic that, according to research by WebSideStory, is nearly twice as likely to produce ad conversions as search engine traffic.
Instead of excluding the entire parked domains network from your AdWords campaigns, which eliminates the ability to drive significant qualified traffic, a more sound strategy is to selectively exclude certain sites that perform poorly. To help with the vetting process, AdWords users can also now track the success of channels through "Placement Performance Reports." A good example is the following testimonial from Garden State Life Insurance pulled directly from the Google Content Network:
"Before Placement Performance reports were available, I would have assumed that ads on domain pages perform very poorly and don't offer very much to the visitors who stumble across them. But upon viewing the report, I noticed many Web sites were converting very well. So I blocked the poorly performing Web sites from showing our ads. Then I increased our overall budget on the sites that were converting well by 50 percent. Now, about 60 percent of sales from our content campaigns come from the domain pages. The acquisition cost of our domain ads is about a third of our non-domain content ads and about a half of the cost of our search network ads. Ads that appear on parked domain pages produce very qualified traffic, and that traffic converts on our Web site in a similar manner to our search network traffic." – Michael Musselman, Garden State Life Insurance
Rebrand Your Operations Around a Popular Generic Domain
Although it's an extreme example, you can also consider rebranding your entire operations on a new generic domain to simultaneously leverage the direct navigation traffic while building brand recognition around the name. This has been successfully accomplished in the past, with DealTime and Epinions becoming Shopping.com, DynamicWeb becoming WebHosting.com, and Ice.com becoming Diamond.com. Although a jewelry company cannot trademark the word "diamond," owning the domain name is essentially a trademark for the world of online domains. The owner of Diamond.com has the direct attention of an interested diamond buyer on their Web site because it owns the category in the virtual world.
Regardless of use, the recent sales of the generic domain names discussed above, combined with Google's recent decision with AdWords, has brought attention like never before to direct navigation traffic. Through a closer look on AdWords, many are finding that this traffic drives higher conversation rates and that can these rates can be further improved. At the same time, the traffic-producing generic domains are proving too valuable to not be owned outright by many businesses. Although the value of SEO and other traffic strategies should always be considered, direct navigation provides yet another highly effective traffic channel that should not be overlooked.
---
Jeremiah Johnston
is general counsel and chief operating officer of the online domain name and Web site marketplace,
Sedo
.
---