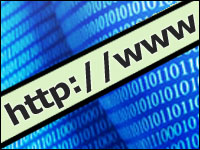 Despite economic troubles, e-commerce continued to gain positive momentum throughout 2009, enjoying year-over-year growth rates hitting the mid teens. With no signs of a slowdown, now is the perfect time to consider implementing a domain name strategy to enhance your marketing campaigns and drive more traffic to your Web site.
For instance, to complement your branded Web address, you might consider registering a series of descriptive domain names to drive more traffic to your main site and ultimately acquire new customers. Descriptive, almost search-oriented domains — like Vodka.com, for example — were not traditionally purchased by established companies, because they did not see much benefit in going beyond using their company or brand name as a domain name.
However, in recent years, this has changed, as companies have interwoven creative online campaigns and have used important keywords to drive traffic online. Vodka.com, for example, was purchased in 2006 and is now being used for a teaser campaign by Russia's largest vodka company.
There are a number of good reasons for tapping into direct navigation traffic by obtaining the descriptive domain names of the product or service sold and redirecting the traffic to your main Web site. For one, using a keyword in the domain name can help you drive traffic through direct navigation. A good example of this, again, is Vodka.com. A Web surfer interested in vodka may bypass a search engine and use direct navigation by typing the web address www.vodka.com directly into a browser. The vodka company now has the direct attention of an interested vodka buyer on its Web site. You may also recognize high profile brands that have successfully employed this strategy, including Calvin Klein (www.underwear.com), H&R Block (www.taxcut.com), and Johnson & Johnson (www.baby.com).
Because marketing campaigns are scrutinized for results these days, the independent, descriptive site allows for easy tracking of traffic resulting explicitly from the marketing campaign.
Superbowl Sites
This growing interest in acquiring additional domain names has also been encouraged by newer and easier methods of attaining them. In the past, the process of obtaining a premium domain name would often deter companies from achieving their branding goals, as companies were left to haggle for a fair price and execute risky transactions, with private parties typically located in offshore destinations.
Now, with the support of domain marketplaces, organizations can find and obtain the name they desire, even if the name is already owned.
The advertising world, in particular, has started to see a transformation, wherein organizations are no longer spending massive amounts of money on paid advertisements to promote their brand, new products or campaigns. Instead, advertisers are investing more heavily in domain name strategies as a complementary and essential component of an effective online marketing strategy to help engage today's Internet-savvy consumers.
This year's Superbowl, for example, revealed a significant increase in big brands leveraging domain names to enhance their marketing campaigns. Here are just a couple of great examples we took note of during the game:
Doritos purchased the domain names www.snackstrongproductions.com,www.crashthesuperbowl.com and www.doritoschangethegame.com to launch an entire online campaign, where visitors could tour a virtual Doritos world, enter a contest to vote for the best Doritos ads, and view the latest games from partners EA Games and Xbox 360;
WBZ.com (CBS affiliate in Boston) leveraged the millions of Superbowl viewers to promote its Curious blog. WBZ purchased the domain name www.paystobecurious.com, flashing the link only momentarily on the screen, which served as a call to action to all Superbowl viewers to visit the site, learn about the blog, and enter a contest to win a free HDTV; and
Intel used the domain name www.coremoment.com to lure viewers to learn more about its 2010 Core Processor and invite people to share their most core moments and enter a sweepstakes. Intel also owns the domain www.chips.com, which shows how Intel covered all of its bases with its domain name strategy.
Google's Blunder
This effective online marketing strategy is not only being employed by large brands. Small and medium-sized companies are also reaping the benefits of descriptive domains.
There are still quite a few companies that have not yet seen the value in making this investment. In fact, we've seen a recent example of how failing to acquire brand-related descriptive domains can be a costly missed opportunity. Google, for example, recently failed to do this before unveiling its new smartphone, the Nexus One.
Because Google offers its products directly to consumers, it will need to carefully assess how it can use direct navigation domain names, such as NexusOne.com, in ensuring positive uptake of its smartphone. Neglecting to fully utilize the type-in traffic of domain names means it will potentially miss out on large volumes of consumers looking for information.
Google's mistake is a great illustration of the need to register variations of domain names. There's no better time to start investing in a domain name strategy, simply because of the tremendous traffic and profits domain names can generate for businesses of all sizes.
---
Jeremiah Johnston
is COO and general counsel at
Sedo.com
, an online marketplace for buying and selling domain names and Web sites. He is also president of the
Internet Commerce Association
.