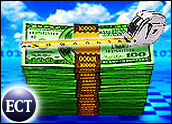 Webroot Software, a provider of anti-spyware software and other security technologies for consumers and enterprises, announced today that it has secured a US$108 million investment from a syndicate of top venture capital firms to be used largely to expand its enterprise business and its international reach.
The investors include Technology Crossover Ventures (TCV), Accel Partners and Mayfield.
The transaction represents the first outside investment accepted by Webroot since its founding in 1997, Webroot CEO David Moll told the E-Commerce Times.
Landmark Decision
He termed the funding a landmark decision. "This is the seminal event in the company's history," Moll said.
Proceeds from the investment are intended to fuel the company's innovative market strategies in enterprise spyware and other security solutions, as well as Webroot's expansion into new international markets.
"We're not taking a drunken sailor's approach," Moll said. "A stronger balance sheet is still our goal. We will be very diligent."
Webroot has targeted four areas for the venture capital. The lion's share of the money will bankroll a continued expansion of its enterprise business, Moll said.
A second goal is the continued expansion into foreign markets. Webroot plans to add to its five small offices in Europe and to enter the Asian market in the next quarter.
The third goal is to expand the company's merchandising support for its software products.
Consumer, Corporate Threat
Lastly, Webroot will invest heavily in new technologies to bring more innovation to the fight against spyware.
Moll said the funding shows the extent to which its anti-spyware efforts have progressed. Webroot has grown at an accelerated rate since spyware emerged as a consumer and corporate security threat in 2002.
"Three years ago, the plague of spyware was a gathering storm that few security firms took seriously. Webroot not only gave it serious attention, but also dedicated the necessary resources to develop the most respected solution on the market today," Moll asserted.
The CEO said his company experienced as much as 100 percent growth month over month over the last year. That growth has been fueled by the increasing consumer popularity of the company's Spy Sweeper anti-spyware product.
"This investment represents both an acknowledgment of that vision, as well as a bet on our future leadership in thwarting the dangerous emergence of spyware in enterprises around the world," Moll said.
Proactive Solutions Praised
The funding providers credit Webroot's growth to its flexibility and innovation.
"Webroot embodies the new breed of security software firms that adapts to a changing landscape of security threats and anticipates threats just over the horizon," Jake Reynolds, a general partner at capital venture firm TCV, said.
He said that Webroot's strong management team, solid technology and market leadership position will help the company become one of the great software developers in what he called "the next era of computer security."