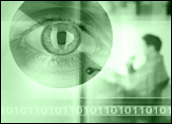 Dell has declared war on spyware with its announcement on October 20 that all of its computers will ship with a free security software package. Dell will begin bundling the security package in its computers as soon as the spyware component is ready, something company officials expect will occur between early November and the holidays.
Dell's decision to provide its customers with pre-installed antispyware and antivirus software follows industry assertions that more than 90 percent of computers in the United States contain some form of spyware. That study, conducted by Dell and the Internet Education Foundation (IEF), also found that most computer users don't know how to identify or combat spyware.
Spyware can track Web surfing habits and send the results to purveyors of junk mail. It can scan hard drives for sensitive files and send that data to a central location run by hackers. Spyware can slow down a computer so much that it renders the machine next to useless.
The inclusion of a spyware component in the bundle from both vendors represents a new turn for the Internet security industry.
Significant Bundle
Dell's new security bundle will combine firewall, antivirus and antispyware software. Several major software vendors supply separate antivirus packages. However, antivirus vendors have yet to take on the rigors of researching and developing antispyware products to work in tandem with existing virus-protection software.
Similarly, several industry leaders package free and premium firewall and virus-protection software. However, no vendor currently offers an all-inclusive security package that addresses the vulnerability of incoming and outgoing computer access with virus and spyware protection.
According to security experts, the methodologies for finding and removing viruses and spyware are radically different and aren't done by any one company. All that will change as a result of Dell's decision.
Dell spokesperson Jennifer Davis told the E-Commerce Times that antivirus software giants Symantec and McAfee are separately developing a new antispyware detection and removal product for Dell.
Trial Basis Offer
Davis said the bundled product will be a three-month trial. After that, it will be up to the customer to purchase a subscription to allow online updates to keep the program current with the latest detection database.
Customers will choose either the Symantec or the McAfee bundle when they order their configuration for a new desktop or laptop computer.
Davis said that at some point consumers will be able to buy the new security package from either vendor through normal channel distributions.
New Direction for Vendors
Security software makers have been debating the merits of getting into the antispyware market for some time. Analysts have doubted the major players would venture into the antispyware market because of the logistics involved. The processes of finding and eradicating virus infection is significantly different from the process for blocking or removing spyware.
It is the difference in the design structures of antivirus and antispyware software that drove the need for two separate products rather than a combined software protection solution. Firewalls are configured to allow all Internet traffic to flow in and out of a computer through a particular port. Antivirus software, on the other hand, is designed to scan and block files that might contain viruses but do not directly run in the browser.
Separate spyware software offers protections that antivirus programs typically don't handle. Antivirus software and Internet firewalls cannot see spyware.
Tech Support Overtaxed
Giving away the three-part security package for free will actually save Dell a bundle in tech support costs. Company officials said that instructing customers who purchase new computers how to get rid of spyware infections was becoming a bigger and bigger task.
"Since January 2004, more customers have called Dell seeking relief from spyware than for any other technical support issue," Michael George, vice president and general manager of Dell's U.S. Consumer business, said in a prepared statement. "We've been focused on arming our customers with the information and tools they need to combat this problem. Through this process, we've seen that education is our best counter intelligence against the threat of spyware."
Dell reported that earlier this year that on average, 12 percent of all customer support calls to its help desk were for spyware-related trouble. Now, on average, 20 percent of calls to the help desk concern spyware.
In addition, spyware calls take two to three times longer to solve, according to David Moll, CEO of security software manufacturer Webroot.
Dell Starting Trend
"Dell's action is not magnificence for the customer," Moll told the E-Commerce Times. "I see others doing it soon. Other computer manufacturers have an equal burden in handling spyware support calls. We are in discussions with several other computer makers."
Moll said Dell has been contemplating this security move for a while. He said it is a new approach to solving the spyware problem. The spyware problem has to be solved on multiple levels, he said.
Anybody who has a tech support service has a vested interest in solving the spyware problem, Moll said.
"That kind of tech support cost zaps profitability," Moll explained.
The Webroot CEO isn't worried that Dell's preemptive strike against spyware writers will fuel a spyware bundle war in the software industry. He applauds the fact that major PC vendors like Dell and Hewlett-Packard are recognizing the need to protect consumers from the damaging effects of spyware.
However, a vast majority of consumer PCs are already infected with spyware and require an anti-spyware solution that effectively detects and safely removes spyware and adware, Moll said.
Spyware Fiends Hardened
Part of the battle in fighting the spread of spyware is to start with a protective barrier around a clean (new) computer. Original equipment manufacturers are in an ideal position to start this new phase in the fight against spyware.
"Spyware writers are getting very clever," Moll said.
That cleverness is evident in how the latest crop of spyware programs work. These programs now check to make sure that multiple simultaneous infections are maintained. This makes some spyware code nearly impossible to remove.
Spyware writers are now developing code that makes literally thousands of entries in the Windows registry.
Company Poised for Battle
Moll told the E-Commerce Times that other computer makers are on the verge of announcing similar spyware bundling agreements. He praised Dell executives for making the first move.
Webroot, he said, has specific products ready for system builders and consumers alike.
"We have prices and products ready to implement with any company faster than Dell can gets its bundle going on November 1," Moll told the E-Commerce Times.