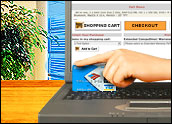 Today's online shoppers may be more cautious than they were two years ago. Some are waiting up to 35 hours before completing a shopping cart transaction.
A study of consumers' Internet buying habits suggests that online merchants face stiffer competition and new hurdles in closing sales over the Web.
Web site security auditing firm ScanAlert revisited its initial online buyers' survey, completed in 2005, to compare consumer shopping behavior. The company's results, released this month, show that consumers' concern over information security and buying comfort takes precedence over selling prices.
"The credibility issue clearly is the big factor. Price today is not the be-all in deciding to buy online. Trust trumps price," Nigel Ravenhill, director of marketing communications for ScanAlert and the report's author, told the E-Commerce Times.
Buying Time
One of the main revelations in the new study is that consumers are taking longer to click the Buy button. This is known as sale conversion.
In 2005, the average time delay between a consumer's first visit to a Web site and the time of purchase was just over 19 hours. The aggregate sales generated by potential buyers produced an average site conversion of just 2.07 percent, according to Ravenhill.
In the more recent survey, however, the delay between the first visit and the purchase rose to 34 hours and 19 minutes, more than a half-day longer than in 2005. Fully 57 percent of the shoppers studied took more than one hour, with 37 percent (a slight 5 percent increase over 2005) taking more than 12 hours, he said.
Report Highlights
ScanAlert's 2007 research concludes that online comparison shopping is an unavoidable fact of life for online retailers. Using dial-up Internet access is ludicrously slow for viewing product images on Web sites, but as more surfers take up broadband, they're able to shop around more efficiently.
"Broadband makes it easy for consumers to hopscotch to many Web sites," Ravenhill said, noting that the added competition for customers often becomes very frustrating for online merchants.
The report also found that shopping cart abandonment — or examining products on a Web site and leaving without buying them — is a habitual part of many consumers' shopping behavior prior to purchasing. As a result, online retailers must re-evaluate their pay-per-click (PPC) advertising campaigns, using a much longer time frame to calculate their return on investment (ROI).
The research also shows that consumers who spend the longest time shopping are also the most concerned about the safety of the sites where they shop and are the most influenced by an online comfort zone.
Measuring Safety
ScanAlert provides a Web site security auditing and certification service that certifies the security of e-commerce infrastructure to the Hacker Safe standard. The service combines daily vulnerability scanning of a Web site's complete e-commerce infrastructure and real-time certification of the site's security.
As long as the client closes vulnerabilities discovered during the daily security audits, ScanAlert certifies the site's security by serving a dynamically generated date-stamped certification mark image that carries the words "Hacker Safe."
The effectiveness that displaying the Hacker Safe icon has on consumers' decisions to finalize a sale is one of the factors in the report. To determine the effects of ScanAlert's Hacker Safe certification mark on increasing sales conversion, retailers conducted A/B tests, where half of their visitors were allowed to see their certification mark and half were not.
Placing Trust
The study involved 480 A/B tests run by each of 470 Web sites between May 1, 2005, and May 1, 2007. ScanAlert distributed 30-day persistent cookies to site visitors to create research and control groups. The research group saw the "Hacker Safe" image on the first visit and all subsequent visits, while the control group did not.
At the time of sale, the Web site captured the cookie type and date, the date and time of sale, the order key (if provided) and buyer's IP address. The confidence level usually exceeded 95 percent, making the tests statistically valid, according to Ravenhill.
One reality that Web merchants can glean from the survey results is that trust placement really counts. Old-school thinking about placing a security statement on the order page may not work as well today.
"Many merchants think that the place for the trust mark is on the order page. Many shoppers never get that far into the Web site," observed Ravenhill. "Online merchants still need to do the basics, but lots of merchants fail to do this."
For instance, a Web site's landing page is the key to showing the trust and legitimacy that encourages the potential buyer to stay on the site and complete the purchase, he explained.
Maybe Not So Bleak
Some of ScanAlert's survey results may be a bit ahead of the curve, other experts caution. Take, for instance, the president of the Rimm-Kaufman Group, Alan Rimm-Kaufman, which also studies online buying trends. His analysis of consumers online does not show the significant slowdown in buying time or sales conversion that the Hacker Safe study revealed.
Still, Rimm-Kaufman does not disagree with ScanAlert's conclusions about consumers' need for a secure buying environment with a strong comfort zone. However, he thinks that the ScanAlert study may reflect a bias caused by the firm's bigger clients included since the previous study.
"We don't see significant changes in the time consumers take to make a purchase. Higher priced items can take longer to close, up to five days. So merchants do need to look at the sales curve," Rimm-Kaufman told the E-Commerce Times. "Seasonality gives merchants high and fast conversions."
Online Buyers Prepared
The online stakes for merchants have definitely risen since last year, noted Rimm-Kaufman, who concurs with the ScanAlert appraisal of increased competition driven by the rapid growth of broadband. Both competition for buyers' attention and their expectations are much greater than in previous years.
Still, Rimm-Kaufman does not see better consumer research deterring them from buying. Online shopping is very mainstream now, and consumers are much more sophisticated in searching, he said.
"Hacker Safe is a great product, and online retail is damn hard [for merchants]. But I don't see the consumers slowing down," Rimm-Kaufman said.
Time Constraints Real
From his view in working with online merchants to improve their sales conversation rates, Bryan Eisenberg agrees with the ScanAlert's research findings about consumers taking longer to make a purchase decision online. Eisenberg is chief persuasion officer and cofounder of Future Now, and is also chairman emeritus and founder of the Web Analytics Association.
Competition and time constraints are having a slowing affect on buying, he acknowledged.
"I think there are two levels to what we are seeing. Our own research shows shoppers resorting to a hunt-and-peck approach due to their time constraints. And most retailers are not doing enough to meet buyers' needs, forcing them to take more time," Eisenberg told the E-Commerce Times.
Web merchants need to take different angles than traditional store owners use in order to make buying on a Web site quicker and easier, he said. For instance, they should provide enough product information in one place so would-be buyers do not have to look around the Web for it.