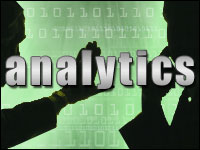 When e-commerce was hatched back in the '90s, it would have lived for a while without Web analytics, but not for long. It would have died a cruel death in its nest, hungrily watching as bigger, more traditional channels ate up all the nurturing dollars brought to the nest by its parent company — except for one mutation that made e-commerce grow and thrive like a refined version of an old species. That one mutation was its amazing ability to be measured with far greater granularity than its bigger, more traditional channel siblings.
That ability to be measured has allowed e-commerce to gobble marketing dollars it never would have earned otherwise. It has helped e-commerce grow into a five-hundred pound canary that not only delivers low-cost, low-friction sales to organizations, but also squawks and chatters constantly about what it is selling to whom, and how shoppers are buying.
The metaphor goes further: Web analytics is, in fact, a significant mutation in the genome of e-commerce. It's like the mutation that gave certain savannah-dwelling hominids bigger brains and looser hips. It not only enabled them to stand up and see farther, but also let them recognize patterns better than their squatting, tree-bound relatives. Web analytics gives e-commerce both the vision and the facility for pattern recognition vital to advanced evolution.
Print's Golden Days Are Gone
Measurability is the trump card of e-commerce and advertising in general. Newspaper and magazine advertising — less measurable than its online counterpart — is down so much that proud publishing marquees are pulling their paper versions quicker than anyone would have thought possible just a couple of years ago, and it isn't just because of the recession.
A large part of the ad-placement decision-making goes something like this: If I can spend a dollar on an ad on some random page in the The Boston Globe, or I can spend a dollar on a network of ads that show up when people type in certain keywords, or show up based on what ads or content a unique user clicked on before, and then I can track whether that user continued on from that campaign and actually bought something, then is it really much of a question where I am going to prefer to spend that dollar?
Web analytics has allowed e-commerce to deliver what may, not long from now, look like a knockout punch to print-driven commerce.
You almost get the feeling print ads exist these days for sentimental reasons — and this is coming from a writer self-educated in the '80s and early '90s by reading the ads that thickened magazines like MacWorld and Wired to the size of a phone book. By contrast, some magazines about computers today are more like pamphlets, as are those about most other subjects. Many don't even need perfect binding anymore and have reverted to staples. It's kind of sad. But make no mistake: It's because of Web analytics and the shift of commerce-targeted ad dollars from paper to the Web. I am convinced of that.
E-Commerce Is Golden
Web analytics is so important to e-commerce that the best e-commerce companies long ago created their own systems to track the progression from offer to purchase. Amazon, does not, to my knowledge, use any Web analytics product from any major vendor for its backbone reporting. Nor, I understand, does eBay. There are probably a dozen major e-commerce companies that recognized they needed to build their own Web analytics hot rods because when they needed them, the major analytics vendors that exist today were just coming out of training wheels.
Today, e-commerce can be very adequately tracked by any of the major vendors: Omniture, Webtrends, Coremetrics, Unica, and, of course, by Google — in its own (cost-free) way. Companies like Interwoven can also provide their own type of analytics for e-commerce. That said, it's important to note that sophisticated e-commerce tracking, especially when it involves mobile technology, social media, Web 2.0 modules and video, involves much more than an out-of-the-box solution from a major Web analytics product vendor.
For those about to track e-commerce: We salute you. However, you need to be prepared to get out the ratchet-wrench and electric sander and do some custom work. These days, building your own system from scratch seems a bit perverse when you've got great building blocks on the market (as mentioned above). However, using them "as-is" isn't going to get your e-commerce tracking out of the driveway either. Be prepared to spend time building sophisticated page-tagging structures, creating custom reports, integrating with third-party databases, and creating meaningful dashboards for decision-makers.
For all but the most robust internal Web analytics teams, this will probably mean bringing in some outside expertise. I can tell you from personal experience that the level of success attained by middling Web analytics efforts that don't spend on expertise is paltry compared to the broad, predictable success achieved by those who either have the time and money to invest in a sophisticated, continually up-trained internal Web analytics staff, or who invest in outside expertise to supercharge their analytics efforts.
Now I go back to thinking about that nest. Some analytics efforts will accept the small morsels available from a vanilla deployment of off-the-shelf tools; others will take these data collection engines and enlarge and expand them, and gobble up more information than they ever thought possible.
The rich information gathered by a well-fed Web analytics operation will not just get that e-commerce effort hopping around on the edge of the nest — it will cause it to soar, and the updraft will pull plenty of e-commerce dollars into your bank account.
Web analytics is deep in the genome of e-commerce. Without it, e-commerce would have subsisted as a scrawny Halfling lacking the courage to assert itself, unable prove whether it had done anyone any good.
Web analytics was the strand of DNA that gave e-commerce a brain — and it remains tightly wound into its future.
Our challenge today is to leverage that brain and perfect our e-commerce efforts with both intelligent deployment and perseverance of effort. And then, one would hope, to enjoy the groaning of our coffers filled with e-commerce doubloons.
---
Andrew Edwards
is a managing partner at
Technology Leaders
, a web analytics consulting and technology firm based in New York. He is a cofounder and former board member of the
Web Analytics Association
.
---