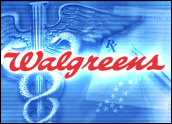 Walgreen Co., the largest drugstore chain in the United States, announced yesterday that it is attempting to keep pace with the rapidly-developing Internet pharmacy market by launching an entirely revamped walgreens.com Web site.
The new site provides patients with more comprehensive features than its original offering. Among the new options, customers can place new and refill prescription orders online either for same-day or pickup at any of Walgreens' brick-and-mortar locations.
Additionally, for a limited time, walgreens.com is offering free standard shipping for prescriptions.
Seamless Service
"By building this site internally, we were able to fully integrate our online pharmacy with Walgreens' retail pharmacy computer system. This will offer patients seamless service whether a prescription is filled in a store, online or by our mail service facilities," said David Bernauer, Walgreens president.
"As a clicks-and-mortar company, we're positioned to take full advantage of our store base of more than 2,800 locations combined with the convenience and potential of the Internet," Bernauer added. "The integration of our Internet pharmacy with our retail pharmacies allows us to provide pharmacy patients with a more comprehensive online experience."
Is It Enough?
Despite the changes, some industry observers believe that the reported $10 million (US$) that Walgreens spent on the makeover will not do the trick. They point out that tough online competitors such as Planet RX.com, Inc. and drugstore.com, Inc. will continue to pump millions into promoting their popular online pharmacies.
Additionally, analysts feel that Walgreens' late entry into e-commerce could also hurt its competitive position with its brick-and mortar rivals.
For instance, CVS — which is ahead of Walgreens in store count — gobbled up Soma.com for $30 million in May, while Rite Aid has invested heavily in Drugstore.com.
Downgraded In August
In fact, Wall Street has not reacted well to Walgreens' slow movement into cyberspace. In August, it was reported that Mark Husson, a Merrill Lynch analyst, downgraded the stock to hold.
Nonetheless, the consensus among experts is that the makeover of Walgreens' Web site is still a step in the right direction.
For example, patients who use walgreens.com can view their prescription history via a secure, password-protected area. These personal profiles, which contain the same information Walgreens retail pharmacists use to prepare prescriptions and counsel patients, will include all prescriptions filled at Walgreens, whether via the Internet, its mail service facilities or in any store.
Patients can update their profile online to add information on allergies and other medical conditions.
In addition, walgreens.com will carry the Mayo Clinic's health information, which company officials claim is an important distinction for attracting the more than 40 percent of adult Internet users who are searching online for health information.
About Walgreen Co.
Walgreen Co. (NYSE: WAG) earned $624 million on revenue of 17.8 billion in its fiscal year ending August 1999. The company operates 2,831 stores in 39 states and Puerto Rico and plans to open 450 new stores in fiscal 2000. It also employs about 90,000 workers.
Yesterday, its shares rose to 24 7/16. Its 52-week high is $33.93, and its 52-week low is $22.50.