As consumers continue to explore virtual shopping in the metaverse, two companies forge the path for shoppers with platforms that make e-commerce more inviting by bringing 3D virtual showrooms and virtual try on rooms to reality.
Emperia, a company that creates virtual shopping experiences for brands, has seen an increase in engagement using virtual reality (VR) technology that lets customers try on products like lipstick and clothing.
With these features, Emperia saw an increase of conversion rates at +73%, engagement time at +92%, and try-on clicks at 75%. Emperia's brand customers are experiencing an ROI of 459% and engagement in their showrooms for a minimum of 14 minutes.
Perfitly, an augmented reality/virtual reality (AR/VR) platform for apparel e-commerce, creates a 3D body image using a mobile app so shoppers get a more accurate view of how a garment fits their avatar body image.
The company's goals for the new shopping platform were to achieve a 20% conversion increase that delivers a rise of at least 50% in sales. The benefits so far have exceeded those markers.
Perfitly is seeing a 30% decrease in returns along with a 10% inventory reduction. Its current deployments have exceeded corporate goals. On average, the shopping platform reduced returns by 67% (from 28% to 10%) and increased conversion by 80% (from 4% to 7.2%).
"Perfitly's push for a metaverse-style shopping experience came with the realization that traditional assets were costing the clothing retail industry about 30% of top line revenue over shoppers' issues with clothing fit," Raghav Sharma, advisor and co-founder of Perfitly, told the E-Commerce Times.
Altering Online Shopping Realty
Olga Dogadkina, CEO of Emperia, spent about seven years in fashion, going from retail to wholesale to owner. What she consistently encountered with all the brands was how much they struggle with different types of try on experiences.
Physical stores today are all about customer service, product discovery, and just really finding out more about the brand. But online shopping is a page filled with lists.
"Shoppers go through 15 pages of those products and by that point, they do not want to see another product or piece of clothing ever again. If we made online shopping sleeker and more user-friendly, wouldn't it be great to just sit home and enjoy a beautiful shopping experience?" she said to the E-Commerce Times.
Emperia's solution strives to do just that. It lets shoppers learn more about the products and the brand visually. The virtual showrooms give the customer an understanding the brand's story and create the type of experience they get in a physical store.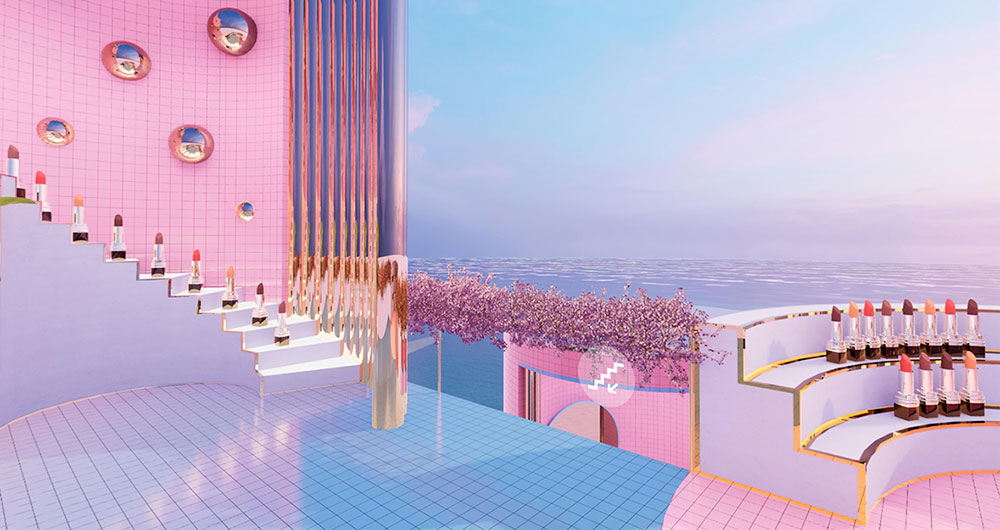 Emperia's 3D virtual showrooms foster more customer engagement than traditional website shopping stores. (Image Credit: Emperia)
---
"So that was the kind of the whole beginning of where the platform came from," she said.
It is a platform that enables brands to create virtual environments to reflect their brand. It allows them to step into the metaverse and move toward the most redefined version of e-commerce today.
Brands can continuously manage all the products and content that go with an ad, so it becomes a new channel. That process is integrated into their existing e-commerce platform to continue to customer engagement onto sales and conversions, explained Dogadkina.
No Special Gear Required
Both virtual platform designs do not require merchants or consumers to have specialized gear. Virtual showrooms and 3D try-on rooms do not need the same hardware experience as VR/AR game playing.
Customers shop within a virtual store with the experience integrated directly within the website's visual display. Shoppers need only mobile access or a standard web browser, noted Dogadkina.
"It becomes part of the brand's existing ecosystem," she said.
Users can navigate through the virtual store, click on all the different products, and see them in 3D. They see related content, view merchandise as real in the virtual showroom, then checkout directly within the website's payment process.
Improved Virtual Engagement
Today's online retail experience is becoming more adjusted to better virtual shopping engagement with customers. Where Emperia concentrates on the virtual showroom experience, Perfitly emphasizes an enhanced virtual fitting room experience.
"A lot of virtual fitting rooms exist out there. They mostly fit into one of two categories. One is a size estimator where they are taking dimensions and making size charts for comparison. So, if you are a size six in this brand, you must be a size eight in this other brand based on your dimensions," Sharma described as the typical process.
The other category, Sharma explained, is visualizers. That process takes a flat image of the garment and puts it on an image that approximates the shopper's inputted dimensions.
"That approach lacks any real interplay between the shopper's body and the garment's material properties," he said.
More Accurate Try Ons
Perfitly's platform is AI-driven to make the shopper's engagement more like a real fitting room experience. The results produce better visualizations of how the material responds to particular body shapes and movements.
The process starts with the shopper creating their avatar for the fitting room. Uploading a few personal photos or inputting specific measurements. This lets the person see how each garment will fit and look on his/her unique body.
E-garment creation of the selected clothing product is "e-stitched" to create a 3D replica that is 99% accurate of each physical clothing item, according to Perfitly. Virtual garments include all fabric properties such as density, weight, stiffness, stretch, and friction.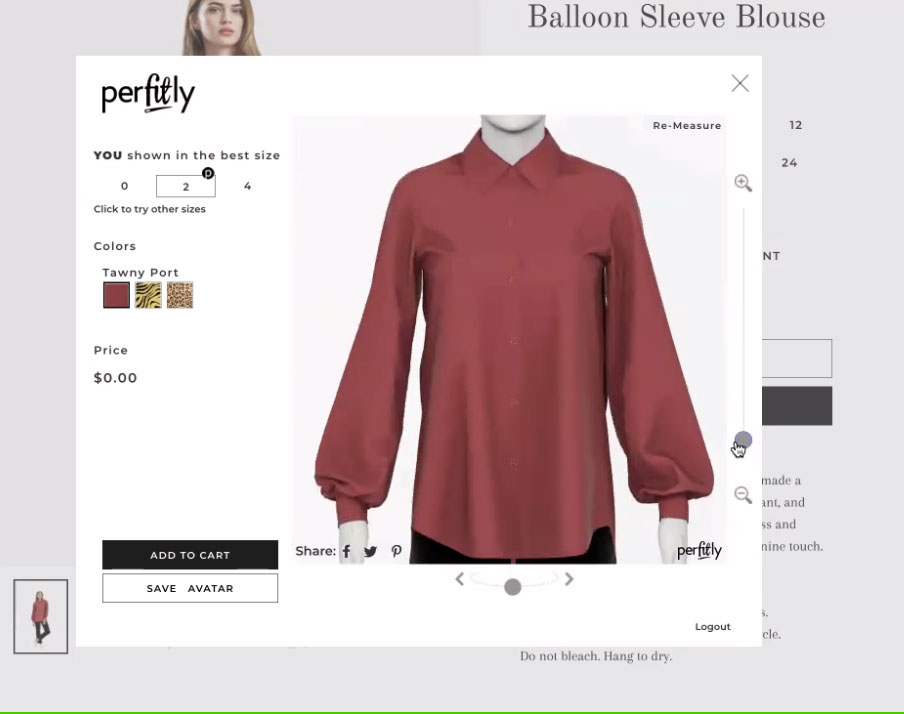 Perfitly size recommendation and visualization platform for fashion e-commerce (Image Credit: Perfitly)
---
From the initial size recommendation, shoppers can size up and down, zoom, and rotate their avatar 360° to create their desired fit.
Size recommendations reflect the AI analysis of the shopper's body photos or provided measurements. Once a shopper clicks the 'Try it on' button, they can click on size adjustments to see how the fit shifts.
Perfitly's video demo showed a customer's avatar wearing a selected clothing item. The animation displayed the result of altering the sizing elements based on the cloth properties.
For instance, modifying a chest measurement in an up-close view showed how the shirt pulled or sagged at the buttonholes and waistline. Returning to the AI-recommended size showed no shrinkage or bagginess.
Shoppers get an in-store fitting room experience in Perfitly's virtual space try-on platform. That experience leaves shoppers confident and happy with their online purchases. In turn, that translates into higher conversion, lower returns, greater shopper satisfaction, and brand loyalty, according to Sharma.
Barriers to Adoption
With this young innovative technology, retail and marketing adopters need to go slowly, cautioned Dogadkina. "I think the key is to take it step by step rather than going all in because there is a lot of noise, and it is very confusing," she said.
A big barrier is that typically with virtual experiences brands cannot really manage these platforms themselves. So, it would always be an external company that would set up the space and then change out the products every time they needed to shift anything within their virtual environment, Dogadkina explained.
Emperia's Artemis platform enables brands to update merchandise and furniture decor in real time as needed without relying on someone else. This is important for a store in the metaverse since products need to be updated regularly.
Brands also need to understand the difference between the two separate platforms. A virtual store experience is all about engagement, navigating through the space, and creating brand discovery and conversion channels.
Virtual try on lets people actually interact with the product. That boosts engagement. Different platforms enable engagement in different ways to create virtual trials. Each solution depends on the type of retail products involved.