Emerging fintech company Evvio wants marketplace operators to move beyond legacy e-commerce barriers in favor of new technology that eliminates outdated banking and payment processing.
Evvio in April announced the launch of Fluid Commerce, an e-commerce transactions platform that eliminates the need for credit cards, bank accounts, and third-party processors.
The patented technology works within and across e-commerce networks, including the metaverse, digital games ecosystems, the sharing economy, and super apps.
It also allows for the use of any digital currency, including fiat, tokens, rewards, and crypto. In addition, the technology includes patented verified metered services to prevent fraud and avoid disputes.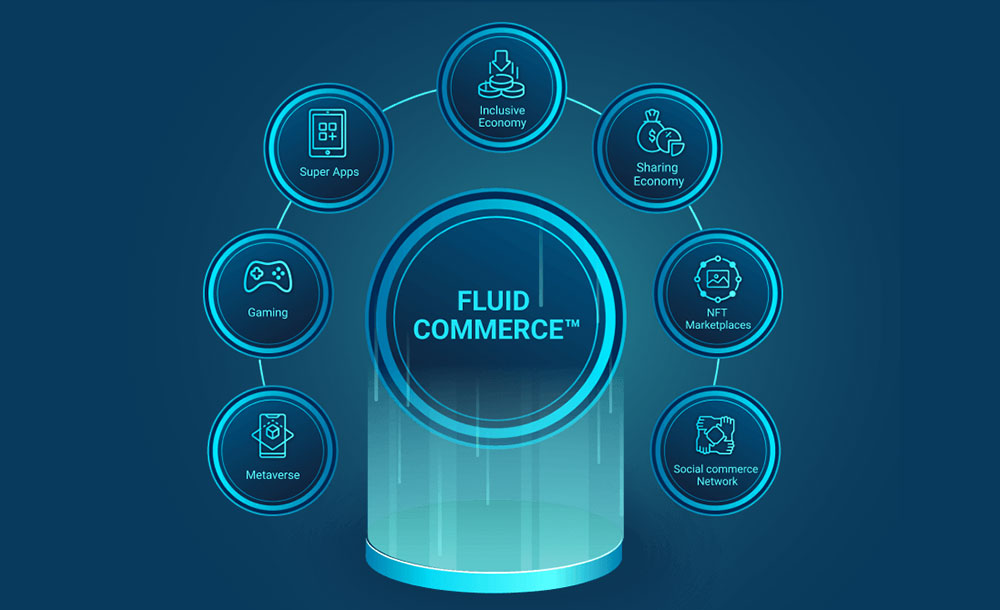 The Fluid Commerce engine provides frictionless e-commerce transactions without third-party processor steps, delays or fees. (Image Credit: Evvio | Fluid Commerce)
---
Also in April, Evvio also announced a partnership with Vite Labs, a blockchain and crypto provider where transactions incur zero fees. The partnership offers potential for their technology to become disruptive enough to usher in a new era of digital commerce.
"Without intermediaries, our technology provides for seamless and cost-effective transactions for both online buyers and sellers," Brad Albright, one of four co-founders and CEO, told the E-Commerce Times.
Disruptive Tech Could Foster New Era
Evvio officials estimate the patented capabilities of Fluid Commerce can dramatically increase the e-commerce revenues of any licensee by up to 49%. They base that claim on three key factors: expanded transaction potential, the inclusion of unbanked and underbanked participants, and greater conversion rates via instant transactions.
Key to the projected success is the technology's ability to accelerate the shift to e-commerce in a multi-blockchain, interconnected marketplace. For instance, a purchaser can earn in a metaverse environment and spend on real-life services, or vice versa.
Feeless e-commerce transactions offer a substantial differentiating capability. They make for a more compelling environment for customers to conduct online transactions, resulting in sustained competitive advantages for any licensee.
Not requiring a credit card eliminates concerns about security when entering credit card details to complete an online transaction. According to a Federal Reserve report from 2019, 63 million adults in America alone are either unbanked or underbanked. Accordingly, many are currently locked out of e-commerce ecosystems and would be included in those powered by Fluid Commerce.
Zero-Fee Transactions
The elimination of intermediary processors in online transactions encourages significant revenue growth by elevating conversion rates. Abandonment or non-completion of e-commerce transactions are largely attributable to additional checkout steps, time delays and fees. Fluid Commerce addresses these issues directly, noted Albright.
The collaboration with Fluid Commerce and Vite's fast zero-fee blockchain makes the potential of Web3 commerce a reality, according to Adrian Jones, co-founder of Evvio and the company's patent author.
"Vite's vision for the future of multi-chain transactions, along with its performance advantages, unique insights, and the caliber of its leadership team made it a natural collaborator," he said.
Evvio secured key patents that make it possible for zero-fee, one-tap transactions spanning both the fiat and crypto worlds, added Richard Yan, co-founder and COO of Vite. That also aligns with his company's goals.
"We share the same vision for zero-fee fast and fluid Web3 transactions, with the opportunity for significant market expansion without the need for credit cards, bank accounts, or other third-party intervention," he said.
Digital Doors Open for Global Business
Fluid Commerce is up and running after spending the last two years taking the temperature of the market. That included discussions with both large and small companies across different categories of participation in e-commerce, Albright explained.
The targeted users are marketplace operators. They are involved with the typical backroom e-commerce processes and absorb that cost. Their retail customers experience feeless transactions.
The goal is to transition marketplaces away from legacy payment systems that are an impediment to advancing e-commerce in the blockchain era of the developing Web3 environment, noted Albright.
"Legacy payment systems that were designed many years ago certainly predate the internet being readily available, commercialized, and so forth. As a result, what we have now is incredible growth in e-commerce (amid) cumbersome transaction settlement processes that place burdens or requirements on participants and to a large degree exclude some from participating in e-commerce," he offered.
Building Blocks for a New Era
Fluid's e-commerce platform is proprietary and patented in the U.S., the U.K., the EU, and Japan. Its co-founders have a global business reach. Albright is based in New York; another is based in Switzerland, and one who lives in Australia splits his time between Asia and the Caribbean.
One of Fluid Commerce's attributes is that any form of stored value can be used as part of a transaction. That is in stark contrast to requiring a specific currency or conversion among currencies.
"We started thinking about these sorts of matters at a time that predates Bitcoin and blockchain. This is one of the major stars that has come into alignment in our minds with regard to there now being reasonably broad-based acceptance of alternative forms of value for cryptocurrencies; as opposed to simply requiring those needs that are dictated by third parties who get involved based on the legacy methods of transaction settlement processing," Albright confided.
Built To Eliminate Transactional Fraud
Rather than the multi-step process that is today's reality, Fluid provides a direct relationship between two counterparties in an online transaction. The system employed aims to eliminate fraud.
"We contemplated the importance of validation between the two parties to prevent fraud. That is a part of today's reality as well," Albright said.
All of the co-founders have small business ownership experience so they understand the implications of even something like a chargeback claim that a customer can make. But with Fluid's patented technology, that risk is eliminated, if not entirely to a very significant degree, depending on the funding environment, he said.
The platform provides an awareness of the parties and the transaction details by embedding the identities into the commerce environment. This process does not rely on third parties to conduct business.
Think of the Fluid conversation as having the attributes of a digital wallet. It contains the details of identity, the details of stored value balances, and so forth. So, any transaction that is affected would be conscious of such identities and balances to begin with, explained Albright.
"No need exists to go to a third party in order to get such assurance. With the fraud prevention methods that we created, there is an integrity governor engine facilitating the transaction directly," he added.