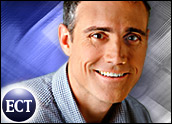 The billion-dollar lawsuit between Viacom and YouTube feels like a rerun. Haven't we seen this show before? New technology from an upstart company is rapidly adopted by millions of users, transforms traditional media distribution and stretches the legacy copyright framework to its limits.
Maybe these disputes are inevitable. The key players in the online content economy — content owners, hosts, search engines and ad networks — are still sorting out their respective rights and responsibilities in huge, emerging markets with few precedents.
However, whether or not the Viacom case ends up defining the boundaries of copyright "fair use" and the Digital Millennium Copyright Act (DMCA) safe harbor, or whether it ends in a negotiated deal, it looks to me like just the tip of the iceberg.
Chasing Ad Revenue
For starters, the problem is by no means limited to video. Text content remains the core navigation and advertising currency of the Web — the text on your Web site helps determine your all-important placement in search engines, and the content on millions of sites now powers billions of dollars of text ad revenue.
Look no further than splogs (spam blogs) to see ad revenue piracy in full automation. Libraries of books are being digitized and indexed, but with genuine publisher unease about the resulting loss of control. Images are the eye candy of the Web, but there's no comprehensive resource for photographers and agencies to find where their images end up and how they are used.
The challenges grow when you consider that any resolution has to work not just for large media companies, but also for the vast number of people and smaller companies that make their livelihood creating unique online content, across areas as diverse as news reporting, celebrity photography, travel reviews, catalog images, white papers, political commentary and song lyrics.
Those folks will rightly expect to have the same transparency and accountability when their content is reused, but without having an in-house legal department.
A Straightforward Answer
To my mind, this is a technology question — namely, how to provide visibility into when and how content is reused online? By this I mean more than enabling a social network to spot a copyrighted song before it is uploaded and more than automating the DMCA takedown notice so the content can be removed.
Instead, the technology must answer more interesting questions, like: How much of the work was copied and was it changed? Is it being used commercially? Is there an ad present? Do they provide the right attribution and the best link to promote the owner? How is the copy ranked in search engines relative to the original source?
The broader technology answer to these questions is straightforward. Publishers should be able to claim their content through a neutral player, have it indexed continuously and associated with tags they select to signal the rules for its use. When this is connected to a Web-wide crawl, they can see when and where their content recurs and how it is being used.
They can know whether there is a revenue or promotional opportunity, and can object when the usage is out of scope and unfair. With an independent party providing this service across the entire Web, content hosts, search engines and ad networks can then evaluate and act on those objections in a transparent way.
Immense Potential
In many cases, what might have otherwise been a cease-and-desist notice can become instead an offer to license and share in the proceeds. Done right, the whole thing can be highly automated and scale to serve millions of rights holders across all types of media.
With these technologies, we can achieve the transparency and accountability required for a vibrant marketplace that leverages the power of syndication, user-posted content and distributed advertising. Enabling negotiations between publishers and hosts will allow the exchange of content and ideas to continue its flow and development.
The online content economy has immense potential, but it will require fully supporting the motivations of those who create and publish valuable content, while appropriately rewarding those who index, aggregate and monetize it.
---
Jim Brock
is cofounder and CEO of the technology platform provider
Attributor
. He most recently served as a senior vice president at Yahoo, where he oversaw the company's global communications, broadband and consumer subscription businesses.
---