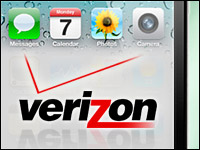 Verizon Wireless announced Tuesday a new shared data plan that will work across 10 devices. It will be folded into the carrier's Share Everything Plans, which are scheduled to begin on June 28 for new and existing customers.
The shared data plan will offer unlimited voice minutes, text, video and picture messaging. It will allow Verizon customers to choose a monthly access fee per device, with prices ranging from US$10 for tablets to $40 for smartphones. All devices using the shared data will need to be added to the account.
"The interesting piece of all this is that in the U.S. market there has been unlimited tariff for data," said Ian Fogg, an analyst at IHS iSuppli. "What we're going from is flat rate data where users had a limited number of voice minutes, and the world we're heading to is one where voice is unlimited while data becomes tiered."
Verizon did not respond to our request to comment for this story.
More Voice, Less Data
Verizon is indeed looking to provide unlimited voice minutes, with unlimited messages and shared data allowances that start at 1 GB for $50 a month, and go up to 10 GB for $100. Additionally, existing customers can keep their plans or move to the new Share Everything Plans for no added fee or contract extension.
"Basically, Verizon's new pricing schema is designed to be 'family friendly' in that its standard unlimited voice/text features should be particularly attractive to families with kids where monthly voice/text usage is difficult to predict and often leads to overage charges," Charles King, principal analyst at Pund-It, told the E-Commerce Times.
"That said, individuals and couples who use Verizon — many of whom are unlikely to need such plans — who want to 'share everything' across their devices have to sign on for unlimited voice/texts whether they want to or not, and will likely pay considerably more for their service than they are currently."
While some customers may not be happy, this is just the latest ripple in an industry that has transformed many times in the last decade.
"The wireless data plan pricing has been going through changes in the last several years," noted telecommunications analyst Jeff Kagan. "This is just the latest change. We haven't settled on the plan that everyone loves."
Moving Beyond Handsets
Verizon is not the only carrier to look at tiered data plans, and at present Sprint is the last of the remaining big four carriers to continue to offer unlimited data to new customers.
The usage of smartphones, tablets and other mobile devices has changed, and the carriers are responding — in part because the networks simply won't be able to handle the increased data traffic.
"More smartphones have come to market, and there are tablet computers, and this has increased the usage of data, which continues to expand and could actually explode," Kagan told the E-Commerce Times. "That is good — that is what the carriers want, and that is what the mobile phone makers want as well. But all this data usage is already causing spectrum capacity problems. There is no room for the spectrum to expand."
The industry is facing an issue, and it is one that needs to be resolved. Charging more is just a basic approach to the age-old equation of supply and demand.
"It is a yin and a yang — a push and pull," added Kagan.
Shared Data on Devices
While customers may not like to have to pay more for tiered plans, it could also make it easier and more affordable to add devices — especially those that may not be seeing heavy usage already.
"The barrier for many customers has been that each device needed its own data plan," Fogg added. "Consumers aren't sure if they are using enough data on some devices day in and day out, and until recently those devices needed their own plans. This shared plan gives consumers a small step to test the water."
For the carriers it can also be a boon, as it could allow them to upsell data plans as customers use more data.
"If you have a phone, tablet and computer, you won't need a plan for each — you can share," said Kagan.
But will it cost more or save more?
"It could save customers money, but it could cost customers some money," added Kagan. "It depends on the usage."
Why Not WiFi?
Tablet users have already jumped on the WiFi wagon as much as possible to avoid usage charges, and new tiered plans could push this even more. But WiFi hasn't reached universal availability and likely won't for a long time.
"The U.S. has more hotspots than anywhere, and the U.S. is the leader in public WiFi. If it doesn't work in the U.S., it won't work anywhere," said Fogg. "But it still isn't cellular. When that works, it remains the most low-effort solution. It is ubiquitous. It just works. There is no fiddling with settings. WiFi can still be a hassle to set up, and it simply isn't as ubiquitous."
Even with WiFi as a way to offload some data, it really may just come down to paying more to use the services. Whether Verizon is handling this as well as possible is left open to debate.
"At the end of the day, companies are in business to make money," said King. "I don't have a problem with that, but I do when they claim that alterations to billing schemas that reduce choice and increase fees are somehow good for their customers."