In technology parlance, the emotional result of a person's interaction with a website or digital app is called "user experience" or "UX" — and the success of a business depends on it.
Users who have easy, positive experiences with websites and apps likely will be drawn back to the business. On the contrary, websites and apps with poor navigation and slow loading times likely will turn off consumers.
UX is essential in e-commerce because conversion rates often are aligned with a positive or negative experience. As technology continues to improve and as customer preferences evolve, businesses must adapt UX to stay competitive.
To optimize UX and enhance customer perceptions of your brand, the following are five UX Do's and Don'ts to focus on.
1. Do invest in a unique visual experience. Don't choose cookie-cutter solutions.
Today, most customers can spot stock imagery and templated websites from a mile away. These features not only make a business look lazy but also restrict brand expression. Be sure to choose custom visual designs whenever possible.
A website or mobile app should evoke the identity of the brand. Whether a business offers home decor products or tax preparation services, users should be able to identify the business brand from its respective platforms. A relevant and consistent brand fosters legitimacy and trust. You want users to take your business seriously. Of course, this is much easier said than done.
Below is a homepage example from Restoration Hardware. The simple, neutral background allows brand imagery to speak for itself, and the uncluttered navigation supports an easy, straightforward shopping experience.
Additionally, the page's text copy is short and direct to give visitors clear options and guide behavior.
Lastly, the main image not only displays business products but also conveys the atmosphere that Restoration Hardware promises its customers. Regardless of stylistic preference, Restoration Hardware offers a distinct visual experience on its website.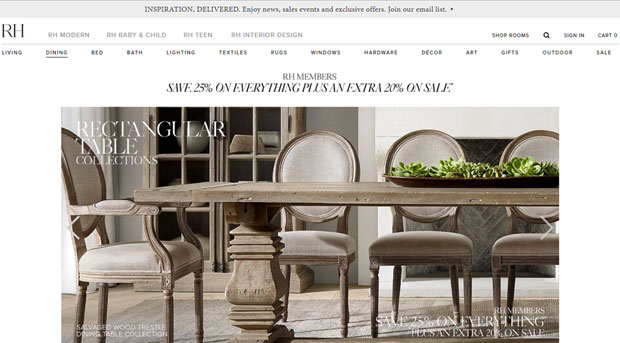 Businesses can use custom visual content to stand out from the competition. A simple start is to use real pictures of teams/staff, offices/locations, and products/services.
Moreover, details like updated banners to reflect appropriate seasons, upcoming holidays, or events relevant to the market/industry also help to add unique visuals. Unique visual content is a great way to enhance UX.
2. Do make messages personal. Don't be generic.
People want to feel that their needs matter and their voices are heard. Individualized experiences/messaging can be tough with a diverse audience/customer base; however, businesses can gain advantages by using conversational language, addressing people by name wherever possible, and helping visitors/customers find content they might like.
It is important to research customer habits and desires. What words are used in the search for products or services relevant to your business? Talk to your customers in the language they use. Read reviews to understand customer needs better. Also, find out what your competitors are doing.
With the latter research, businesses can install appropriate technology to address specific customer desires, even at scale. For example, a simple upgrade for personal messaging could be automating business newsletters/email outreach to populate each recipient's name in the greeting. Instead of "Hello," the customer would be greeted with, "Hi, Ted." Little details can make a huge difference.
More advanced features include personalized product recommendations, individualized search tools, and saved checkout information. If a business offers UX that makes customers feel like VIPs, sales likely will grow.
3. Do get social. Don't keep to yourself.
Social media is a mandatory extension for a business' website. It contributes to the UX businesses want to create, but not all social media platforms are right for business. Be careful to choose the right social media platform to leverage your strengths and connect with your target audience.
For example, a clothing brand for teenagers would be wise to publish content on Instagram, which is image-focused and has a young user base, rather than on LinkedIn, which is text-heavy and oriented toward professionals. Pinterest might be a great choice for an event-planning company, while news blogs would favor Facebook and Twitter for sharing articles and stories.
Content should follow the voice of the brand. A children's toy business should sound different than a high-end luxury sports car company. Be sure to talk to your audience in the language and style they understand and respond to. Below is a great example of brand voice from sunglasses retailer Foster Grant, which uses messaging that is personable and that its customers can relate to.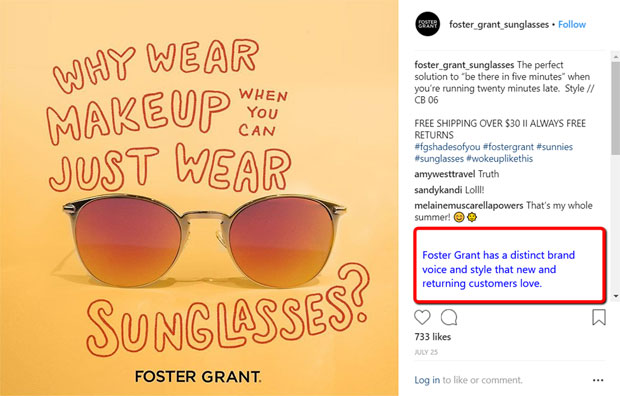 Once a business has identified the right social media platform(s), it can share original content that reflects the brand. Some social media best practices are to engage with your audience (always reply to user comments) and to be consistent in content and posting. If your business is active and friendly on social media, you likely will build customer rapport and gain customer trust, which are essential parts of a compelling UX.
4. Do balance form and function. Don't put all your eggs in one basket.
Not all beautiful websites work well, nor are all functional websites visually appealing. The UX sweet spot is where form and function complement each other, providing a fun and easy experience.
Businesses should audit appropriate website(s) and app(s) for strengths and weaknesses. For example, if a business has blazing-fast page speed and a robust payment gateway but a low conversion rate, it is possible that branding and content need improvement. No matter how good the website infrastructure is, if visitors are not compelled to buy or act, they never will reach the checkout page or respond to your call to action.
Furthermore, if visual content is strong, but site performance is lacking, businesses should invest in technology that improves page speed, checkout convenience, and customer service. Any difficulty finding or buying products/services can ruin an otherwise engaging experience for current and potential customers.
To boost conversions, a website's UX should feel and perform like it is from 2018. This requires keeping up with the latest technology and design trends, such as mobile-first optimization and simple, iconic aesthetics.
5. Do offer an omnichannel experience. Don't restrict usability.
Omnichannel means providing the same excellent UX whether customers shop in-store, online or digitally via mobile device, tablet or laptop, or even live chat or by phone. Giving people options makes shopping more convenient and increases a business's chances for conversion.
To start, businesses should integrate software that makes it possible to offer and manage an omnichannel experience. This often requires a website back end and an ERP (enterprise resource planning) that syncs inventory and processes orders in real time, whether someone buys a product online or in-store.
From the customer perspective, people want flexibility in how they shop, pay, and receive or pick up purchases/services. Restricting customer options risks a loss in sales, and expanding options can help a business to stay competitive.
At the end of the day, UX is about creating an "environment" on your website or app that visitors/users will enjoy and want to return to. Remember, UX is never final — it is meant to be a work in progress, keeping up with the latest and greatest in innovation and technology.
Businesses should analyze performance and take corrective action to tweak and improve UX every few months. Ask questions on how customers are behaving, and identify what is and is not working. Review Google Analytics, check conversion funnels, look at drop rates from email lists, and use heat mapping tools. Then, take this information and funnel it through the UX Do's and Don'ts discussed here.
If you improve UX based on data and user feedback, you will see a corresponding improvement in the rise of conversion rates and customer satisfaction.