Atlatl Software on Monday unveiled its bCommerce Visual Configurator, which gives manufacturers access to the company's 3D Visual Configurator via Web browsers.
B2B buyers can use the Visual Configurator on manufacturers' websites to make selections and pass them on to the manufacturers' sales reps in real time.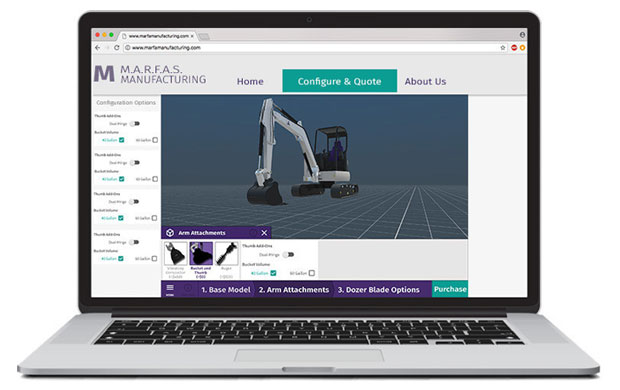 Customer and configuration information in bCommerce is captured in Atlatl's QuoteBooks Cloud so sales teams can respond rapidly.
"We sell to manufacturers that work most often through distributors," said Christopher Beaudin, director of marketing at Atlatl Software.
"They can provide this inside their Web experience to provide a smoother, easier portal for their sales teams," he told CRM Buyer.
Ninety-seven percent of B2B procurement officers considered a supplier's online customer portal offerings a critical factor when selecting a supplier, and 54 percent felt more confident in their online purchases if the supplier offers detailed product content, a recent Avionos survey found.
Atlatl has partnered with Onshape, which offers computer-aided design Software as a Service.
Sales teams visiting clients can enlist Onshape on the spot to work out an Atlatl rules-based model that the customer can use. The model is sent to engineers after the deal is completed.
"Instead of taking two weeks to discuss the idea, going back to engineers to build the model, and then coming back for further discussions, the salesperson can build the model within 15 minutes and price a quote," Beaudin said.
"The cost savings in engineering time are incredible," he added.
"We're just ending a period in which we'd seemingly run out of ways to improve the salesperson's ability to get into a deal so that they could act in a consultative manner instead of having to compete on price," noted Denis Pombriant, principal at Beagle Research.
"That's what appears to be interesting here," he told CRM Buyer.
Technologies like this "deliver 4.2 times the ROI of traditional CRM because of automation and the ability to reduce costs," observed Rebecca Wettemann, VP of research at Nucleus Research.
"We're seeing other companies like Apttus leverage CPQ roots and [virtual reality] and [augmented reality] to drive innovations in e-commerce," she told CRM Buyer.
Pricing for bCommerce depends on customer requirements.
How bCommerce Works
Manufacturers work with Atlatl to define their product artwork and rules to create the interactive configuration experience used by their sales channel.
Manufacturers can implement bCommerce as a reseller's leads are captured to the manufacturer's Atlatl QuoteBooks Cloud. Or they can deploy an interface to give resellers direct customer interaction that will generate leads in QuoteBooks for the manufacturing sales team to facilitate.
B2B companies using bCommerce can use their website's branded user interface in the product.
The Building Blocks of bCommerce
Atlatl's solutions are built on the Unity game engine, which can be used to create 3D and 2D simulations for desktops, laptops, mobile devices, smart TVs and home consoles.
For 3D, it allows specification of texture compression, mipmaps, and resolution settings for each platform supported. It provides support for bump, reflection and parallax mapping screen space ambient occlusion dynamic shadows through the use of shadow maps, render-to-texture, and full-screen post-processing effects.
Unity supports the creation of custom vertexes, pixels, tessellation, compute shaders, and Unity's own surface shaders, using Nvidia's Cg programming language.
Among Atlatl's other partners:
The iTunes App Store — distributes its apps to iOS devices;
Google — maps customer information and generation location coordinates for salespeople planning to visit prospects. Also, Google's autocomplete feature fills in company information, saving sales reps time; and
Amazon Web Services — provides the platform that lets it scale and adapt to customer demand in real time.
"This is almost brilliant," Pombriant said. "The name of the game in business is continuously reducing overhead and maximizing profit while delivering value. This ticks off all the boxes."
Bridging the B2B Sales/Customer Divide
"If I were to develop a company, this is how I would want it constructed and distributed," enthused Seth Lippincott, principal analyst at Nucleus Research.
"It leverages tools that are familiar to digital natives, who are used to shopping on Amazon rather than in-store," he told CRM Buyer.
Sellers are "under increasing pressure from their buyers, so delivering the best buying experience is paramount," Lippincott noted. "Using an engine that supports 27 different platforms gives Atlatl customers flexibility to deliver on their customers' terms."
The gap between B2B sellers and buyers is growing, research suggests.
Also, the growing consumerization of the buying process means sellers have to adjust, CSO Insights concluded in its 2017 report on sales practices.
Every interaction has to be worth the time, including active listening and advanced questioning, as well as negotiating, making virtual presentations, storytelling, providing business case/ROI analysis and perspectives, and engaging in social selling techniques.
However, manufacturing "has been notoriously slow in adopting newer enterprise technologies," Lippincott pointed out. "The extent to which the manufacturing market is ready for what Atlatl is delivering is the biggest question mark."