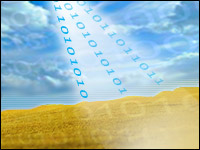 After a long period of unfulfilled hype, there finally appears to be some real momentum behind a nationwide movement to electronic medical records — and that's just one of a series of recent developments that have caused me to change my attitude about online privacy.
Over the years, I've gone to great lengths to protect my personal information from the assortment of spammers, identity thieves and other disreputable characters lurking in cyberspace.
I shop only at well-known, well established sites. I never sign up for email lists — and I've shied away from some of the most popular social networking sites because I didn't trust them to keep my information from falling into the wrong hands.
Too Much Information
However, after seeing how close we are to widespread use of electronic medical records, I've concluded that in this digital age, there really is no way to maintain any real semblance of anonymity.
The electronic medical records movement is still in its infancy, which means not many of us currently have our entire medical histories online. Still, there already is so much other information about all of us stored in too many places for us to expect that none of it will ever be accessed by people who could potentially do us harm.
Data aggregators make the possibility of our personal data being comprised even more likely by compiling it into nice little packages and routinely auctioning them to the highest bidder for marketing purposes.
That fact hit home earlier this month, following the security breach at Epsilon, the provider of email marketing services for more than 2,500 corporate clients — including some of the world's biggest companies.
I regularly do online business with at least half a dozen of the companies that had customers' email pilfered in that attack, and three of those companies subsequently sent me emails notifying me of the theft.
Then I started reading about what I'm convinced is now the inevitably of my medical records going online, and I decided it was time to change my way of thinking about online privacy.
I'm going to abandon my fervent efforts to guard my privacy and instead start looking at the bright side of living in this open information era. I really have no choice, considering the strong economic forces that will continue to push even more of our personal data online.
New Financial Incentives
The move to electronic records had stalled for years, largely because physicians — the majority of whom work in small practices with a handful of members — felt the cost of installing the technology was not commensurate with the benefits.
That was before the Obama Administration mandated that US$19 billion from the 2009 Economic Stimulus Package be used specifically to accelerate the adoption of electronic health records systems across the country.
This year, a provision of the stimulus program kicked in that gives doctors payments of $40,000 or more for adopting electronic records technology. There's also a provision that will cut Medicare payments to doctors who can't show "meaningful use" of the technology by 2015.
These financial incentives already have enticed doctors in cities like New York and Chicago to start installing online record systems. Players in the wireless industry — sensing potentially lucrative opportunities — are also looking at ways to offer mobile access to medical records.
Legislative Efforts Continue
In the midst of all this, consumer advocacy groups continue to push for legislation to regulate how companies use the personal information obtained from customers in the course of doing business online. Their efforts illustrate just how difficult it is to offer consumers any real protection in this area.
Just this week, a coalition of groups representing organizations like Consumer Action and the Center for Digital Democracy praised two U.S. senators from opposing political parties — John McCain, R-Ariz., and John Kerry, D-Mass. — for collaborating on proposed legislation that would restrict websites from collecting customer information that is not needed to complete a specific transaction.
The groups said they couldn't support the legislation, however, because it didn't offer consumers sufficient protection in today's digital marketplace.
These groups believe any online privacy legislation should, at minimum, include a "do not track" mechanism, and give consumers the right to sue companies for mishandling their personal information.
I don't disagree with the consumer advocates' position. I just don't see such legislation making its way through Congress any time soon. I also don't see how online privacy laws can be enforced. Would consumers be able to sue a company like Epsilon for having its email servers hacked?
Consider the Benefits
I simply don't want to think about these things any longer. So, I'm going to start counting my anti-privacy blessings and give thanks for all the ways in which passing my personal information to unknown entities can actually improve my life.
Social networking has helped me connect with old friends and colleagues I never would have found otherwise. Signing up to be notified of additional offers when making online purchases could actually save me a few dollars somewhere down the line.
The list of potential benefits is infinite, and focusing on them should at least cause me less stress. Ultimately, that could result in fewer people actually wanting to read my medical records once they're publicly available.