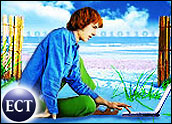 Amid all the publicity WiFi has received in the last year, another high-speed mobile networking technology, known as 3G, appears to have been overlooked as a viable means for transmitting data wirelessly over the same types of air interfaces used in cell phones.
Yet 3G was once an industry darling — and the center of a bandwidth feeding frenzy that saw giant corporations shelling out billions of dollars for rights to pieces of the spectrum earmarked for the technology. Verizon, Deutsche Telekom and Vodafone were among the many bidders in high-profile auctions conducted in the United States and Europe. And in October 2000, Verizon Wireless stated publicly that "the development of 3G wireless services will yield tremendous benefits to U.S. consumers and to the U.S. economy, but additional spectrum must be made available to support its development."
However, most of those grand investments have led nowhere fast, at least in the United States. Mobile phone users have not expressed sufficient demand for the high speeds 3G offers — especially if they have to pay extra for those perks. Also, U.S. wireless providers must contend with two lofty roadblocks: large, often sparsely populated areas where coverage is still spotty; and competing technologies that are incompatible with one another.
Given these obstacles, the would-be "3G kings" face an uphill battle to reap ROI from this promising form of next-generation networking. How can they evangelize 3G technology to their subscribers while still controlling the overall costs of a nationwide rollout?
Not Quite 3G
Meta Group program director Chris Kozup told the E-Commerce Times that 3G in the United States currently is more of a marketing message than an actuality. Instead of rolling out true 3G, major vendors are falling back on a transitional technology known as "2.5G." Often, however, they are calling it 3G in an effort to capture more mind share for 3G's capabilities, since true 3G is their eventual goal.
2.5G provides enough bandwidth to enable Bluetooth and wireless Internet access, but spotty voice coverage is often the tradeoff for such services, Kozup said.
However, cell phone users, most of whom use their phones primarily to talk rather than to access and manage data, want to know what great killer applications exist to make such a tradeoff worthwhile, Kozup said.
As a result, carriers are focusing less on network and infrastructure requirements in favor of promoting applications like text messaging (in industry parlance, "short message service" or SMS), which they hope will lure enough consumers to justify building out the cellular infrastructure for true 3G deployment.
ROI Concerns
This situation puts wireless carriers in somewhat of a Catch-22 position. Making the transition to 3G requires more cell towers to handle increased data and voice traffic. As with conventional mobile phone technology, service becomes sparse, sometimes nonexistent, when subscribers leave metropolitan strongholds for less-populated regions. However, carriers may be reluctant to invest in cell towers and related infrastructure in areas where potential ROI for doing so is questionable.
Verizon Wireless spokesperson Andrea Linskey told the E-Commerce Times that Verizon is taking a wait-and-see approach with its 3G rollout.
To that end, the company is testing its 3G services in two metropolitan markets, San Diego and Washington, D.C., with plans to offer these services commercially later this year.
Although Verizon believes its 3G technology offers compelling applications, Linskey acknowledged that the company is tracking customer demand in the test areas and wants to see how 3G performs before deciding to deploy it further in 2004.
Idol Interest
Yankee Group analyst John Jackson told the E-Commerce Times that a lack of general awareness of 3G capabilities among carriers' installed bases is one of the primary barriers to 3G adoption.
To spur broad uptake of these value-added services, vendors are turning to some creative — and not-so-creative — methods of generating interest among their subscribers, Jackson said.
For example, Verizon Wireless is offering unlimited picture and text messaging with its new camera phone for US$4.99 per month until January 1, 2004.
Meanwhile, AT&T has been educating its subscribers about its SMS capabilities through its sponsorship of TV phenomenon American Idol. By urging viewers to vote for their favorite contestant via AT&T text messaging, the company is demonstrating the sort of initiative needed to educate consumers, Jackson noted.
Encouraging Signs
Jackson went on to say there have been many encouraging signs that investments in 3G technology eventually will pan out. SMS has been a resounding success in Europe, and its use in the United States has increased exponentially as well.
Within two years, in fact, 100 percent of the U.S. installed base will have text-messaging capabilities, according to Jackson. However, incompatible standards among major carriers may limit widespread adoption of the service, strengthening the case for enabling a modicum of interoperability.
Moreover, Verizon's Linskey pointed out that although 50 percent of the U.S. population is using wireless, 50 percent of individuals still have not taken the plunge.
In the end, although Meta Group analyst Kozup said pure 3G rollouts probably are years away, the quest to provide this technology is still alive and well. And though the 3G kings might be late in reaching their goal, when they do arrive, they could be a significant market force.