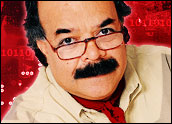 Now that the Earth has metaphorically become a flat, digitally formatted platform for the 'Net- and e-commerce-savvy to skate on, it's time for marketing to get circular. Marketing is now the enticing wrapper around a chocolate bar. Yummy.
Basically, these are the new rules: All aspects of marketing should be delivered to customers at their destination of choice; they should be homogeneously synchronized and interactively managed in Technicolor with real touch and feel; they should be accompanied by extensive support and services that are available 'round-the-clock. Technology is making all this happen very fast.
Marketing should completely wrap around customer needs within a specific market, and the message should be repeated the world over; in short, it should be totally circular.
Today, going global means going circular — circumnavigating the shrinking globe in search of new electronically accessible villages to annex to digitally connected cites and interconnected cyber-continents on an hourly basis. This is now the normal hourly routine, repeated 24-7-365.
Circular All the Way
That's a dizzying change — a real culture shock from displaying an architecturally twisted booth at a yearly trade show or putting a few executives on the occasional international flight.
The old methods have been replaced. As additional markets open and new customers are discovered, they too must get full wraparound services with a very high comfort level. Marketing must go circular all the way.
We are being forced to redesign to adjust to the "micro-nization" of business units, the "wireless-izing" of mass communication and the "VoIP-izing" of popular conversations in the marketplace, all customized to fit local consumer demands.
This subject is very hot, and research proposals are still being drafted. But cyber-branding compounds the challenges in this name-driven economy, making corporate image issues very complex.
The new circular marketing paradigm alters the old pattern of corporate thinking. Executives must learn new rules for building iconic global names and starting cutting-edge trends. They must create new standards to operate in a small, yet very multinational, style.
The new standards for circular marketing demand thinking extremely big in terms of name functionality in the global arena, while operating at an extremely micro level in terms of graphic overload and traditional campaigns.
Global marketing is now the only marketing; all books that say otherwise must be burned. The dot-com craze was directly responsible for this mega shift. It's time to sincerely thank Silicon Valley for triggering Wall Street's exuberant gold rush. Now that we've vented, let's forgive, forget and move on toward the bigger opportunities that lie in going circular.
Three Steps
Audit: What good are brands and corporate name identities if they don't generate buzz? What good are expensive Web sites, if they are invisible? Simply execute a professional audit — not by the same people who are running your image and branding — and have a candid and open discussion.
Aim: What good are expensive campaigns if nobody remembers or understands them? What good are the selling propositions if they are off target and or beyond scope? Nurturing a sophisticated series of selling ideas and building their related delivery systems require brand new sets of skills. Aim high or aim low, but aim straight.
Fire: You may also just abolish the current set-up that's dragging down corporate strategy. Face global marketing challenges head on. Actions born from insecurity or doubt based on an attachment to old-school marketing will fail dismally. Out there it's all very new: There is a very flat earth and a very new circular marketing concept that together offer extraordinary opportunities. Get the right team with the right knowledge and explore circular marketing.
---
Naseem Javed
, author of
Naming for Power
and also
Domain Wars
, is recognized as a world authority on global nameidentities and domain issues. Javed founded ABC Namebank, aconsultancy he established a quarter century ago, and conducts executiveworkshops on image and name identity issues. Contact him at
[email protected]
.
---